Print
Cheesecake Squares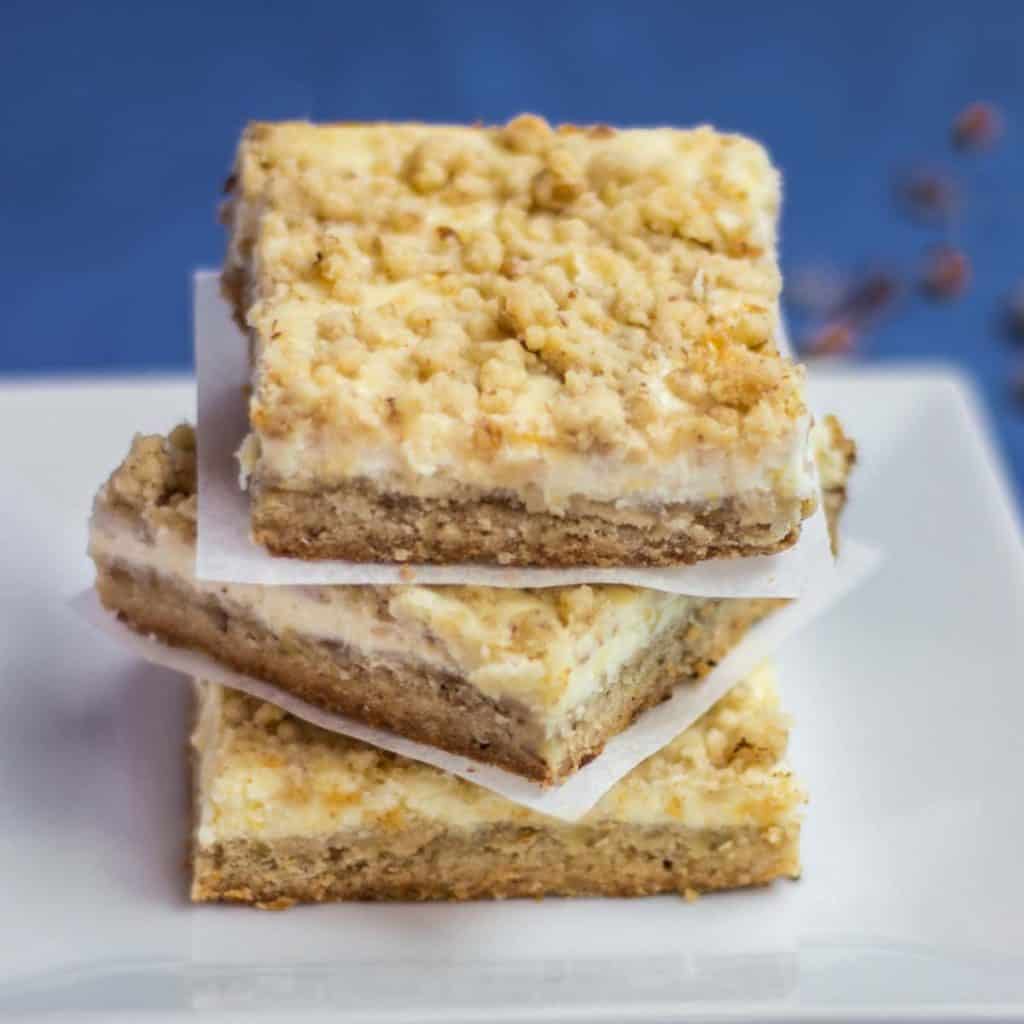 These easy to prepare Cheesecake Squares are full of luscious flavors, calling for chopped pecans instead of graham cracker crumbs in the crust, and lemon juice and zest in the batter.
Ingredients
1/2 cup

butter, softened

1/3 cup

packed brown sugar

1 cup

flour

1/2 cup

finely chopped pecans

1/4 cup

sugar

8 ounces

cream cheese, softened

1

egg, beaten

2 tablespoons

fresh lemon juice

1 teaspoon

lemon zest

2 tablespoons

whole milk

1/2 teaspoon

vanilla
Preheat oven to 350 degrees. Lightly butter an 8-by-8 inch baking dish.
With an electric mixer using the whisk attachment, cream together the butter and brown sugar until well blended.
Place the flour and nuts in the bowl, turn on low, slowly increasing speed to incorporate. You will need to stop a few times and scrape the sides and bottom of the bowl. Mixture should resemble coarse crumbs.
Reserve 1/2 cup mixture for topping. Press remaining crumb mixture into the bottom of the prepared baking dish. Bake for 10 to 12 minutes or until lightly browned.
While the crust is baking:
Again using an electric mixer with the whisk attachment, blend together the sugar and cream cheese until creamy and smooth.
With the machine running, add the egg, then the lemon juice, zest, milk and vanilla. Beat until well mixed, scraping down the sides as needed.
Pour mixture evenly over the hot baked crust and sprinkle the reserved crumb mixture over the top. Bake for 20 to 23 minutes. It will puff up and then settle back down.
Cool to room temperature in the pan on a wire rack, then refrigerate.
Cut into 16 bars. Store, covered, in the refrigerator.
© A Well-Seasoned Kitchen ®