Print
Baby Spinach Salad with Lemon Dijon Dressing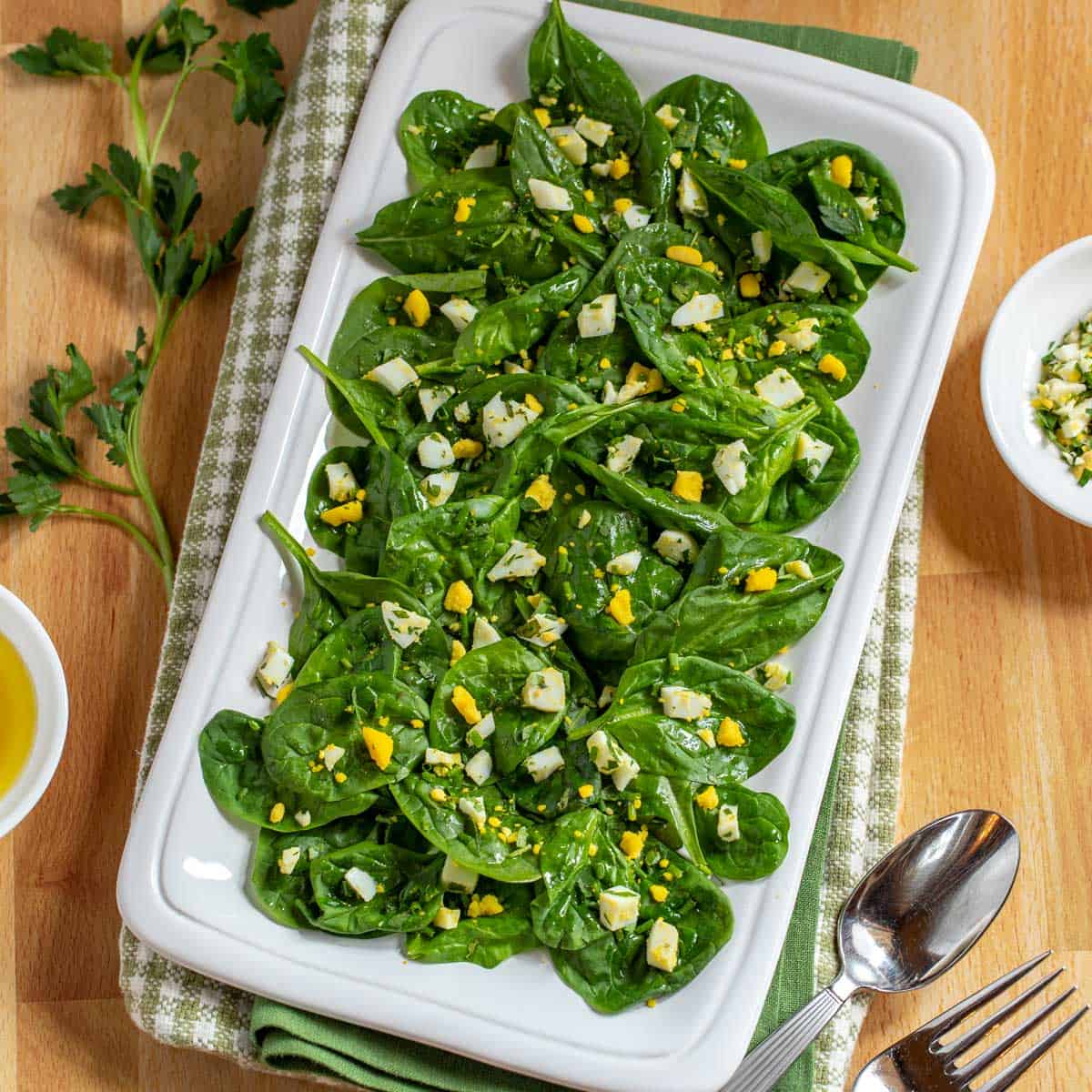 Prepared with eggs and fresh herbs, this Baby Spinach Salad is a light, easy to prepare starter or side dish. A tangy Lemon Dijon Dressing keeps it bright and fresh.
Ingredients
2

large eggs
handful of fresh green herbs – parsley, chives, tarragon and/or basil

2 tablespoons

lemon zest

1/4 teaspoon

kosher salt, or more to taste

1/2 tablespoon

Dijon mustard

1 tablespoon

freshly squeezed lemon juice, or more to taste

1/2 cup

extra virgin olive oil

4

to

6

cups fresh baby spinach, longer stems removed
Hard-boiled eggs – Instant Pot method
Place wire rack (or steamer basket) in Instant Pot along with 1 to 1 1/2 cups water.
Place eggs on rack, spacing out as evenly as possible. (I cook 4-6 at a time, refrigerating the extra for another recipe.)
Seal and cook on high for 7 minutes if eggs were at room temperature, 9 minutes if not.?When timer goes off, release pressure, following the "quick release" method.
Carefully remove eggs (they will be hot!) and immediately place in a bowl of ice water. Let rest in water until eggs are cold to the touch.
Hard-boiled eggs – traditional method
In a large saucepan, place eggs in one layer and cover with water. Bring to a boil over high heat.
Reduce heat to simmer and cook for 6 to 8 minutes (cook for longer time if at higher altitude or eggs weren't at room temperature).
Remove pan from heat and leave eggs in hot water for another 3 to 5 minutes.
Drain and run place eggs in a bowl of ice water until cooled.
Egg and Fresh Herb topping
Chop the eggs and herbs; mix together in a bowl and season to taste with salt and pepper. Set aside.
Lemon Dijon Dressing
In a small bowl, mash together the lemon zest and salt (works best with a mortar and pestle, but use a fork if you don't have one).
Whisk in the mustard and the lemon juice.
Slowly whisk in the olive oil.
Add additional salt, lemon juice and fresh ground pepper to taste.
To serve
Toss the spinach lightly with some of the dressing.
Either place spinach on a serving platter or divide among 6 individual salad plates; sprinkle egg and herb mixture over the top.
Notes
Make ahead: Eggs can be hard boiled up to 5 days in advance and refrigerated. Dressing can be made up to 24 hours ahead, covered and refrigerated.
Keywords: spinach, salad, hard boiled eggs, fresh herbs
© A Well-Seasoned Kitchen ®