Print
Breakfast Sandwiches with Egg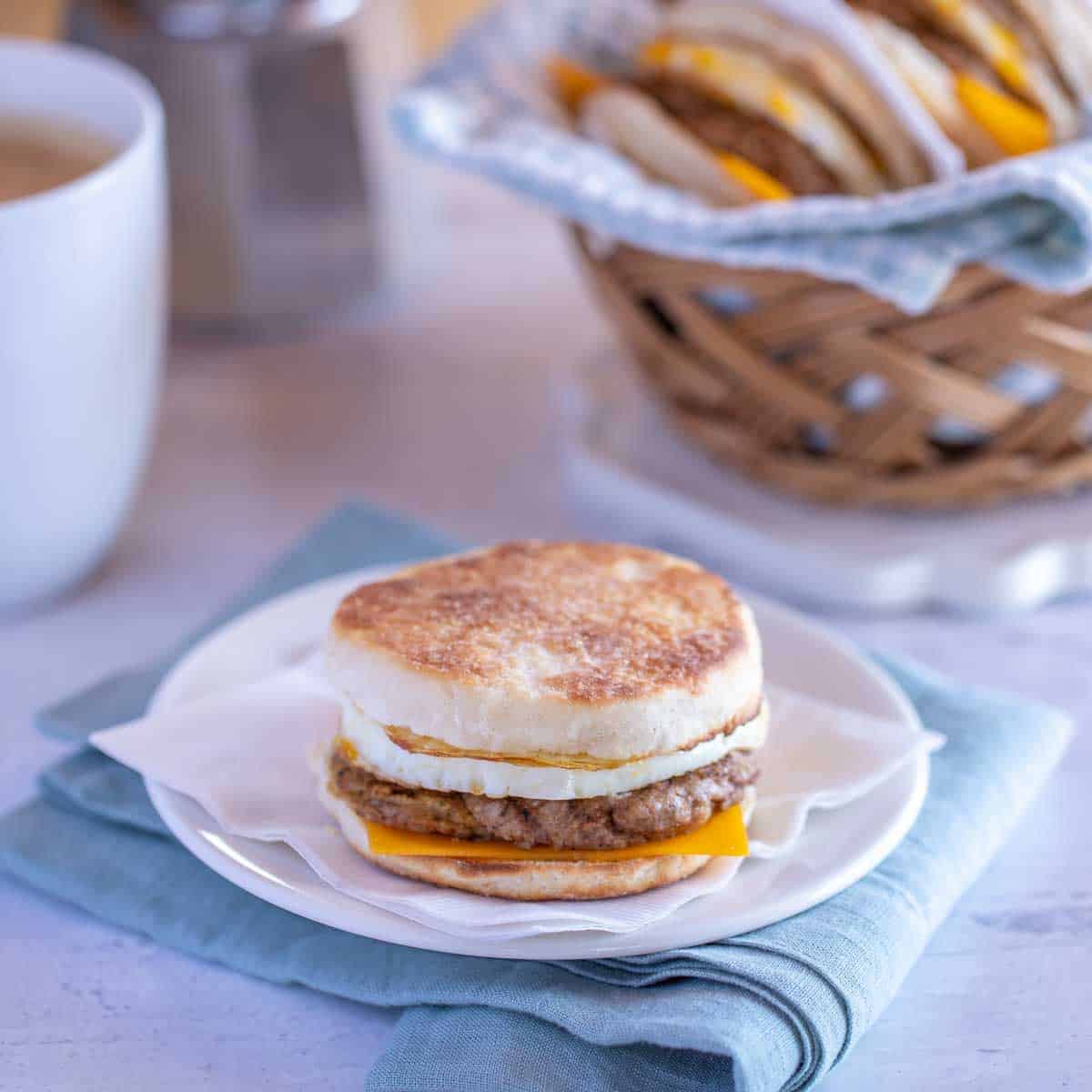 These scrumptious Breakfast Sandwiches with Egg are quick and easy to prepare with pantry ingredients. Make ahead and freeze for busy mornings! And, choose your favorite fillings.
Ingredients
[See variations in Notes below.]
Toast English muffins. Spread with butter. Set aside and keep warm.
Grease a large nonstick skillet or griddle and heat to medium-high. (see Tip below.)
Crack eggs into prepared pan and fry as desired. (I like mine over-hard, Robert likes his over-easy.)
Reduce heat to low, place cheese slice on top of each egg, cover and cook for around 1 minute, just until cheese is melted.
While the eggs are cooking, heat the sausage patties in the microwave.
Assemble as follows: place half an English muffin on each plate. Top with egg/cheese, sausage, then second half of muffin.
Serve immediately or cool, wrap and freeze. (See directions in post for wrapping, freezing and reheating.)
Notes
Ingredient variations: you can substitute other ingredients, depending on what you like or have on hand. Here are some ideas:
Bread – store bought English muffins – regular, sourdough, whole wheat, gluten free
Eggs – fried, poached, scrambled or baked
Cheese – Cheddar, cream cheese, Fontina, Havarti, Provolone, American
Meat – turkey sausage, regular sausage, fried bacon, sliced ham. I also make them with smoke
Tip on frying eggs: make sure your pan is preheated to medium-high, and hot before adding the eggs. The high heat keeps the eggs from spreading too much, so they fit better on the muffin. 
Keywords: breakfast sandwich, quick and easy
© A Well-Seasoned Kitchen ®