These Sourdough English Muffins are surprisingly easy to prepare, and ever so much better than store bought!
I have loved English muffins since I was a little girl. Mom used to serve them several different ways – she would toast them up with butter and her homemade jam for breakfast, or even broil them with butter and Parmesan cheese for dinner. A few weeks ago at our neighborhood farmer's market, I tasted a scrumptious egg sandwich on a homemade English muffin. The fellow in the booth said the muffins were super easy to make. Really? And they were so good!
So, I came home and started researching recipes. Not surprisingly, on my favorite bread/baking website, kingarthurflour.com, I found a sourdough English muffin recipe that seemed similar to how the fellow at the market made his muffins. [Sidebar: I find King Arthur's recipes to be clear and well tested; plus, if you have a question, you can call them!] The best part: their recipe calls for sourdough starter, and I love anything with sourdough. I have starter that was originally created by my grandmother in 1933! My family almost lost it – but that's another story, that you can read about in The Saga of the Sourdough Starter if you are interested.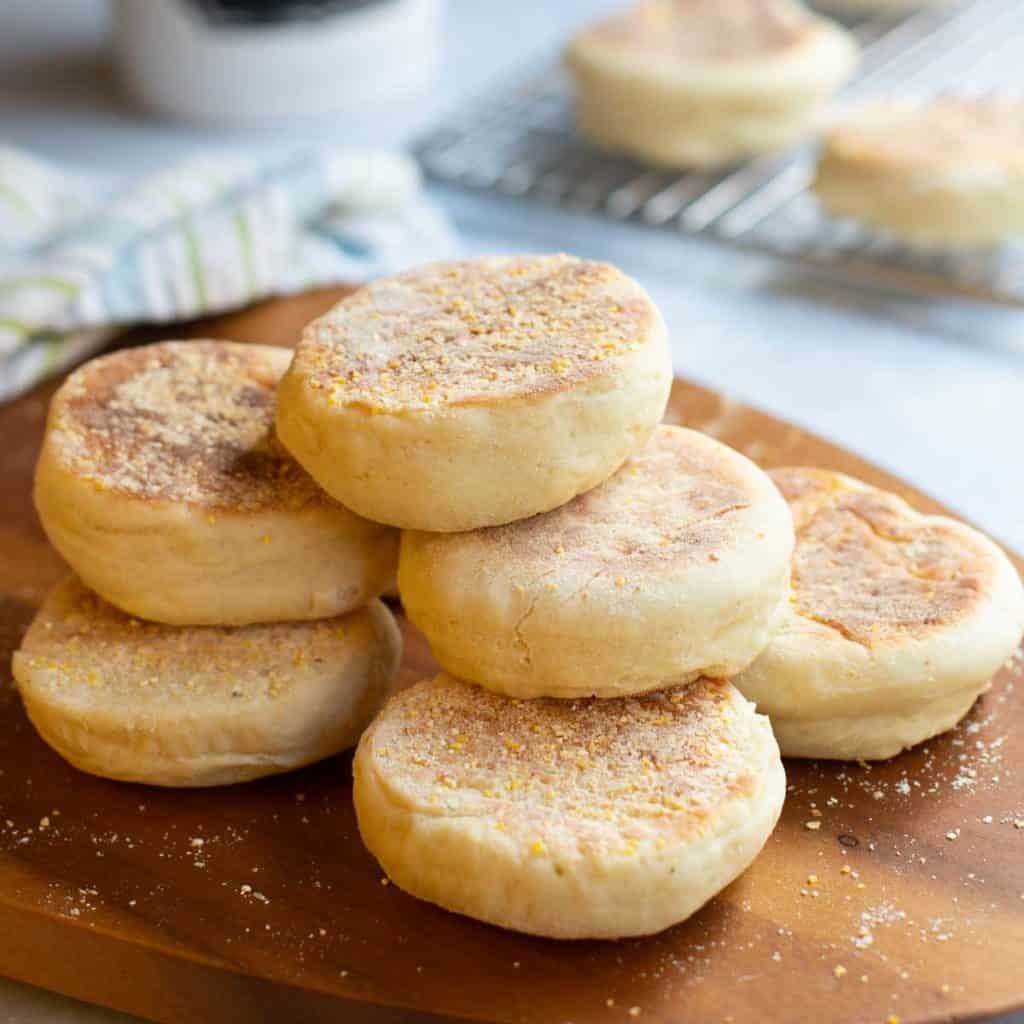 Back to these amazing Sourdough English Muffins – I love this recipe. The ingredients are largely from the King Arthur recipe; the directions are mine. My main change to the ingredients is to use dry buttermilk (powder) instead of dry nonfat milk. I think it adds to the tangy flavor of the sourdough. These muffins really are easy to prepare, and worth the effort as they are so much better than store-bought! I was surprised to learn that you cook the muffins on a griddle (or in a skillet); you don't bake them.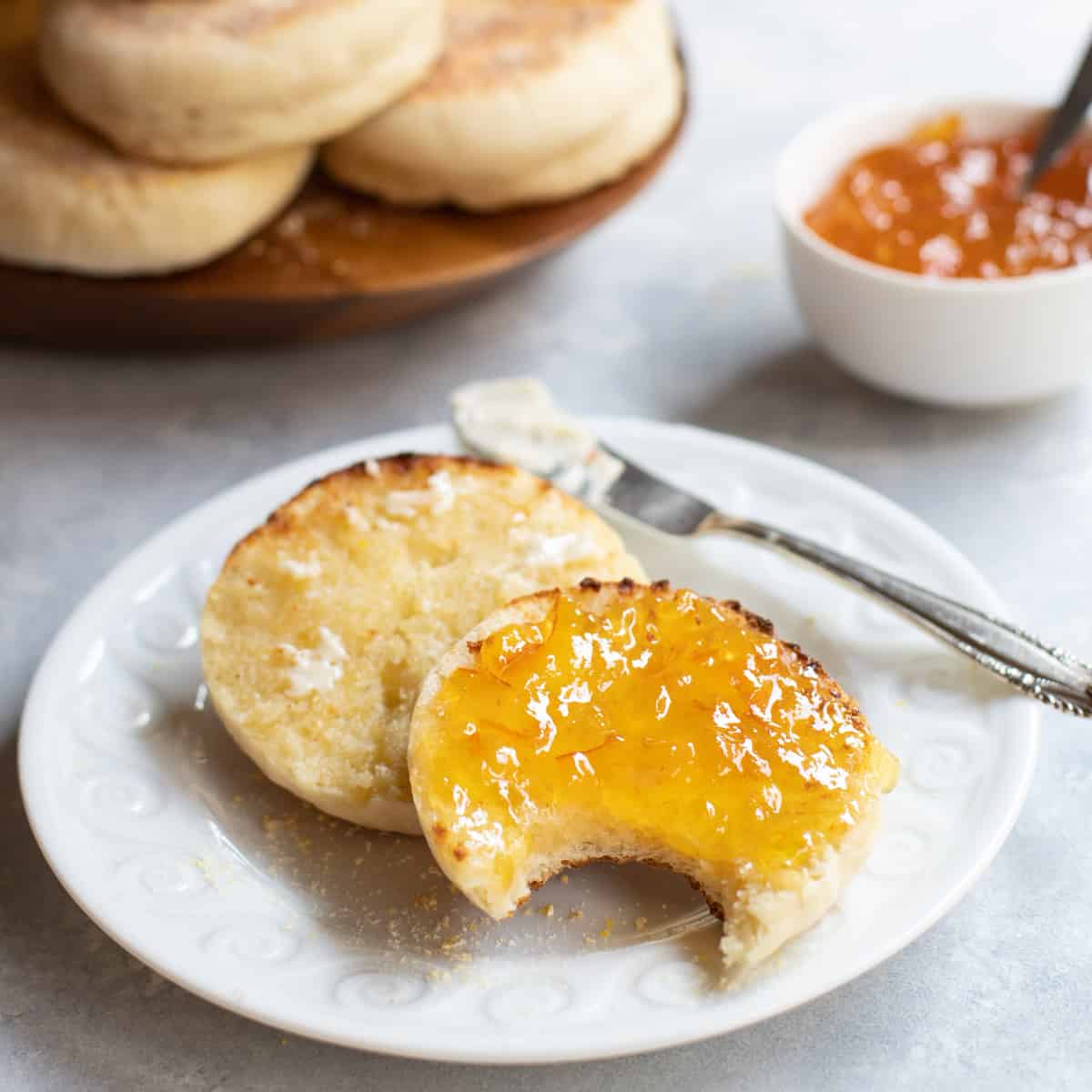 You can serve these muffins toasted with butter and jam, as mom used to do, or as part of an egg sandwich, or with Eggs Benedict with Easy Blender Hollandaise Sauce!
Pin it now to save for later –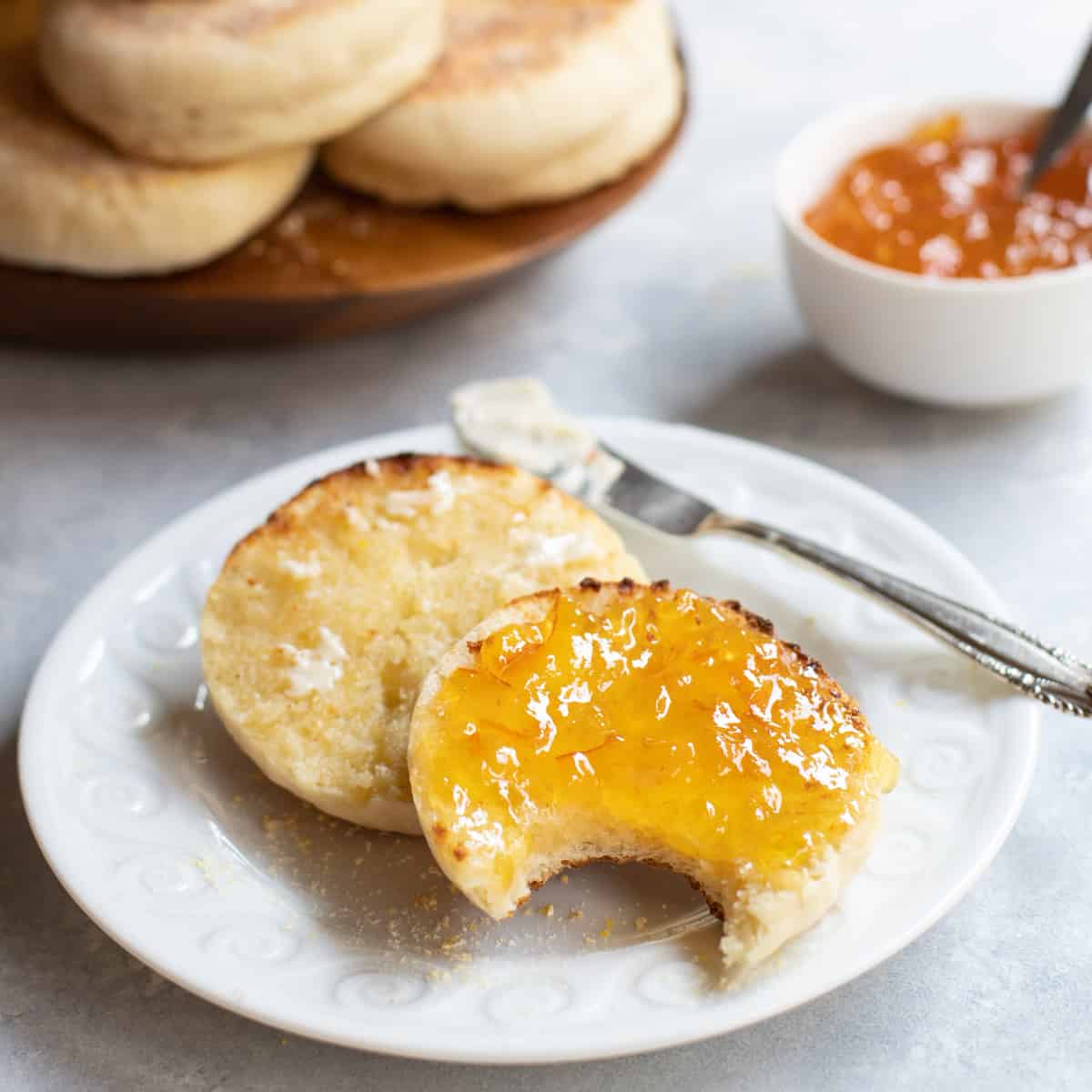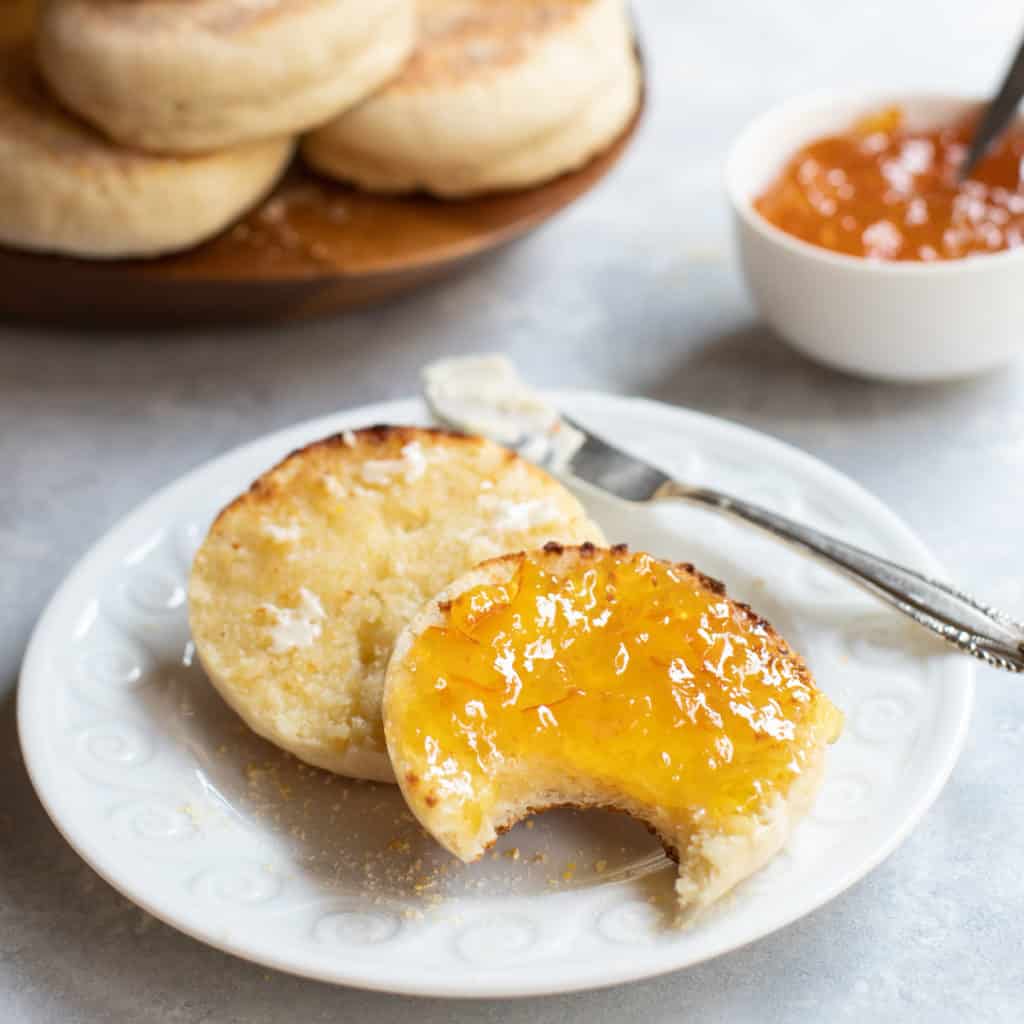 Sourdough English Muffins
Author:

Yield:

One dozen

Category:

bread, baking, breakfast and brunch, side dishes
---
---
1 tablespoon sugar, divided
1 cup warm water, divided
1 1/2 teaspoons active dry yeast or instant yeast
3 1/2 cups (just shy of 15 ounces) unbleached all-purpose flour
1/4 cup dry buttermilk (or nonfat milk), fluffed with a fork (see Note)
1 1/2 teaspoons salt
1/2 cup sourdough starter, fed or unfed; fed and ripe (doubled in size) will give you a more vigorous rise
2 tablespoons butter, at room temperature
cornmeal, for coating
---
Instructions
In a small dish, combine 1/4 teaspoon sugar, 1/4 cup water (105 – 110 degrees) and yeast. Set aside for 5 minutes. It should turn bubbly – this confirms your yeast is active (called "proofing the yeast").
In a medium mixing bowl, whisk together the flour, dry buttermilk, salt and remaining 2 3/4 teaspoons sugar. Set aside.
In a large bowl of an electric mixer, stir together the sourdough starter, softened butter, proofed yeast, and remaining 3/4 cup warm water (110 – 115 degrees).
Using a dough hook and keeping machine on speed 2, add dry ingredients and beat for around 2 to 3 minutes, or until dough clings to the hook and cleans sides of the bowl. Knead an additional 1 to 2 minutes, or until the dough is smooth and elastic. Dough shouldn't be particularly sticky; add additional flour if needed.
Remove dough from bowl and turn out onto a lightly floured surface. Knead a few times by hand to confirm texture is correct (it should feel like your earlobe or a baby's bottom). Transfer dough to a large greased bowl, turning once to coat surface. Cover with a clean dish towel and let rise in a warm place (85 degrees) for about 1 1/2 hours, or until it's puffy and doubled in size.
Sprinkle a large (half-sheet) rimmed baking sheet with cornmeal.
Gently punch down dough, turn it out onto a lightly floured work surface, cover it, and let it sit for a few minutes. Roll 1/2-inch thick, cut into 3-inch rounds and place, evenly spaced, on the prepared pan. Re-roll and cut any remaining scraps to get 12 rounds.
Sprinkle cornmeal on top of muffins, cover with plastic wrap (no need to grease), and let them rise until light and puffy, about 45 to 60 minutes.
Preheat an electric griddle to 350 degrees (note: if your griddle is black, preheat to 310 degrees). Alternatively, heat an ungreased skillet over medium-low heat.
Carefully transfer the muffins right-side up to preheated griddle/skillet – make sure they aren't touching each other. Cook for about 5 minutes, then place a smallish cookie sheet on top (can also use a light baking dish). Continue for an additional 5 to 7 minutes, or until muffin bottoms are a golden brown color.
Remove cookie sheet, flip muffins over, and continue cooking (without cookie sheet) for an additional 10 to 12 minutes, until golden brown on second side and an instant-read thermometer inserted in the center of a muffin registers 190 degrees.
Remove muffins from the griddle, and cool on a rack. Store in a zip top baggie at room temperature up to 4 days; can also be frozen.
---
Notes
Note on dry buttermilk: Buttermilk powder (or buttermilk blend) can be found in major grocery stores or specialty stores, usually in the baking aisle. It is also available online.