Lee was inspired by her mother Sally's love of cooking and entertaining to gather friends and family together over great meals and conversation. In fact, Lee held her first dinner party at the age of 16. Throughout the years, Lee has provided recipes, menu advice and cooking tips to friends seeking uncomplicated and delicious ideas for home entertaining. Her recipes and entertaining ideas have been featured in regional and national publications, including Woman's World, The Denver Post, Colorado Expression, 5280, Colorado Springs Gazette , Orange County Register, and Maine Food & Lifestyle Magazine among others. In addition, her books and recipes have been recommended in numerous food and cooking blogs.
In November of 2009, Lee published the award-winning and critically acclaimed A Well-Seasoned Kitchen®, the cookbook she co-authored with her mother. A Well-Seasoned Kitchen® is a treasury of over 180 delicious recipes, creative menus, beautiful 4-color photos and poignant memories of cooking and entertaining together
A Well-Seasoned Kitchen® was awarded a "Living Now" gold medal, given to books that "help people lead better lives".
In 2015, she published Fresh Tastes, the next installment in the Seasoned Kitchen collection. Lee's unique collection of more than 170 recipes, beautiful color photography, essential cooking tips and delightful stories clearly illustrate how to combine fresh ingredients and new ideas to create delicious, memorable meals. Fresh Tastes is the winner of the 2016 Living Now Book Award Silver Medal (Best Cookbook), 2016 National Indie Excellence Award (best cookbook), 2016 Eric Hoffer Book Award (best Home book), and the 2016 da Vinci Eye Award (best cover design).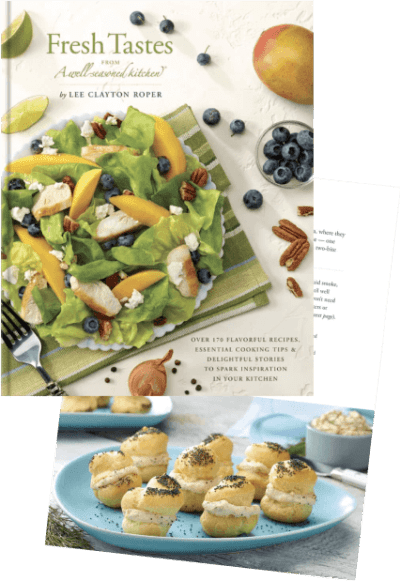 Fresh Tastes
Fresh Tastes, the follow-up to Lee's critically acclaimed cookbook A Well-Seasoned Kitchen®, features a unique collection of recipes chosen for their flavor, reliability, accessible ingredients, ease of preparation and sophisticated presentation.
In addition to writing cookbooks, Lee is the author of a popular website that provides recipes, cooking tips, entertaining and travel information. She also teaches cooking classes at culinary schools around the country and in her and other people's homes. She is frequently invited to conduct cooking demonstrations by local broadcast stations and cable networks as well as at culinary events. She has appeared on Hallmark Channel, KWGN Daybreak, KUSA Denver's 9News (Denver), Good Day Atlanta, Good Day LA, Good Day Colorado, and on Vail TV 8 among others. In addition, she has conducted cooking demonstrations at Taste of Colorado, Denver Food & Wine and Cherry Creek Food & Wine.
Lee speaks publicly to both large and small groups, delivering motivational keynotes about her experiences, both in and out of the kitchen. She is passionate about making cooking and entertaining uncomplicated and accessible, to inspire more time around the family table. She was the keynote speaker at the Christian Living Communities annual fundraising dinner and also one of four featured authors at the Assistance League of Cincinnati's annual luncheon.
Lee's professional career prior to immersing herself in the culinary arts was in the cable television business. She held senior executive positions with Charter Communications, United Pan-Europe Communications (a Liberty Global subsidiary), Rifkin & Associates and United Cable Television, and consulted with cable TV operators and programmers around the world, providing marketing, new business development and strategic planning advice. Lee has relied heavily on her marketing and product development skills in the creation and promotion of her current endeavors.
Memberships:
International Association of Culinary Professionals
Les Dames d'Escoffier International Colorado Chapter (Past President)
Awards:
2010 Living Now Book Award, Gold Medal (A Well-Seasoned Kitchen®)
Best Cookbooks of 2015, Knoxville Mercury News (Fresh Tastes)
2016 Living Now Book Award, Silver Medal (Fresh Tastes)
2016 National Indie Excellence Award, Best Cookbook (Fresh Tastes)
2016 Eric Hofer Book Award, Best Home Book (Fresh Tastes)
2016 da Vinci Eye Award, Best Cover Design (Fresh Tastes)
Connect with Lee:
Facebook.com/seasonedkitchen
Youtube.com/user/seasonedkitchen
pinterest.com/seasonedkitchen
twitter.com/seasonedkitchen
linkedin.com/lee-clayton-roper
instagram.com/seasoned_kitchen