What does a cookbook author, public speaker and cooking class instructor's dream kitchen look like? Read on!
After seven years of living with a kitchen that felt like it was being held together with bubble gum and duct tape, Robert and I decided to remodel our kitchen. Exciting! I got to plan my dream kitchen! Why and how did we do it? It was a long and involved process, so not to overwhelm you with too many details at once, I am going to share photos and information in a series of posts. In this one, I'll tell you about the project background (i.e., why we did it), share a few photos of the old kitchen, and then lots of photos of the end result – sort of a synopsis of the beginning and the end. Subsequent  posts will fill in the details on the process, lessons learned and our "top tips on kitchen remodel" based on that learning.
Why remodel?
Several of our friends said, "why are you changing your kitchen? It looks great." The short answer is: it's amazing what a coat of paint can hide!
Underneath that pretty exterior, there were numerous things that just didn't work for us:
The kitchen drawers kept falling off their rails and the fronts kept coming loose, which we had repaired numerous times (including replacing the drawer rails completely);
we couldn't use the self-cleaning feature in one oven (it would blow out the motherboard if we did!), hence limiting its use;
the stovetop had only 4 mediocre burners and poor ventilation;
there wasn't enough storage space – the pantry in particular wasn't large enough and we had a second pantry outside the kitchen (and down some stairs in the hallway outside our powder room) in what was originally built as a coat closet;
prep and plating counter space was limited;
the kitchen seating area only had room for 2 comfy chairs, so when family or friends came to visit, someone had to sit on a dining room chair (not that comfortable for lounging) or stand if they wanted to hang out in the kitchen;
the space was not configured well for entertaining – with the bar in the middle of the kitchen, our guests inevitably ended up in front of the ovens, or other places that made it a challenge for me to prep, cook and serve the food;
and, my cookbook collection had outgrown the shelving (especially after my mom passed away and I inherited her books!), and cookbooks were stacked on tables, on the floor, in the dining room – we even added shelving units in the basement hallway to mange the overflow:
So, we decided it was time for the BIG REMODEL. Little did we know when we started the planning, that it would take close to a year to complete, and would quickly grow to include more than the kitchen – all of which was well worth it.
Not just a kitchen remodel any more . . .
We did a lot of research on kitchen designs and designers, and chose to work with Angela Otten at the Denver-based kitchen design company Wm Ohs (I'll post another article on how and why we selected Wm Ohs). After one meeting, we quickly realized that, in order to address all of our concerns, we would need to include the dining room in our plans as well. Then, as we got further into the plans, we also realized that an update of our master bathroom should probably be done at the same time, since it is directly above the kitchen. We were going to rip out the ceiling in the kitchen, making it more economical and less disruptive to make any bathroom changes at the same time. AND . . . since we were going to have to reconfigure the HVAC in the new kitchen/dining room space, it was time to update the tired, old furnace and address the issues with the second floor HVAC as well (which had never worked properly). These home remodel projects have a way of growing . . . there's an old saying "you paint the front door, and then end up redecorating the whole house!" How true.
The end result
As I said at the beginning, I'll be posting lots more info on the steps in the process – including all the other people involved, in addition to Wm Ohs – but let's go to the end now.
In a nutshell, we tore out the wall between the kitchen and the dining room, turned the rooms 90 degrees, took out a sliding door, and added in new walls – and ended up with exactly what we wanted: a gorgeous, larger, more functional kitchen with lots of counter space and storage, a larger sitting area off the kitchen (we call it our "hearth room"), lots of shelving, and a beautiful dining room (with storage) that is situated closer to the living room.
We love it! It's truly my dream kitchen. After cooking in it for a year now, there is absolutely nothing I would change. All my appliances, tools, pantry supplies, etc. are conveniently located right where I need them. I have plenty of room for cooking, plating, and clean up. I've even conducted a few private group cooking classes, and there was plenty of room for everyone!
While I'm cooking, Robert – and friends and family – can hang out in the hearth room. It's cozy and comfortable for them, close enough to me that I'm still part of the group, and they aren't in my way!
The dining room is beautiful, functional and, while it's smaller than the original, we can still easily seat 10 at our new table. We have hosted cocktail parties with 80+ people and no one had any problems getting to the food on the dining room table buffet!
Photos
So, (drumroll . . . .) ta-da! here it is! We have many fabulous photos of the kitchen taken by the excellent photographer Chad Chisholm of Custom Creations Photography. Here are some highlights: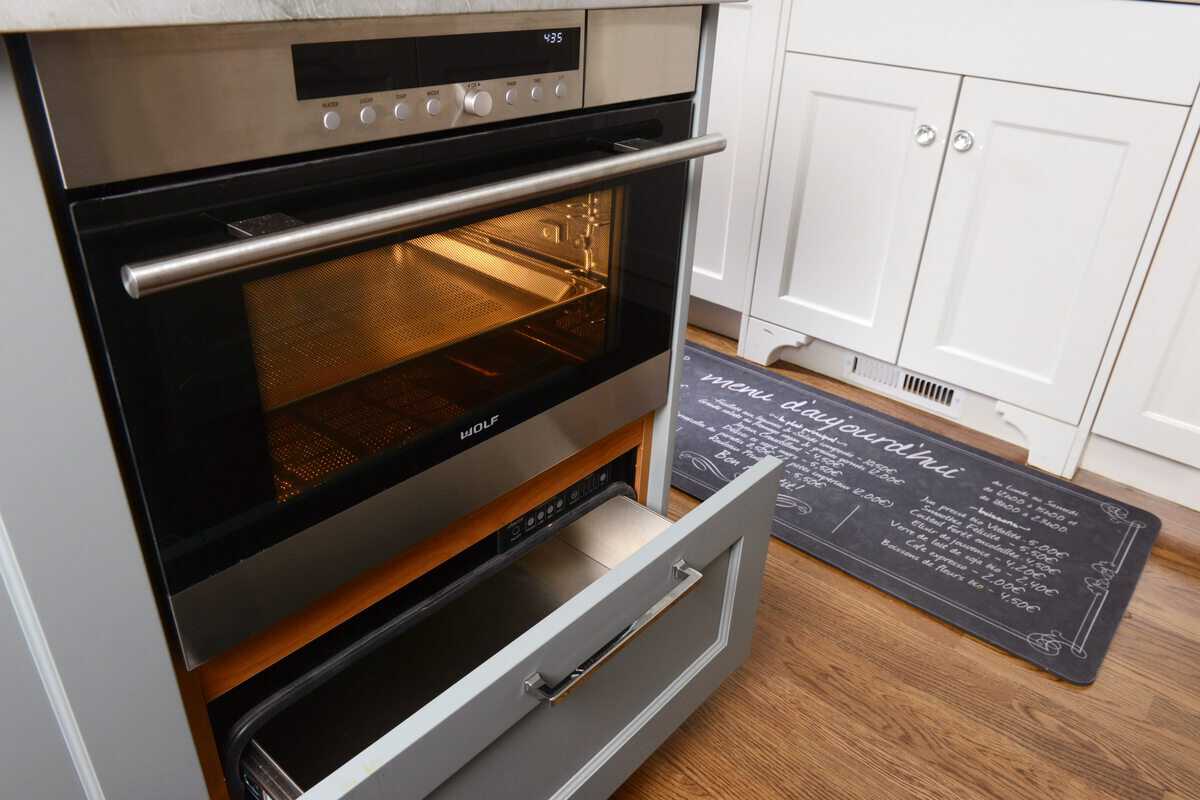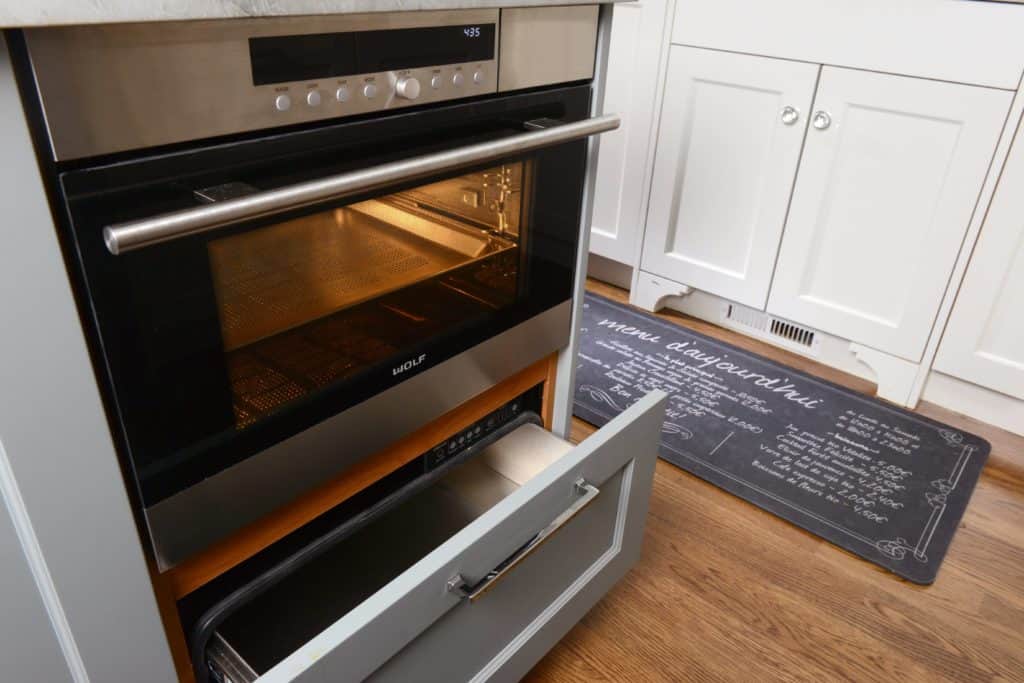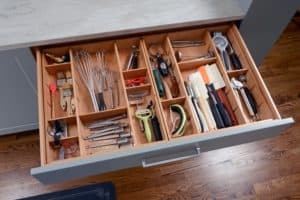 Kitchen tools are organized in these great drawers.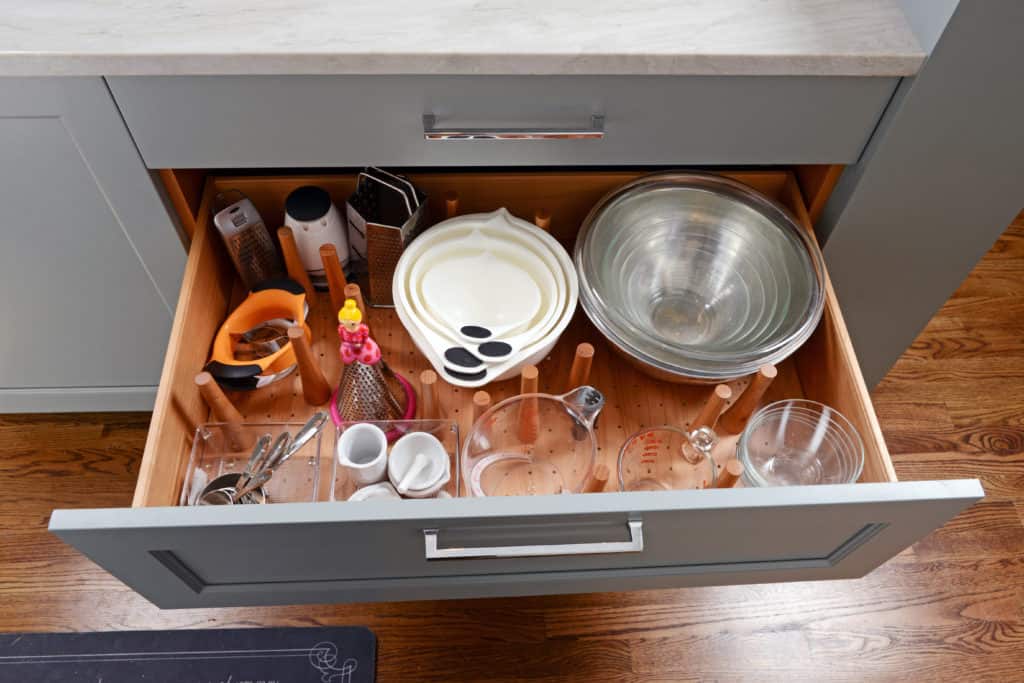 Watch for more posts about how we made all this happen, and who helped us along the way. I'll also provide detail why I selected these appliances (I did a ton of research!).
Enjoy!!