One of our favorite adventures while vacationing on the Amalfi coast was to go on a hike to a local organic farm where we were treated to a cooking class dinner. Our hotel, the Grand Hotel Convento, was on the side of a large hill, just on the outskirts of the town of Amalfi. Our fun guide, Giocondo, came to the hotel and we set out on our hike.
There is a pedestrian stone path from the hotel into central Amalfi that was the route taken by the monks who lived at the convent until the mid-1800s.
It wound down the hill, past entrances to various homes, taking us eventually to the central town square:
(Note: the store/restaurant on the square, Andrea Pansa, was one of our favorites while in Amalfi. See my review of Pansa here.)
The town of Amalfi is directly on the Mediterranean, surrounded by mountains. From the square, we headed away from the water, wandering up a main street past several old mills. At one time, a major industry in the Amalfi area was milling paper. Now the mills are all closed, but we could see the ruins of many on our walk – both in and out of town (here is Robert with Giocondo in front of what was once a mill):
We also saw some beautiful flowers along the way:
As we walked, we eventually wound our way around and up into a valley – called Valle de Molini, or valley of the mills. The route we were following was another pedestrian stone path, that led all the way to the town of Scala (here is Giocondo on the path):
But we weren't going that far – just to the organic farm, around an hour's walk. It was beautiful!
As we headed out of town, up the valley, there were field after field of lemons – terraced up the sides of the valley, around the ruins of the mills and various farmhouses:
There were tons and tons of large, fabulous Amalfi lemons!
Amalfi lemons are much sweeter than we are accustomed to in the U.S., even sweeter than Meyer lemons. How I wish we could get them here! All that lemon flavor without the bitter bite. Yum. But back to our hike . . .
We walked by these dried trees, leaning up on the side of the path:
Giocondo explained to us that these were felled cedar trees – and cedar trees are what is growing above the lemon groves surrounding us, throughout the valley. The farmers cut down the trees, strip them of their branches and then let them dry. Once dry, they are used to stake up the lemon plants! So clever.
We arrived at the farm . . .
. . .where we were greeted by the owner Mina (her husband manages a hotel and was working):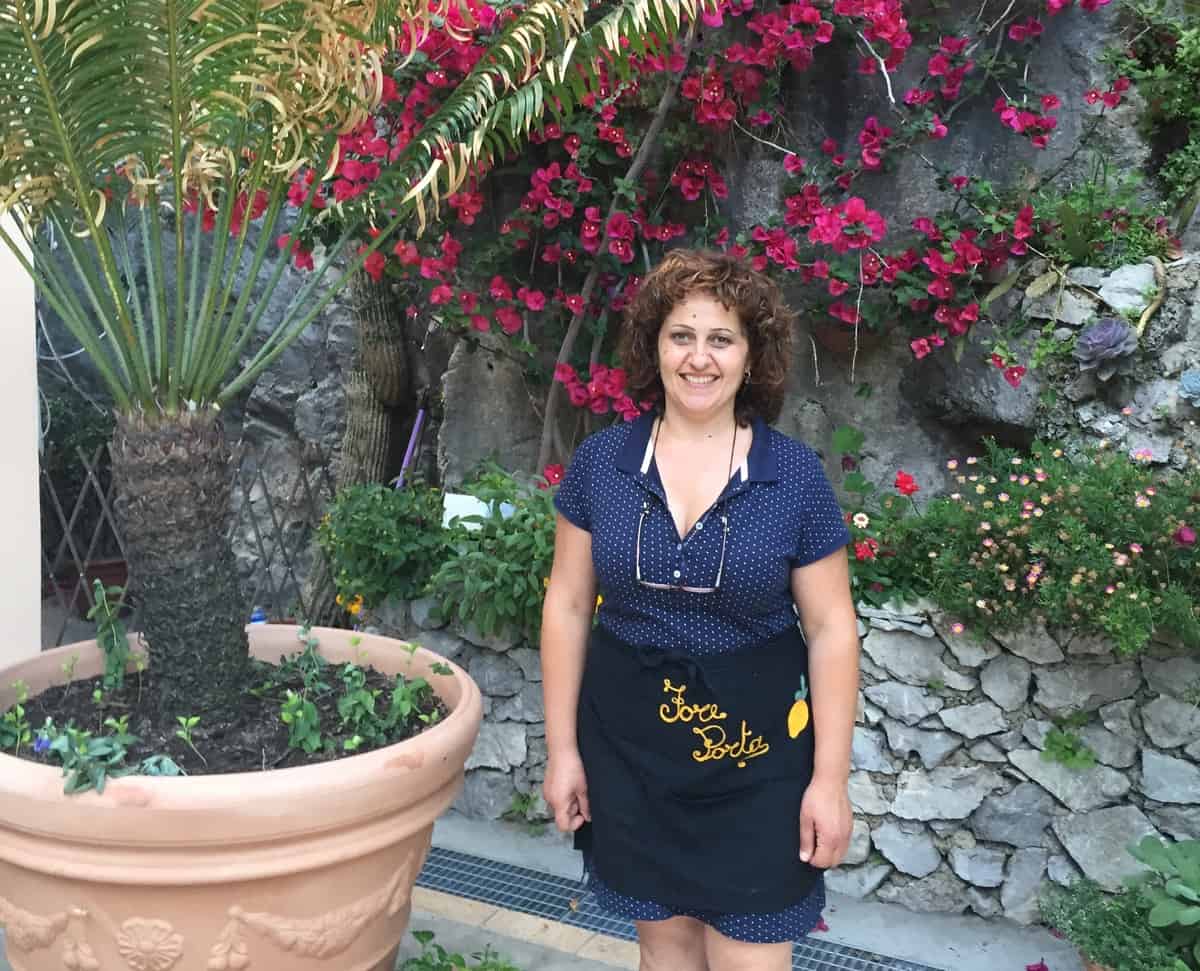 They provided is with a delicious nonalcoholic drink of water flavored with Amalfi lemons to quench our post-hike thirst:
Here I am enjoying my Amalfi "lemonade" next to some of the fabulous flowers on their patio:
Then we walked a bit further up the path to take a look at the store on property where they sell their lemons and other produce.
The store is only accessible by foot from the path – no roads! It's the same for the farmhouse.
Back at the farmhouse, Mina started our cooking class. I took photos, and Robert took notes (that's Mina's daughter in the background).
Mina's overall approach to everything she made for us was focused on simplicity – very fresh ingredients straight off the farm, prepared in an uncomplicated manner with minimal seasonings, allowing the fresh flavors to come through. The first dish she prepared was fried zucchini flowers:
Not stuffed with cheese, the way I had them (and prepared them!) in the past, she simply dipped the flowers in a mixture of flour and beer, then dropped them into hot oil and cooked them until they were a rich golden brown.
(Uncooked zucchini flowers, from her garden:)
So simple – and so delicious! Very light flavor.
Next she made fried zucchini chips – just like the Zucca Chips at North restaurant in Denver that I love!
Again, just a few ingredients. She sliced the zucchini very thin (using a mandolin), lightly coated them with flour and fried them in hot oil until golden brown. Now I can make Zucca Chips at home!
Here's a clever tip I learned from Mina – she put the flour in a salad spinner, added the zucchini slices, then lifted out the strainer internal portion of the spinner and gave it a few shakes to get the excess flour off the zucchini. A time saver – you can flour many more at a time this way.
We sat down on her lovely patio to savor our two first courses, along with various antipasti Mina had made with vegetables from the farm, along with salami made at the neighboring farm. So fresh, so amazing!
Of course, we had to try some local wine – from Giocondo's vineyard. It was a great complement to the food.
Next Mina prepared a pasta course, featuring the zucchini again. She started off sautéing sliced cippolini onions (from the farm) in olive oil. She added coarsely chopped zucchini and kosher salt and cooked it until crisp-tender  . . .
. . .then stirred in cooked penne pasta and torn fresh basil and stirred it around for a few minutes, to allow the sauce flavor to penetrate the pasta. She served it with freshly grated Parmesan cheese. We loved it – very light, with lots of zucchini flavor.
After enjoying the pasta, Mina made a deliciously easy chicken dish. Boneless, skinless chicken breasts lightly dusted with flour and sauteed in olive oil. After cooking the breasts on one side, she turned them over and squeezed fresh lemon juice (from those amazing Amalfi lemons) over the chicken and into the pan and continued until it was cooked through. So light, healthy and moist!
To go with the chicken, Mina created a quick salad of several different varieties of lettuce they grow on the farm, tossed  with sliced onion, fresh olive oil and fresh Amalfi lemon juice (in photo above with chicken). I continued to be amazed at how sweet these lemons are. The salad wasn't tart at all, just rich with lemon flavor.
For dessert, Mina served us a traditional local dessert – the same one we had at Ristorante Ippocampo the day before – a Lemon-Almond Tart. Fabulous!
She served it alongside a large bowl of fresh fruit – all from the farm.
As if that wasn't enough, Mina then brought out three different varieties of home made limoncello!
I would highly recommend this outing if you are looking to get outside and see the Amalfi countryside, glimpse into a local kitchen and see how a local cook works. This is really more of a hike plus dinner on an organic farm, with a bit of cooking instruction thrown in. The evening was light on cooking instruction, but we did learn a few new tricks – and enjoyed a simple but delicious dinner in a lovely setting, with lovely people.