A scrumptious dish to enjoy the flavors of Fall – Acorn Squash Stuffed with Chicken Sausage, Quinoa and Peppers.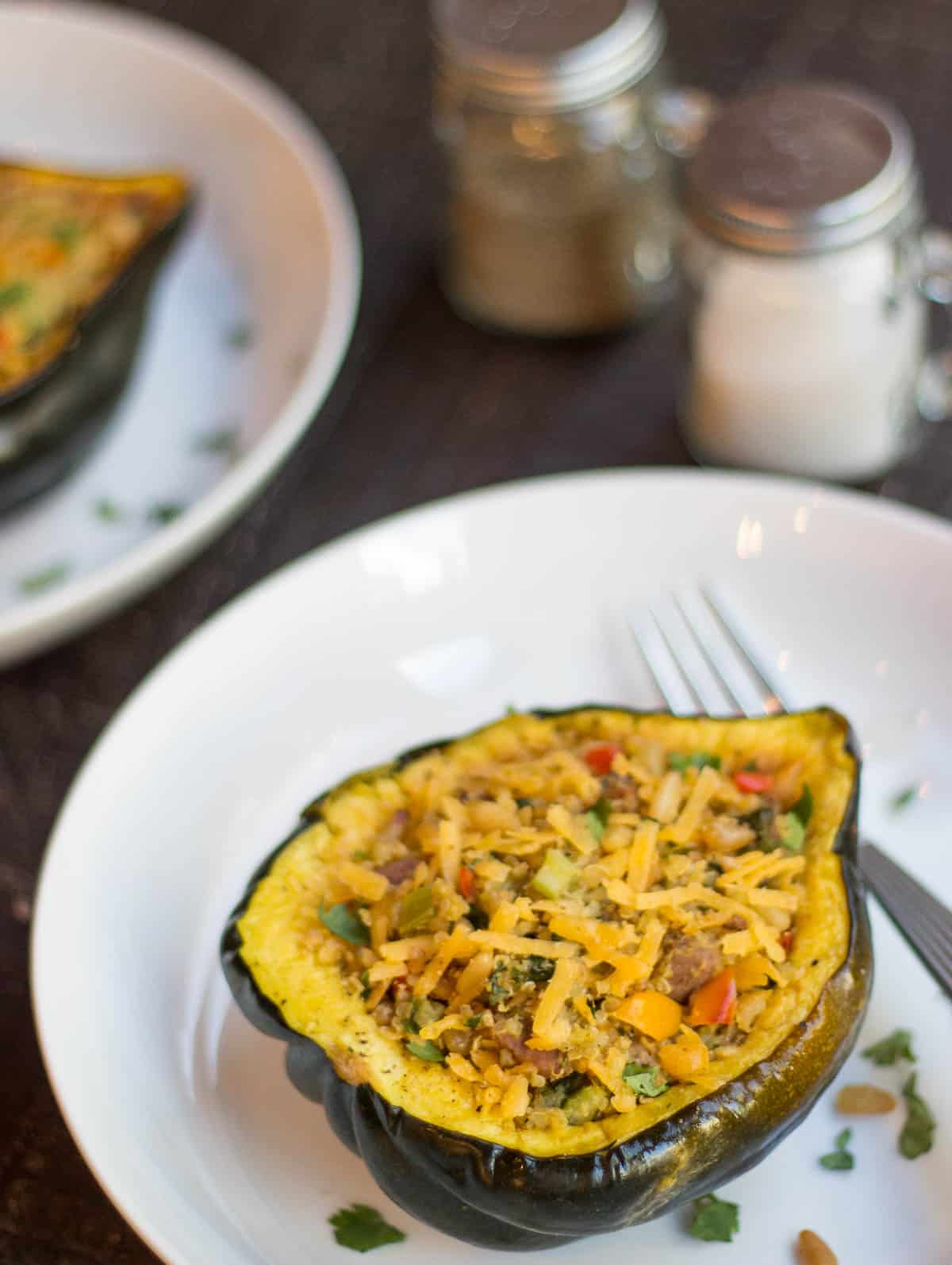 I love the foods of Fall – apples, pumpkin, and squash to name a few. I am especially partial to squash – spaghetti, butternut, kabocha, acorn . . . pretty much all of them! Pretty acorn squash is the perfect size and shape for stuffing – not too big, and once you remove the seeds and stringy pulp, there is a nice space to fill. In addition, there is lots of color on the plate, with its dark green skin and contrasting orange-y colored flesh.
For this main dish recipe, I created a healthy stuffing of chicken-apple sausage, quinoa, bell peppers, celery, and cilantro. The squash is cooked, flesh removed from the shell and mixed with the stuffing, then put back in the shell and topped with Cheddar cheese, nuts and breadcrumbs. The result is a hearty, scrumptious dish that's full of flavor, pretty on the plate – easy enough for every day and elegant enough for entertaining!
Note: I cut the squash stem to pole (tip) rather in half horizontally; the recipe will work either way, but I prefer the way the resulting stuffed squash looks slicing it my way.
Pin it now to save for later!
Acorn Squash Stuffed with Chicken Sausage, Quinoa and Peppers
Author:

Yield:

4

servings

1

x

Category:

poultry, main dish, easy entertaining
---
Description
Healthy and easy to prepare, acorn squash is stuffed with chicken-apple sausage, quinoa, peppers, and celery, then topped with Cheddar, nuts and breadcrumbs.
---
2

medium to large acorn squash, cut in half tip to stem, seeds and stringy pulp removed

2 tablespoons

chipotle-flavored or regular olive oil
Kosher salt, to taste
Fresh ground pepper, to taste

1 cup

vegetable or chicken stock

1/2 cup

dry quinoa, rinsed if needed*

2

chicken-apple sausages, chopped into

1/4

-inch pieces

1/3 cup

chopped red or orange bell peppers

1/3 cup

chopped celery

2 teaspoons

garlic (or chopped shallot)
ground cumin, to taste
onion powder, to taste

1/2 cup

chopped fresh cilantro

1/2 cup

grated sharp Cheddar cheese

1/4 cup

pine nuts or chopped pecans

2 tablespoons

fresh or Panko breadcrumbs (regular or whole wheat)
---
Instructions
Preheat oven to 375 degrees. Line a large rimmed baking sheet with foil.
Shave a small piece (around 1-inch) off the bottom of each squash half so it will sit and not roll around.
Brush the inside and top edge of the squash shells with some of the olive oil (enough to coat the flesh); season with salt and pepper. Place, cut side down, on the prepared cookie sheet and bake for 35 to 40 minutes, or until tender when poked with a fork.
Remove from oven (leave oven on), flip over, put back on same pan and set aside. When cool enough to handle, using a spoon scrape out the squash flesh, leaving a 1/2-inch shell. Chop the flesh. Set both the shells and chopped flesh aside.
In a medium saucepan, stir together broth and quinoa. Bring to a boil, then cover, reduce heat and simmer for 15 minutes or until the broth has evaporated. Remove from heat and let sit covered for 5 minutes. Remove cover and set aside.
Heat remaining olive oil in a large nonstick sauté pan or skillet over medium heat. Add chopped sausage and cook for 3 minutes, stirring occasionally.
Add chopped peppers, celery and garlic and cook for another 3 minutes.
Stir in squash flesh. Sprinkle with a coating of cumin and onion powder and continue cooking, stirring occasionally, until vegetables are soft and heated through.
Remove from heat and stir in cooked quinoa and cilantro. Season to taste with salt and pepper. Add additional cumin and/or onion powder as needed.
Divide evenly between the squash shells.
In a small mixing bowl, stir together cheese, breadcrumbs and nuts. Sprinkle over the squash filling. Press down gently on topping to adhere. Bake stuffed squash until heated through and the cheese melts, around 15 minutes. Watch carefully as the nuts can burn.
Serve immediately.
---
Notes
*read package instructions to see if quinoa was pre-rinsed.
Make ahead: shells can be prepared and filled earlier in the day, cooled, covered and refrigerated. Bring to room temperature before sprinkling on cheese topping and baking.