Coeur à la Crème – a fancy French name for a make-ahead, no-bake, crustless – and gluten free! – cheesecake. Serve it with a quick and easy, deep red, fruity Strawberry-Currant Sauce.
This recipe came from good friend Jeanne Saunders, who got it from her mom. Jeanne told me this dessert was often requested for birthday dinners by her and her brother growing up. And, I can see why! It's light, creamy and super delicious. Cream cheese is whipped together with powdered sugar, vanilla and lemon zest. Then you fold in whipped cream, spoon it into a heart-shaped mold and refrigerate – that's all there is to it. What could be easier?
Don't leave off the sauce, it's amazing – a scrumptious colorful mixture of fresh strawberries, lemon juice, currant jelly and dry sherry. At first, I was a bit concerned about the sherry part – but I shouldn't have worried, as I've never gone wrong with any of Jeanne (or her mom's) recipes! The flavors blend perfectly, and the result is a deep red, fruity topping for the creamy white Coeur.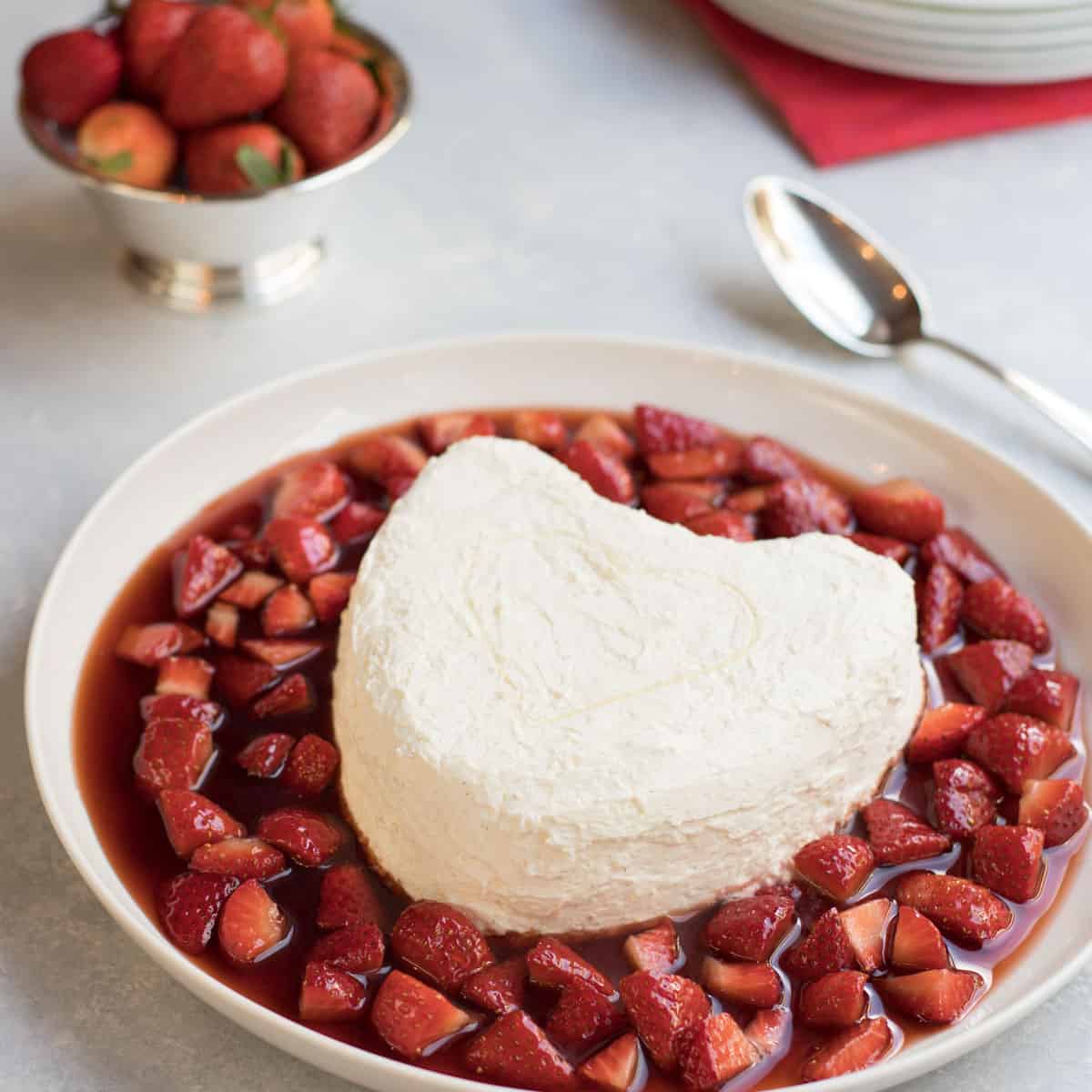 As you will see in the Notes section below (under "Variation"), you can make this dessert even if you don't have a Coeur à la Crème mold. The key to this mold is that it has holes in the bottom, which allow the cheese mixture to "weep" as it sets up in the refrigerator. Just use a small colander, strainer or sieve. It works equally as well – your Coeur will just be round instead of heart-shaped.
Pin it now to save for later!
Print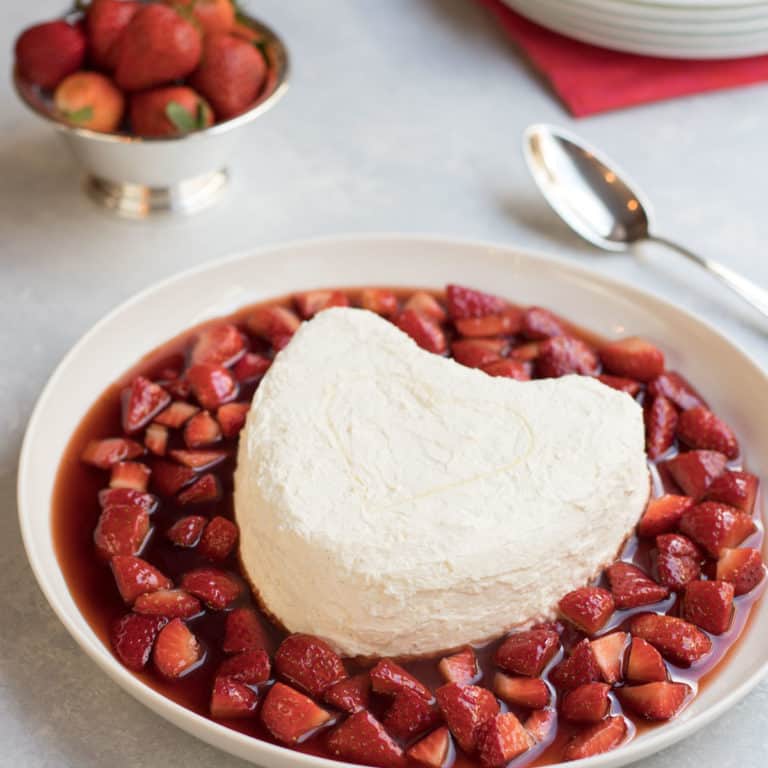 Coeur à la Crème with Strawberry-Currant Sauce
A beautiful make ahead dessert that is basically a no-bake, crustless, gluten-free cheesecake!
Yield:

6

to

8

servings

1

x
Coeur à la Crème
1 1/2 cups

heavy whipping cream

8 ounces

cream cheese, softened

1/2 cup

powdered (confectioners) sugar

1

vanilla bean – see Note

3/4 teaspoon

lemon zest
Pinch salt
Strawberry-Currant Sauce
16 ounces

fresh strawberries, stemmed

1 tablespoon

lemon juice

3/4 cup

red currant jelly (see Substitution below)

1/4 cup

dry sherry
Instructions
Coeur à la Crème
Line a 7-inch heart-shaped Coeur à la Crème mold (see Note below) with enough cheesecloth to drape over the sides and cover the top of the filled mold.
In a medium bowl, using the whisk attachment of an electric mixer, whip the cream until stiff. Set aside.
In a second bowl, also using the whisk attachment of an electric mixer, beat the cream cheese until light and fluffy. (Yes, I like to use the whisk attachment to do this step, it's not a typo. I think it makes the cream cheese even fluffier. You can use the paddle attachment if you prefer).
Add the powdered sugar and beat again until well mixed. Scrape the seeds from inside of the vanilla bean and add to cream cheese mixture, along with the lemon zest and salt. Mix until well blended.
Fold whipped cream into whipped cheese mixture. Spoon into prepared mold, pressing down to remove any air pockets and smoothing the top. Wrap cheesecloth over the top. Place on top of a plate (to catch any drips) and refrigerate for at least 6 hours, preferably overnight.
Strawberry-Currant Sauce
At least one hour before serving, make the strawberry sauce: Coarsely chop enough strawberries to measure 1 1/2 cups. Place in a medium mixing bowl and stir in lemon juice. Set aside.
In a small saucepan, bring currant jelly and sherry to a boil, stirring. Reduce to a simmer and continue cooking, stirring, until jelly is completely melted.
Stir into chopped strawberries. Let cool to room temperature.
To Serve
 Remove the heart mold from the refrigerator and peel back the cheesecloth from the top.
Place a large round serving dish over the top and invert. Carefully remove the mold, then the cheesecloth. Smooth over any gaps or lines from the cheesecloth (see Tip below).
Spoon sauce and strawberries around the side.
Quarter and use remaining strawberries for garnish as needed.
Notes
Substitution for vanilla bean: You can substitute 1 tablespoon vanilla extract or 1 tablespoon vanilla bean paste.
Substitution for red currant jelly: If you can't find red currant jelly, use black currant jelly, apple jelly or grape jelly. You might want to add a bit more lemon juice. Can also use currant fruit spread; pour through a strainer into strawberries and push on solids to extract all the juice.
Note on serving: I think the Coeur and sauce taste best at room temperature.
Tip on unmolding: Before I flip over the molded Coeur, I take a table knife and evenly scrape off around 2 tablespoons of the crème from what will be the bottom. After flipping over, I use the portion I scraped off like icing, to fill in any gaps and cover over any marks.
Make ahead: Coeur can be made up to 24 hours ahead. Sauce can also be made up to 24 hours ahead, cooled, covered and refrigerated. Bring both to room temperature before serving.
Variation on mold: If you don't have a Coeur à la Crème mold, you can use a small colander or sieve. Your molded Coeur will be round instead of heart-shaped, but will taste just as good!
Author:

Category:

Desserts, Gluten-free, Make Ahead