The other night I had some leftover Ginger Couscous (recipe is in our cookbook) and decided it might be fun to make a pizza crust with it. I've seen rice crusts, and thought couscous just might work – and it did! You can put just about any topping on this crust, and you can make the crust with less cooked couscous if that is what you have leftover – just reduce the eggs from 2 to 1 if you are using closer to 1 cup of couscous (and I wouldn't use less than 1 cup). The good news is that this dish is easy to prepare, delicious, low in Weight Watchers points, and is gluten free!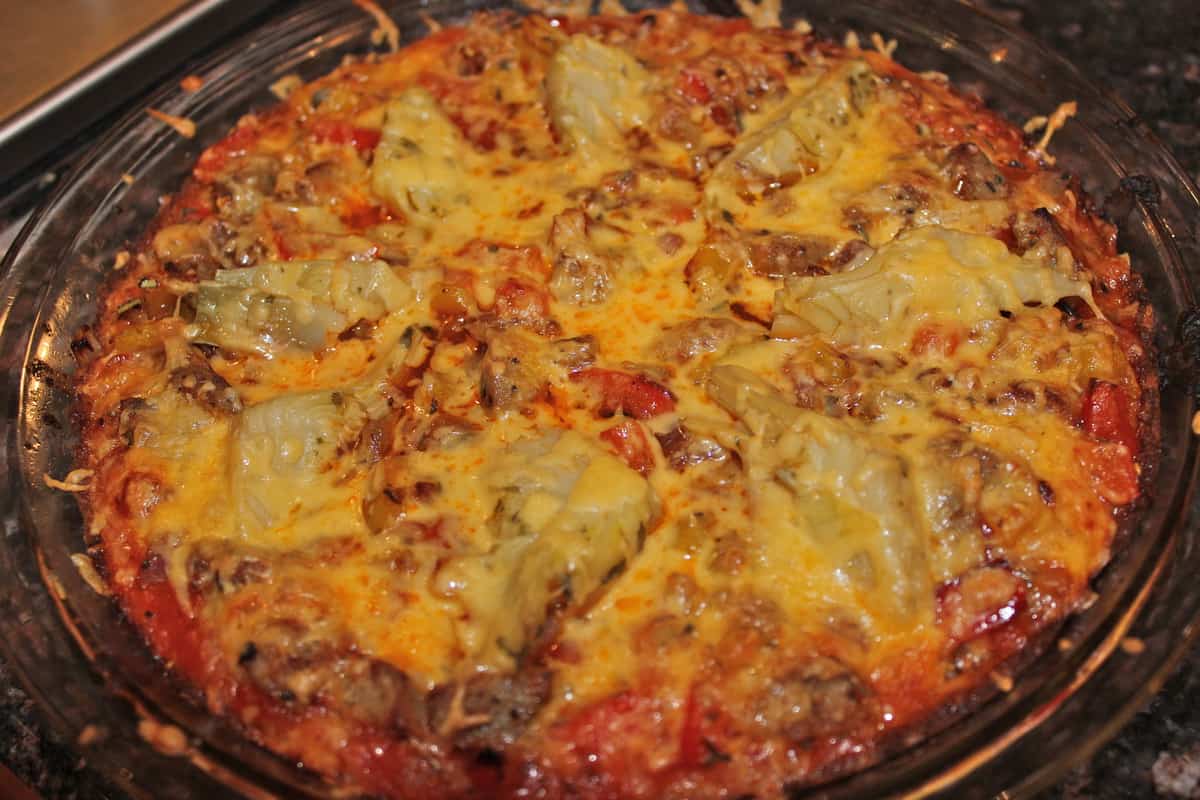 Couscous Pizza with Sausage, Peppers & Artichokes
---
2 cups

cooked couscous (preferably whole wheat)

2

eggs, beaten

3/4 cup

shredded sharp Cheddar cheese (low fat) – can also use Mozzarella, Monterey Jack, or Pepper Jack cheese (or a mixture)

1 tablespoon

olive oil

1/2 teaspoon

chopped garlic

1/2

bell pepper, chopped (red, green and/or yellow)

1/2

medium red onion, chopped

1 teaspoon

Italian seasoning (or to taste)

1/8 teaspoon

red pepper flakes (or to taste)

3

small turkey sausage links (Jimmy Dean breakfast sausages work well)

1 cup

marinara sauce

2

artichoke hearts, drained, cut into quarters (I use canned, in water)

1/4 cup

fresh grated Parmesan cheese
---
Instructions
Preheat oven to 425 degrees. Spray an 8 or 9-inch pie plate with nonstick cooking spray.
In a medium mixing bowl, stir together the couscous, beaten eggs and 1/4 cup of the Cheddar cheese. Press into the bottom and up the sides of the prepared dish. Bake for around 20 minutes or until set. Remove from oven and set aside (leave the oven on).
Heat olive oil in a large skillet or sauté pan over medium heat. When hot, add the garlic, bell pepper, and onion. Sprinkle with Italian seasoning and red pepper flakes to taste. Cook until the vegetables are soft, stirring occasionally. Slice the sausages into 1/4-inch pieces and stir into the onion-pepper mixture and continue cooking until the sausages are heated through. Season to taste with salt; set aside.
Spread the marinara sauce evenly over the bottom of the couscous crust. Top with the sausage-onion-pepper mixture. Evenly place the artichoke quarters on top. Sprinkle the remaining 1/2 cup Cheddar cheese and the Parmesan cheese over the pizza. Place back in the oven and cook just until heated through and the cheese is melted, around 10 to 15 minutes.
---
Notes
Weight Watchers points = 6