These small muffin-sized Individual Butterscotch Pies are adorable and, well, absolutely heavenly.
I am in love with these Individual Butterscotch Pies! Why, you ask? Well, simply put – the crust is light and flaky (due to the addition of baking powder) and the filling rich and delicious. Many people don't like to make mini pies because the filling can heat up quickly and boil over when baked. That isn't a problem with these pies because you don't bake the filling! You cook the butterscotch filling on the stovetop, cool it a bit and spoon it into baked mini pie shells. What could be easier?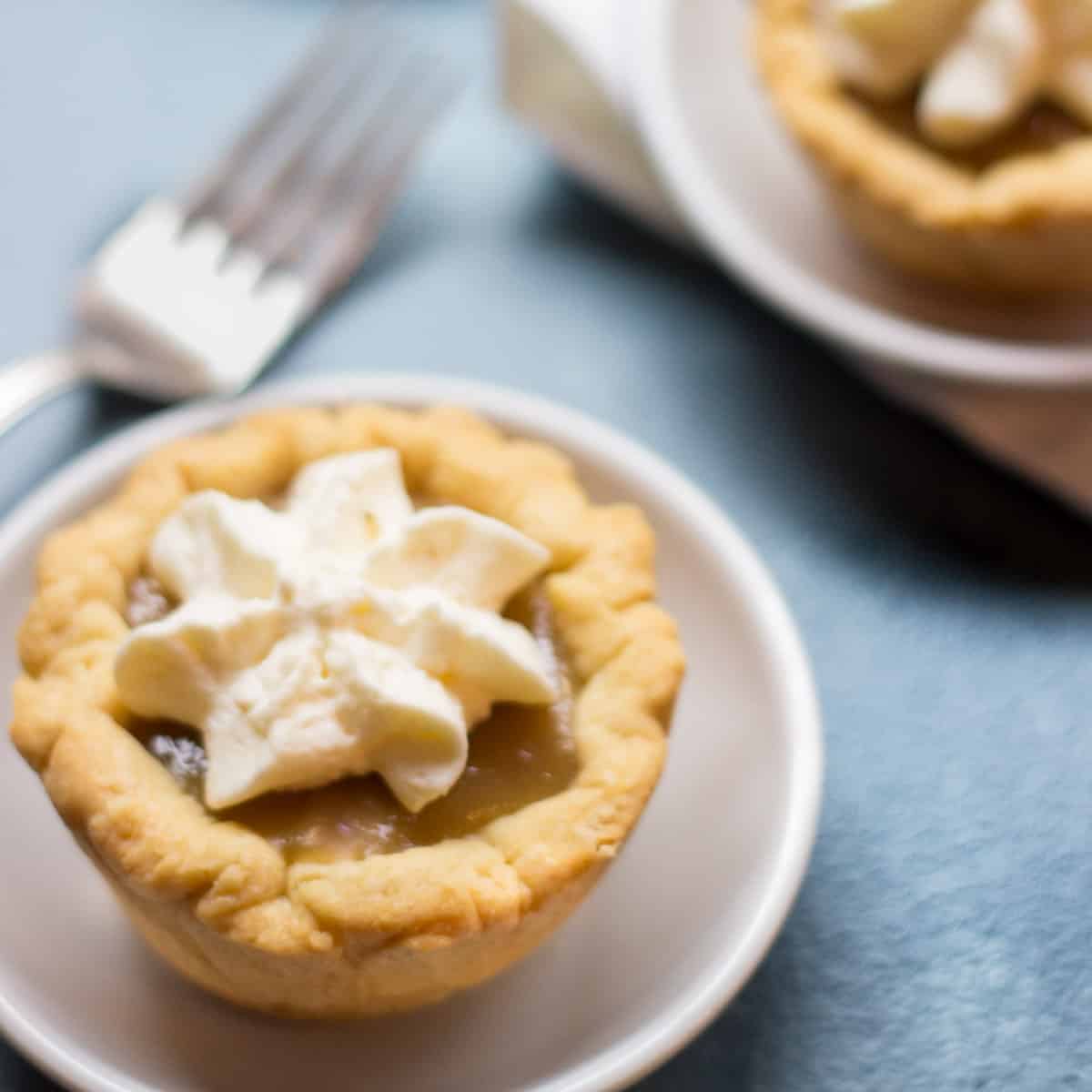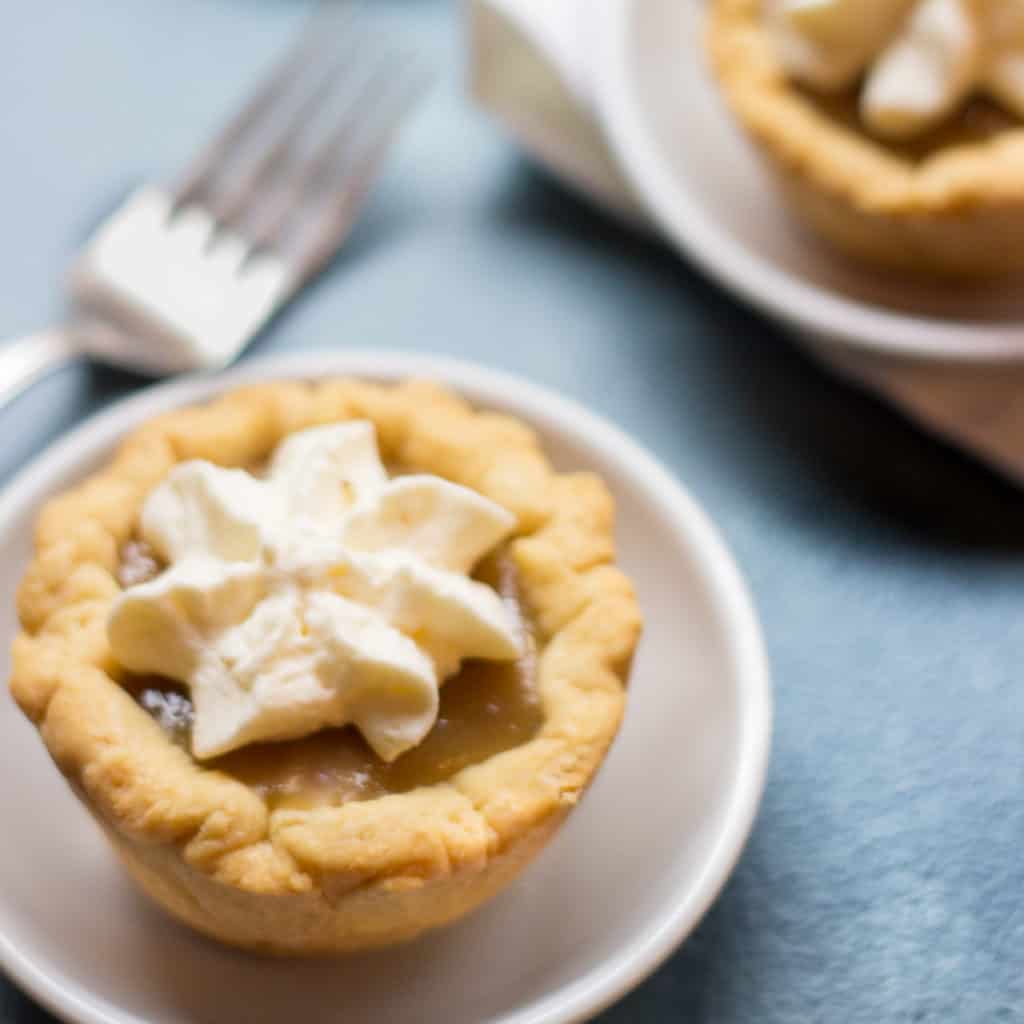 I discovered this recipe in the original recipe box at The Gordon Ranch in Wyoming. For almost 40 years, my family spent several weeks each summer at the ranch. Friends of my parents since the early '50s, our families built fond memories together, many centered around food. When Crow Gordon, the patriarch of the family, passed away, his daughter Valerie asked me if I would like to borrow the ranch recipe box. I leapt at the opportunity!
I have so many fond memories of many delicious shared meals at the Gordon Ranch. In perusing the recipes, I came across this one for Individual Butterscotch Pies. Since I love anything with caramel or butterscotch, I immediately scanned a copy of this one for myself. As with virtually every recipe I try, I made a few tweaks and expanded on the directions (which were very limited – this entire recipe fit on the front and back of one 4- by 6-inch recipe card!). I tested it on friends at a dinner party one night, to rave reviews!
Pin it now to save for later –
Print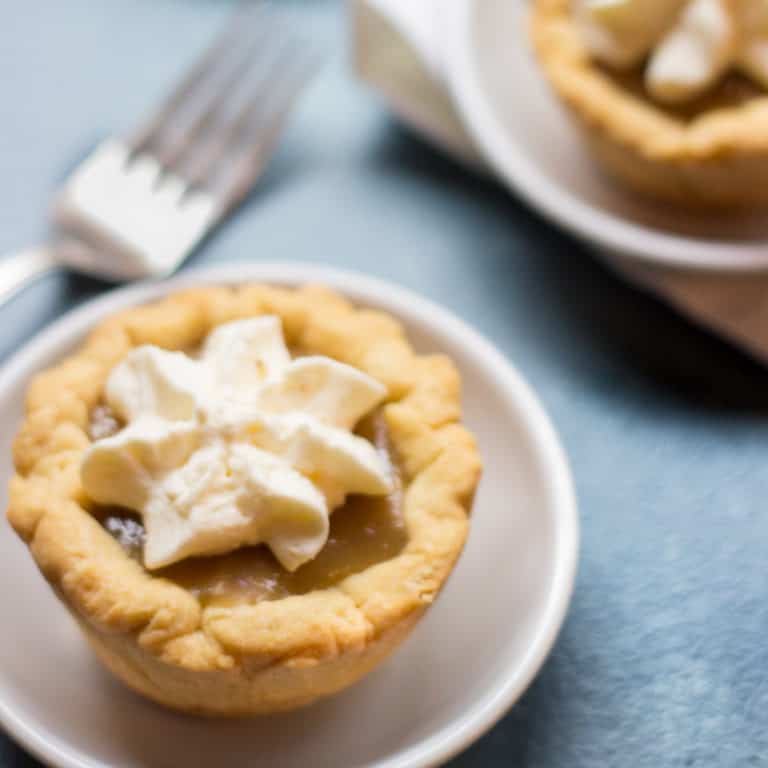 Individual Butterscotch Pies
These muffin-sized Individual Butterscotch Pies are adorable and heavenly tasting. The crust is light and flaky (due to the addition of baking powder) and the no-bake filling rich and delicious.
Pie Crusts
3 cups

all-purpose flour, preferably unbleached

1/2 teaspoon

table salt

2 teaspoons

baking powder

1 cup

cold salted butter, cut into small cubes

8

to

10

tablespoons ice water
Butterscotch Filling
4 tablespoons

salted butter, softened

2 cups

light brown sugar, packed

1/2 cup

all-purpose flour, preferably unbleached

1/2 teaspoon

table salt

4

large eggs, beaten

2 cups

whole milk

1 teaspoon

vanilla

2 cups

heavy whipping cream, whipped with powdered sugar and vanilla, for serving

3/4 cup

toasted chopped walnuts or pecans, for garnish (optional)
Instructions
Pie Crusts
In a food processor fitted with the steel blade, mix together the flour, salt and baking powder. Add the butter and process 5 to 10 seconds, or until the dough is the size of small peas.
Add 4 tablespoons cold water and pulse 2 to 3 times. Watch the dough carefully and stop the machine as soon as the dough starts to clump together. It will look rough and lumpy and there may be pieces of butter. If it looks dry and crumbly, pinch the dough together with your fingers; if it holds together, it is done. If not, add more ice water (in the dry air in Denver, I usually need 7 or 8 tablespoons water). Do not allow the dough to form a ball on the machine blades, as then it will be overworked and tough.
Turn dough out onto a clean surface and form into 2 flat discs; wrap separately with plastic wrap and refrigerate for at least 30 minutes (up to overnight).
Preheat oven to 350 degrees. Generously butter a 12-cup muffin tin.
Take dough out of the refrigerator and let it sit at room temperature for around 20 minutes (this makes it easier to roll).
On a lightly floured work surface, roll dough to an even 1/8-inch thickness and into a square-ish shape. Cut out 12 (4 1/2-inch) circles – use a small bowl or a takeout container lid as a guide. You may have some leftover dough.
Fit the dough circles into the muffin cups, gently pressing on the dough so that it is snug in the muffin cups (I wear gloves so my nails don't damage the dough). Refrigerate for 30 minutes.
Cut out 12 (4- to 5-inch) squares of foil. Line the dough in each muffin cup with a foil square and fill with pie weights. Bake for 20 to 30 minutes or until crusts are golden brown. Remove from oven. Remove foil and pie weights and let crusts cool in the pan for around 10 minutes, before removing to a wire rack to cool completely.
Butterscotch Filling
Using an electric mixer with the paddle attachment, cream together the butter, sugar, flour and salt. Slowly blend in eggs, then milk and vanilla. Place mixture in a heavy saucepan and cook over medium-low heat, whisking, until thick. Let cool 10 minutes.
Spoon filling into individual pie crusts and put on a parchment paper-lined cookie sheet. Refrigerate for at least 2 hours to set.
Pipe or spoon whipped cream onto top of pies. Sprinkle nuts over the top, if using.
Notes
Make ahead: The pies can be made up to 24 hours in advance, covered and refrigerated. Add whipped cream topping just before serving.
Author:

Category:

desserts