Discover a collection of more exclusive recipes in both of Lee's books,
A Well-Seasoned Kitchen and Fresh Tastes. Order Now (Free Standard Shipping)
Spicy Southwestern Shrimp Appetizer – a super easy and flavorful alternative to traditional shrimp cocktail for your next gathering!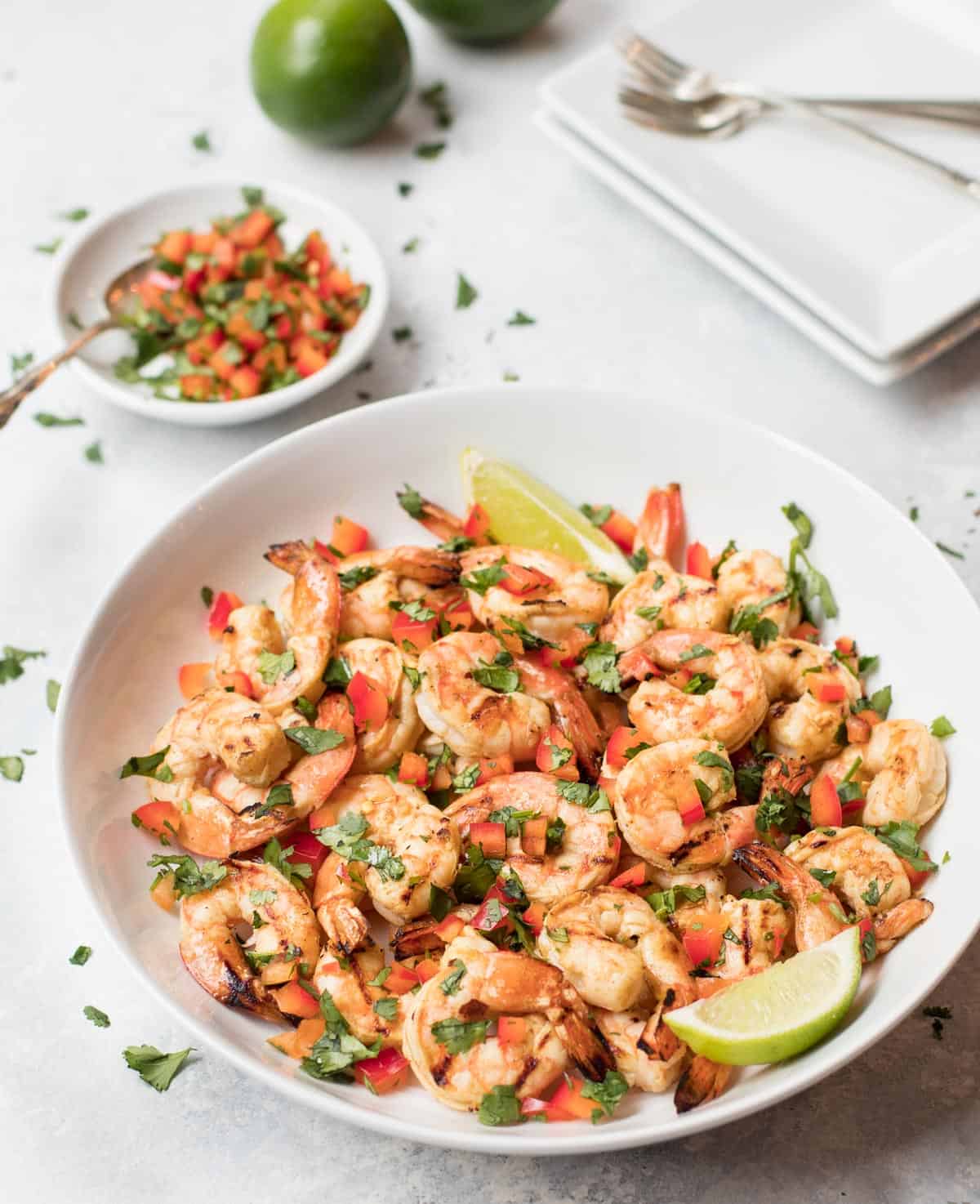 I love serving shrimp as an appetizer – because, who doesn't like shrimp? Shrimp cocktail – chilled cooked shrimp served with a horseradish-spiked cocktail sauce on the side – is always a great, standard appetizer that is sure to please. However, sometimes it's fun to mix things up a bit and serve something different, something more unexpected. That's why I love this shrimp appetizer recipe. The shrimp isn't sauced up, wrapped up, or chopped up. Whole large shrimp are marinated in a scrumptious spicy mixture of olive oil, lime juice, sherry, garlic, cumin, red pepper flakes and hot sauce. Then they are grilled or broiled (I provide directions for both cooking methods below) and served with a garnish of chopped fresh sweet red pepper and cilantro. Super easy to prepare, super yummy, and oh so pretty and colorful, too!
Many thanks to our neighbor and good friend Edie Landon who shared her version of this recipe with me. (Of course, I can never resist changing it up a bit!)
Print
Spicy Southwestern Shrimp Appetizer
Author:

By Lee Clayton Roper

Prep Time:

15 mins

Cook Time:

65 mins

Total Time:

1 hour 20 minutes

Yield:

Serves 4 to 6; can easily be doubled or tripled

Category:

Easy appetizers, seafood
---
Ingredients
1 pound large (21 to 30 per pound) raw shrimp, shelled and deveined, tails intact

1/4 cup extra virgin olive oil

1/4 cup fresh lime juice

2 tablespoons sherry or white wine

3 cloves garlic, chopped or pressed

2 teaspoons ground cumin

2 teaspoons kosher salt

1 heaping teaspoon red chili flakes, or more to taste

1/2 teaspoon Tabasco or other hot sauce

1/2 sweet red pepper, finely chopped

1/4 cup chopped fresh cilantro leaves
---
Instructions
Soak 6 to 8 (10 to 12-inch) long wooden skewers in water for at least 30 minutes.
Rinse shrimp and pat dry with paper towel.
In a medium mixing bowl, whisk together the olive oil, lime juice, sherry, garlic, cumin, salt, red chili flakes and Tabasco. Place sauce in a medium-size zip top baggie and add shrimp. Place in refrigerator to marinade for 45 minutes to 1 hour. Don't leave any longer – or the lime juice will start to cook the shrimp!
While the shrimp are marinating, make the garnish: in a small mixing bowl, stir together the chopped red pepper and cilantro.
Preheat grill or boiler to high. If broiling, make sure oven rack is 5 to 6 inches from heat element.
Thread about 4 or 5 shrimp on each skewer, piercing through the head and just above the the tail of each shrimp, so they form a "u" on the skewer.
If grilling: carefully brush grill with vegetable or canola oil and grill shrimp skewers, uncovered, for 3 minutes. When the shrimp no longer stick to the grill surface, flip over. Grill for an additional 2 to 4 minutes or until cooked through (watch carefully so they don't burn). Remove from skewers and garnish with pepper-cilantro mixture. Can also serve with some/all of the garnish on the side. Serve hot.
If broiling: Place skewers on a foil-lined cookie sheet and broil for 2 minutes. Turn over and continue cooking until pink and cooked through around another 2 minutes. Watch carefully so they don't burn or get overcooked. Remove from skewers and garnish with pepper-cilantro mixture. Can also serve with some/all of the garnish on the side. Serve hot.
---
Notes
Cook time includes 1 hour marinating time!