Once a month I conduct a cooking demonstration at EVOO Marketplace, the leading purveyor of quality olive oils and aged balsamic vinegars in the Denver area. For my March demo at their downtown store, Stephanie Bohler (part of the Major family that owns and manages all three EVOO Marketplace stores) requested that I include a chicken recipe featuring both an EVOO olive oil and balsamic vinegar. I created this dish, and everyone at the demo loved it, so I thought i would share it with you. Don't be put off by the number of steps, this dish isn't complicated to prepare, and most of it can be done ahead – and you will wow your friends and family with not only its sophisticated flavor but also its presentation!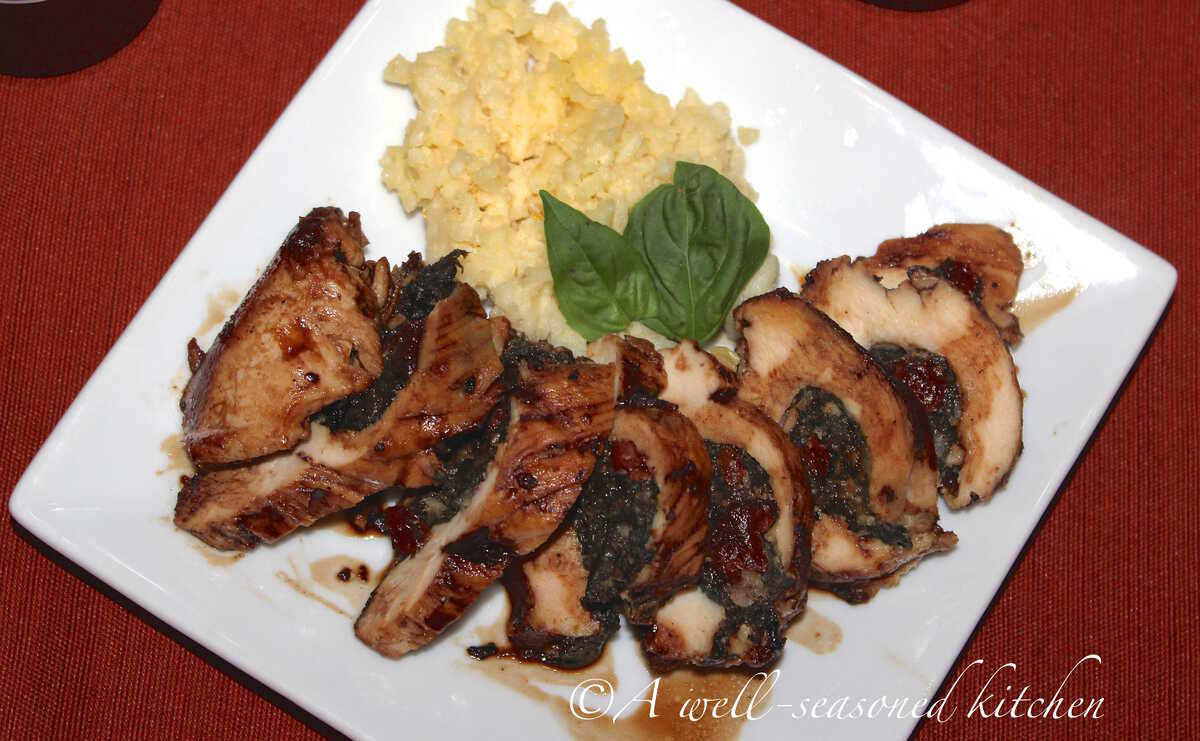 Spinach and Cheese Stuffed Chicken Breasts with a Cherry Balsamic Glaze
---
Description
Delicious served with our Lemon Rice.
---
1/4 cup

EVOO Basil Olive Oil + more for brushing

2 teaspoons

chopped garlic

1/2 cup

chopped red onion

4 cups

baby spinach leaves, large stems removed

3 tablespoons

dried cherries

1/2 cup

goat cheese (around

3 ounces

of solid goat cheese), cut into pieces

4

boneless, skinless chicken breast halves

1/2 cup

hearty red wine

3/4 cup

EVOO Black Cherry Balsamic Vinegar + more for brushing

1 cup

chicken broth

1 teaspoon

cornstarch
Chopped parsley for garnish
---
Instructions
Preheat oven to 375 degrees. Line rimmed cookie sheet with parchment paper.
In a large skillet, heat 2 tablespoons of basil oil over medium heat. When hot, add garlic and chopped onion; cook until onions are soft, stirring frequently. Add spinach, cook until leaves are wilted and most of the moisture is cooked off. Turn heat to low, stir in dried cherries and goat cheese; continue cooking and stirring until cheese is melted. Season to taste with salt and pepper; set aside to cool.
Carefully cut a pocket into the thicker side of each chicken breast. Cut through the inside almost to the edge but stop to make sure you don't cut through the outside. Run your finger around the inside to make the pocket as large as possible.
Stuff each pocket with 1/4 of filling. Secure the outside with wooden toothpicks to close. Wipe out skillet and in it heat remaining 2 tablespoons of basil oil over medium-high heat. Sauté chicken breasts for around 2 minutes per side, until golden brown. Place on prepared pan, brush with some basil oil and balsamic vinegar and roast in oven until chicken reaches 165 degrees on instant read thermometer (make sure to measure the temp of chicken and not filling) – takes around 15 to 20 minutes.
While chicken is cooking, make the sauce: In the same skillet, add red wine and 1/4 cup of balsamic vinegar. Bring to a boil, stirring to scrape up any browned bits on bottom of pan. Reduce heat to medium and continue to boil until reduced by half, around 3 to 5 minutes. Add chicken broth, boil again until reduced by half, around 5 to 7 minutes.
In a small bowl, whisk together cornstarch with 1 tablespoon water. Stir mixture into sauce in the skillet and cook, stirring, until slightly thickened and glossy. Remove pan from heat and stir in remaining 1/2 cup balsamic vinegar. Season to taste with salt and pepper. Let sit at room temperature until chicken is done. Place cooked chicken breasts on individual plates or a serving platter and drizzle sauce over the top. Sprinkle with chopped parsley.
---
Notes
If you can't find basil olive oil, substitute a high quality extra virgin olive oil. Ditto for the black cherry balsamic vinegar.
Make ahead: Chicken breasts can be stuffed but not cooked earlier in the day, covered and refrigerated. Bring to room temperature before cooking.