Another delicious recipe to take full advantage of the vast amount of zucchini and various fresh mushrooms at the farmer's market this time of year. Inspired by a Julia Childs' recipe, this dish can be made vegetarian, or with ham (see "Variation" on the bottom).
Print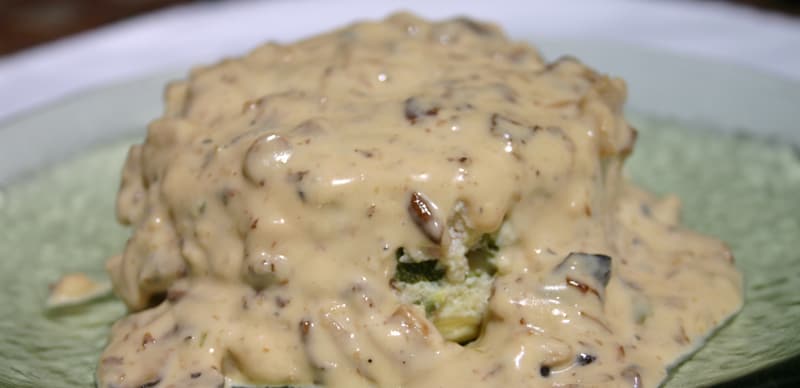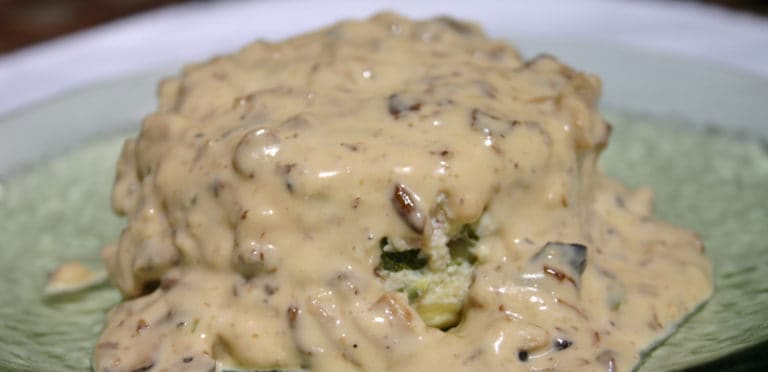 Zucchini Timbales with Mushroom Sauce Recipe
Zucchini Timbales:
1 1/2 cups

grated zucchini, rung dry in paper towel

3

eggs, beaten

1/3 cup

fresh bread crumbs

1 1/2 tablespoons

grated yellow onion

2 tablespoons

parsley

1/3 cup

Parmesan cheese

1/3 cup

milk (whole, 2% or skim)
a few dashes of Tabasco sauce
Mushroom Sauce:
5 tablespoons

butter

1

pound fresh mushrooms (I like to use a mix – shitake, cremini, oyster, etc.), chopped

8

scallions, chopped

1/4 cup

flour

4 cups

evaporated milk (whole or skim)

3 tablespoons

port

1/2

to

1

teaspoon fresh lemon juice
Instructions
Preheat the oven to 350 degrees. Butter four 6- to 8-ounce ramekins.
In a medium mixing bowl, stir together all the timbale ingredients. Season with salt and pepper. Divide evenly among the ramekins. Place in a roasting pan and put in the oven. Pour boiling water around the cups to come halfway up. Bake for 5 minutes, then reduce heat to 325 and continue baking for an additional 50 to 55 minutes, or until firm in the center and a toothpick inserted in the center comes out clean. Let sit for 5 to 10 minutes, then run a knife around the side to loosen. Place serving dish over the top, invert and pull off ramekin and spoon mushroom sauce over the top.
While the timbales are baking, make the mushroom sauce: In a large skillet or sauté pan, melt the butter over medium heat. Stir in the mushrooms and scallions and cook until soft. Stir in the flour, reduce the heat to low and cook, stirring, for 3 minutes. Stir in the milk, bring to a boil, reduce to a simmer and cook until slightly thickened. Stir in port and lemon juice. Season to taste with salt and pepper. Keep warm. Note: sauce will thicken a lot as it sits.
Notes
Variation: substitute 1/2 cup chopped cooked ham for 1/2 cup of the zucchini.