Artichoke and Sundried Tomato Strudel is a delicious vegetarian dish that's perfect for a luncheon or light dinner.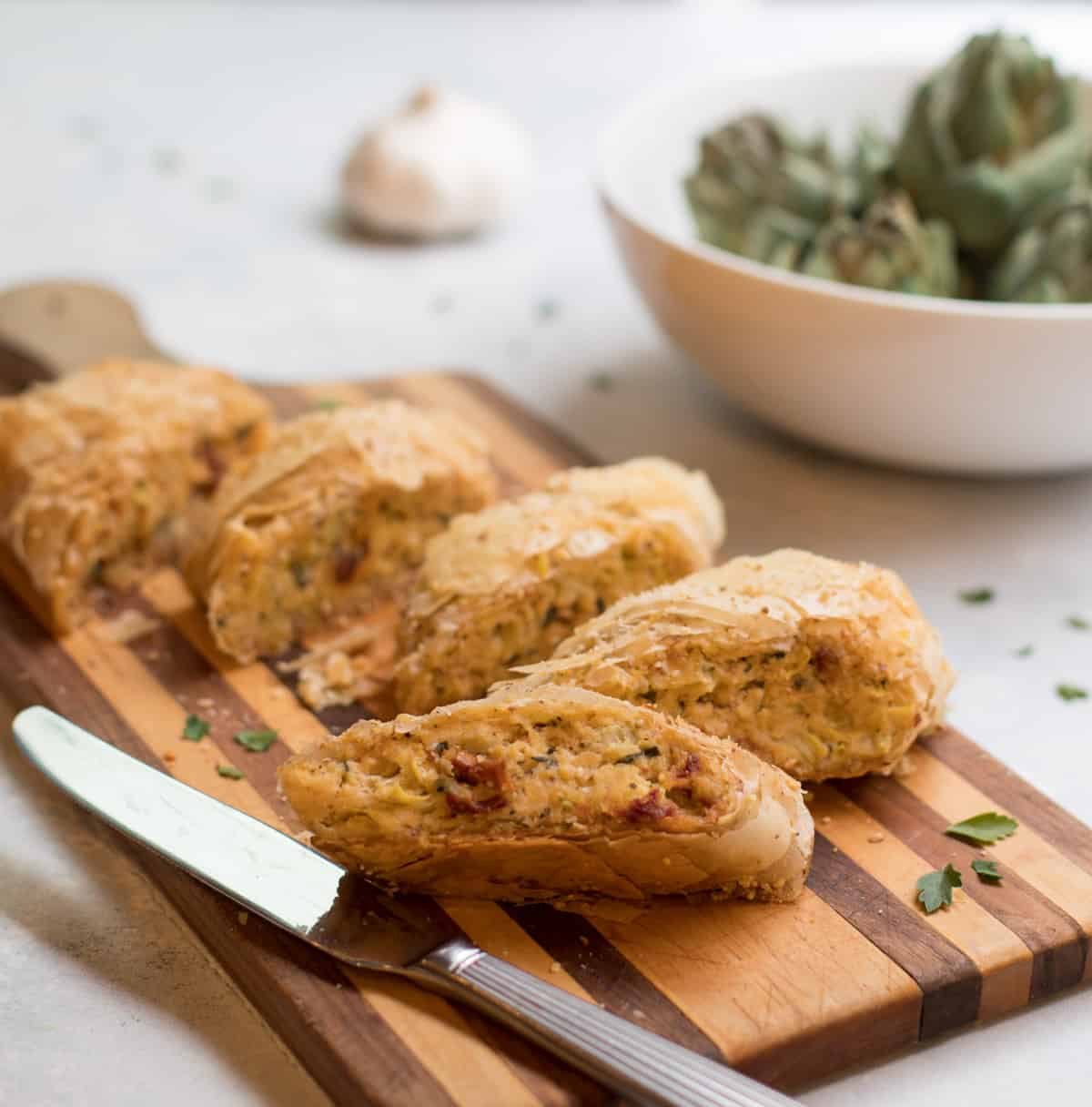 I love artichokes, and have since I was a little girl. As a kid I not only liked the flavor, I thought the whole process of eating them was fun – peeling off a leaf and dipping it into a lemon-melted butter mixture. Yum! Today I eat artichokes a variety of ways – including steamed, roasted and/or grilled when fresh globes are in season. I also have several recipes that call for canned artichokes, including this one for my Artichoke and Sundried Tomato Phyllo Strudel.
Both sweet and savory strudels are an elegant, impressive way to serve many ingredients, including artichokes. In this strudel, artichokes and sundried tomatoes are combined with herbs, white wine, shallots garlic and three cheeses, then rolled in layers of phyllo dough and baked. I use phyllo dough in this recipe because I prefer it's light and crispy crust with the artichoke filling vs. using puff pastry or pie dough. Once you understand how to use phyllo, it's easy! I share my key tips in the Notes section below.
Pin it now to save for later!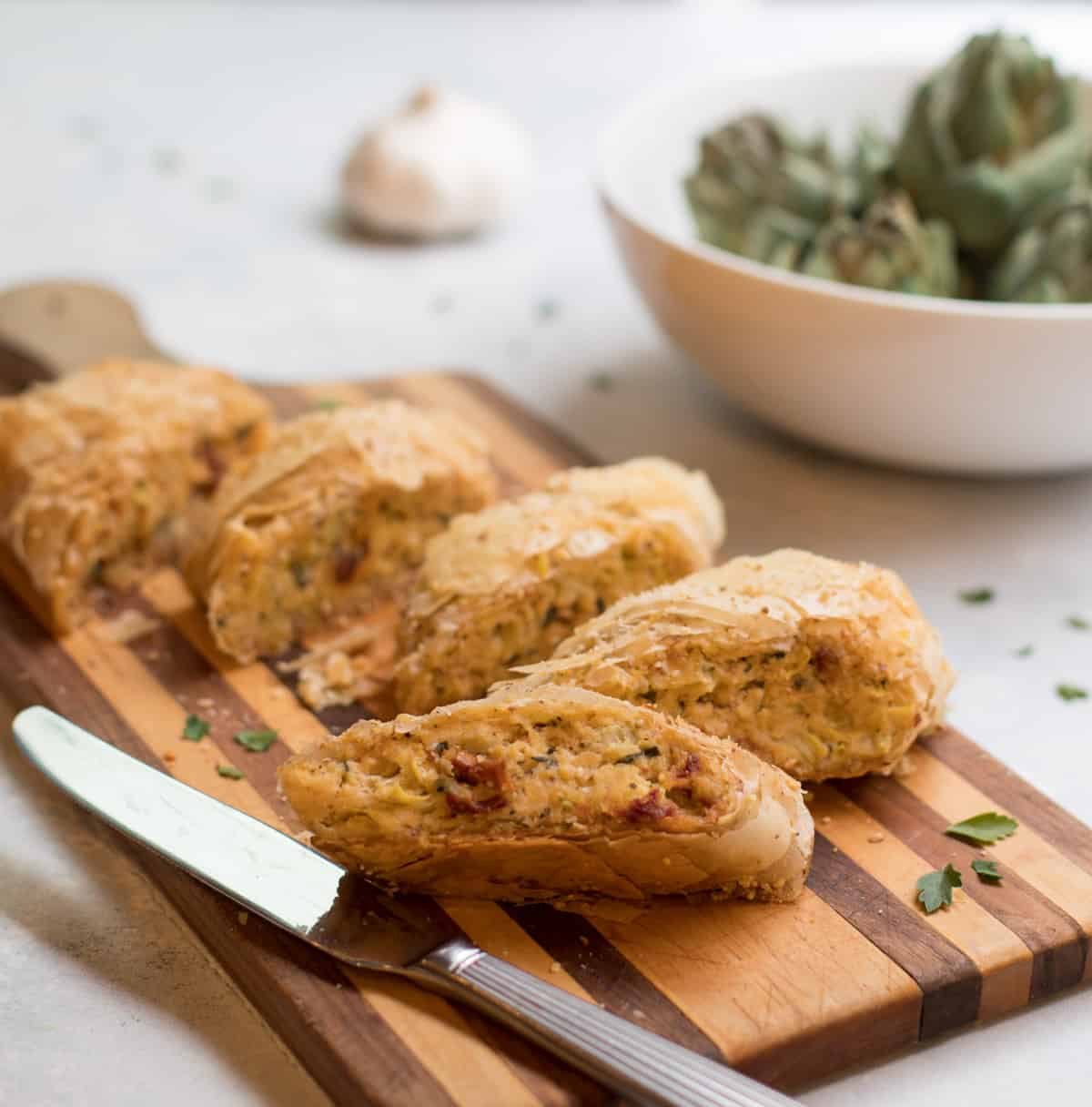 Artichoke and Sundried Tomato Phyllo Strudel
Author:

Yield:

6

to

8

servings

1

x

Category:

Vegetarian, main dish
---
1/2 cup + 2 tablespoons extra virgin olive oil, divided
1/2 cup chopped shallots
3 to 4 teaspoons chopped (or pressed) garlic
1 can (14 ounce) artichoke hearts in water, drained and chopped
1/4 cup dry white wine
1/4 cup drained and chopped sundried tomatoes (packed in oil)
1 1/2 tablespoons chopped fresh Italian parsley
1 tablespoon chopped fresh basil
1 tablespoon fresh thyme
2 cups ricotta cheese
2 large eggs
1 cup freshly grated Asiago cheese
1/3 cup + 2 tablespoons freshly grated Parmesan cheese, divided
1/2 teaspoon kosher salt
1/2 teaspoon fresh ground pepper
2/3 cup ground almonds, toasted
10 (9 by 14-inch) sheets phyllo pastry (see Tips below)
---
Instructions
In a large skillet or sauté pan, heat 2 tablespoons olive oil over medium heat. Add the shallots and garlic and cook until the onion is soft, around 5 minutes. Add artichoke hearts and white wine, reduce heat to medium-low and continue cooking, stirring occasionally, until liquid evaporates, around another 5 minutes. Remove from heat and stir in sundried tomatoes, parsley, basil and thyme. Set aside to cool.
Using an electric mixer with the whisk attachment, blend the ricotta cheese until smooth. Blend in eggs until incorporated. Stir in Asiago cheese, 2 tablespoons Parmesan cheese and cooled artichoke mixture. Season to taste with salt and pepper. Set aside.
In a small mixing bowl, stir together the ground almonds and remaining 1/3 cup Parmesan cheese. Set aside.
Preheat oven to 375 degrees. Line a large rimmed cookie sheet with parchment paper.
Place one sheet of phyllo on work surface. (Cover remaining sheets with waxed paper and then a damp dish cloth to keep phyllo from drying out.) Brush single sheet with olive oil and sprinkle with 1 1/2 tablespoons of the almond-Parmesan mixture. Continue layering phyllo sheets, brushing with oil and sprinkling with nuts, for a total of 5 layers.
Spread half of the artichoke mixture in a strip, along one of the long sides of the phyllo stack, leaving a 1-inch border. Starting with the artichoke mixture side, roll up into a log. Brush with olive oil and place on prepared cookie sheet, seam side down.
Repeat process with remaining phyllo sheets, almond mixture and artichoke filling. Place the second log on baking sheet next to the first log. Make 8 diagonal cuts on top of each one, not quite all the way through the phyllo. Bake for 30 to 40 minutes, or until golden brown and crispy. Remove from oven and let sit 5 to 10 minutes. Slice along cuts and serve.
---
Notes
Make ahead: Logs can be prepared but not baked, wrapped individually and frozen. Bake frozen, brushing top with more olive oil and increasing cook time by around 10 to 15 minutes.
Phyllo dough tips: Here are three great tips when using phyllo dough: 1) Always have more phyllo sheets on hand than you need for the recipe. Sometimes the sheets stick together and/or tear and might not be usable. 2) When stacking the sheets, don't place on a wood cutting board – the oil on the bottom sheet tends to be absorbed by the wood, and by the time you are ready to roll, the bottom sheet is dry and can easily tear. 3) Cutting around halfway through the rolled and stuffed phyllo sheets before baking makes it easier to slice the logs once cooked. Try not to cut all the way through the sheets as the filling can ooze out when baking.