[Note: This post contains paid affiliate links. Thanks for your support!]
In this Sticky Toffee Pudding, chopped dates are baked into a moist sponge cake, which is then topped with a rich toffee-flavored sauce. Add Rum Whipped Cream for a super delicious and impressive dessert!
I was first introduced to Sticky Toffee Pudding while living in Europe, and have been in love with it ever since. In Amsterdam (where I lived) the British retailer Marks and Spencer sold a frozen version of this pudding in their food hall. It was so fabulous, I never felt the need to make it myself. However, after moving back to the US, I missed Sticky Toffee Pudding, so I set out to find a recipe (or create one!).
Pudding or Cake?
Sticky Toffee Pudding is actually not what we Americans know as "pudding." It's what we call "cake" and is flavored with moist pieces of dates. The toffee-flavored sauce is what makes this dish so amazing. Since I love anything caramel, butterscotch or toffee-flavored (and the tastes are all very similar), it's not surprising that I immediately took to this pudding/cake. What really surprised me is how easy it is to make!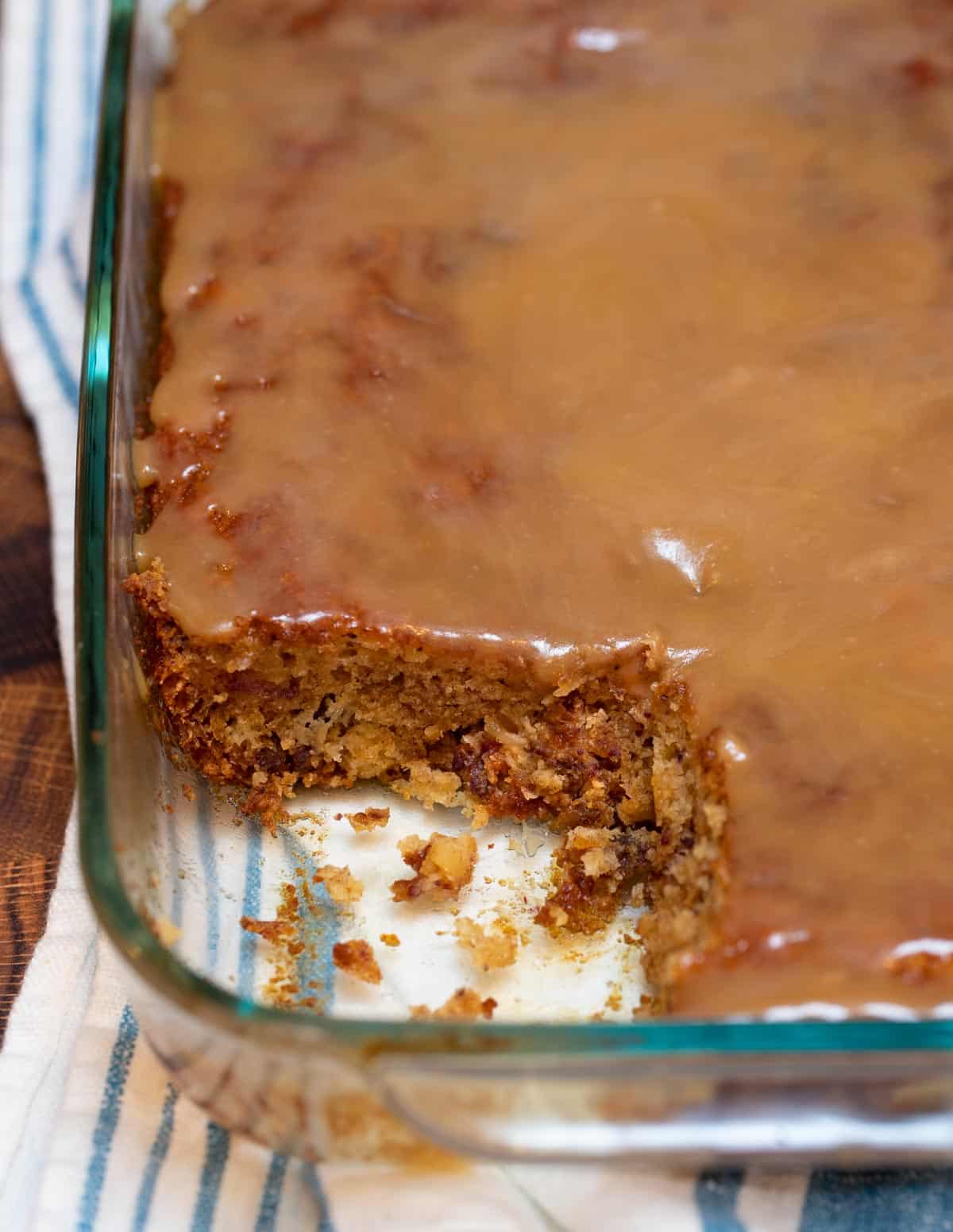 Finding the Best Recipe
In researching ingredients and recipes for this scrumptious dessert, I discovered numerous versions – from various restaurants, chefs, cooking magazines, newspapers, etc. Since this dessert's origins are not clear (other than it's British) there was no way to know which one, if any, was the "true" recipe. So, I set out testing a few to see if I could find one that tasted like Marks and Spencer's Sticky Toffee Pudding.
Hands down, the best recipe I found was from Chef Shelly Steinhaus. During my quest (which was in 2010), Robert and I had dinner at Chef Shelly's Denver area restaurant Bella Bistro, and we both loved her Sticky Toffee Pudding. Fortunately, Chef Shellie graciously shared her recipe, with permission to re-share. (Note: while Bella Bistro is now closed, Chef Shelly teaches cooking classes, hosts private cooking parties and leads culinary travel tours through her business Bella Bistro Culinary Studio.)
Back in 2011 I shared Chef Shelly's original recipe. Since then, I've prepared it several times, making a few adjustments over the years. If you've been following me for awhile, you know that I can't resist tinkering with recipes, adjusting them to reflect a bit of my own style. So, I decided it was time to update the post to include all of my changes. Plus, I recently shot much better photos of this pudding and wanted to share those, too! I've also included the recipe for Rum Whipped Cream, which I like to serve with the pudding.
Pin it now to save for later-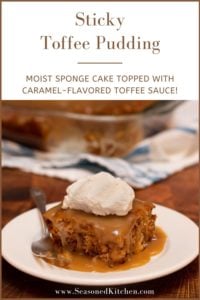 Sticky Toffee Pudding – Updated
Author:

Yield:

8

to

10

servings

1

x

Category:

dessert, make ahead

Cuisine:

British
---
Description
Sticky Toffee Pudding is a scrumptious cake spiked with dates and served with an amazing toffee-flavored sauce. Easy to prepare, the cake can be prepared up to one month ahead, the sauce earlier the day of serving. Super delicious!!
---
Pudding (a.k.a. Cake)
1 cup

plus 1 tablespoon unbleached all-purpose flour

1 teaspoon

baking powder

3/4 cup

packed pitted dates, preferably Medjool (around

5

to

6

ounces)

1 cup

boiling water

1 teaspoon

baking soda

1/4 cup

unsalted butter, softened

3/4 cup

granulated sugar

1

large egg

1 teaspoon

vanilla
Rum Whipped Cream
1 cup

heavy whipping cream

1

to

2

tablespoons rum (I like to use dark but light also works fine)

1

heaping tablespoons confectioners' (powdered) sugar

1 teaspoon

vanilla
Toffee Sauce
1/2 cup

unsalted butter

1 cup

packed light brown sugar

1/2 cup

heavy whipping cream
---
Instructions
Pudding (a.k.a. Cake)
Preheat oven to 350°F. Butter a 9-inch square or 7 by 11-inch baking dish. Put water on to boil.
Sift flour and baking powder into a small bowl. Set aside.
Chop the dates finely. Place in a small bowl and add the boiling water and baking soda; stir and set aside.
In the bowl of an electric mixer, using the paddle attachment beat the butter and sugar until blended and light in color. Add the egg and vanilla; beat until well blended. Gradually beat in the flour mixture. Add the date mixture to the batter and beat on lowest setting just until mixed.
Pour into the prepared pan, spreading batter evenly. Bake until pudding is set and firm on top, about 30 minutes.
Remove pan from oven and place on a wire rack to cool.
Rum Whipped Cream
Using an electric mixer with the whisk attachment, whip the cream until soft peaks form.
Add the rum, confectioners' sugar and vanilla; beat until firm peaks form. Set aside.
Toffee Sauce
In a medium heavy saucepan, melt the butter over medium-low heat. Stir in brown sugar and cook, stirring, until sugar melts.
Stir in cream, bring to a slow boil and cook, stirring occasionally, for 4 to 5 minutes.
Remove from heat and stir until it stops bubbling.
Assembly
Preheat broiler.
Spoon about 2/3 to 1 cup of the sauce over the pudding; spread evenly. Place pudding under the broiler until the topping is bubbly, only about 1 minute.
Cut into squares and serve immediately, drizzling remaining toffee sauce on top. Place a scoop of Rum Whipped Cream on top or on the side.
---
Notes
Make ahead: Pudding can be baked earlier in the day, covered and stored at room temperature. Can also be wrapped and frozen for up to 1 month. Toffee Sauce is best when prepared just before serving, but can be prepared earlier in the day, cooled, covered and refrigerated. To serve sauce, reheat in a small heavy saucepan over low heat, stirring.
High altitude: reduce baking powder and baking soda by 1/8 teaspoon each, increase boiling water by 2 to 3 tablespoons, and decrease granulated sugar by around 1/2 to 3/4 teaspoon. Above 7,000 feet, reduce baking powder and baking soda by 1/4 teaspoon each, increase boiling water by 3 to 4 tablespoons, and decrease granulated sugar by around 3/4 to 1 teaspoon.
This post contains paid affiliate links that help keep this website afloat. Compensation received will never influence the content, topics, posts or links provided. Thanks for your support!