Blueberry Buttermilk Pancakes are a colorful and flavorful way to start the day!
I had a jar of wheat germ that had been hanging around in my pantry for a few months, so I decided it was time to find a use for it. I purchased it after hearing that it was good for you – rich in potassium, iron, calcium and zinc (plus more!) – all nutrients I need more of in my diet. I did some research and discovered that one of the best uses for wheat germ is to substitute it for 1/4 to 1/2 of the flour in a recipe. So, yesterday morning when I was making my favorite Blueberry Buttermilk Pancakes for Robert, that's what I did – and they turned out delicious!
Print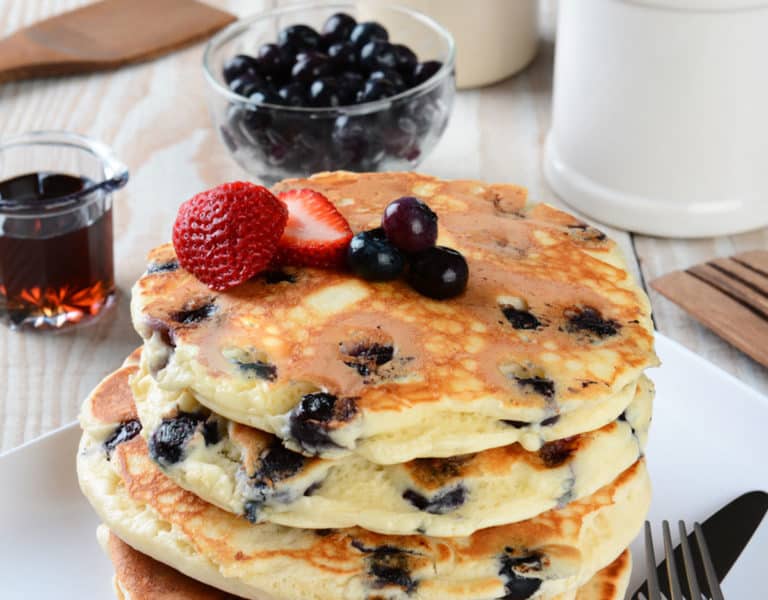 Blueberry Buttermilk Pancakes
Blueberry Buttermilk Pancakes are a colorful and flavorful way to start the day!
Yield:

6

servings; makes 12 to 16 pancakes

1

x
1 cup

cake flour (see Note)

1/2 cup

whole wheat all purpose flour

1/2 cup

wheat germ

2 teaspoons

baking soda

1/2 teaspoon

salt

2

eggs

2 cups

buttermilk

1/4 cup

oil (olive or vegetable)

1

heaping cup fresh blueberries
Instructions
Preheat oven to 200 degrees (or turn on warming oven if you have one!).
In a medium mixing bowl whisk together the flours, wheat germ, baking soda and salt.
In a large mixing bowl, whisk together the eggs, buttermilk and oil. Stir flour mixture into egg mixture just until blended. Fold in blueberries. Set aside.
Let the batter sit while an oiled nonstick skillet or griddle heats to medium-high (375 degrees). Once hot, lightly oil again.
Pour 1/4 cup of batter per pancake onto hot skillet/griddle. When bubbles begin to burst on first side and the pancakes don't stick to the pan when you try to lift them with a spatula (after around 3 to 4 minutes), flip pancakes over and continue cooking another 3 to 4 minutes, or until they don't stick, are golden brown and cooked through. Put in the oven to keep warm. Re-grease the pan if needed, and repeat with remaining batter. Serve immediately with fresh fruit and maple syrup.
Notes
If you don't have cake flour, substitute 1 cup all purpose flour (white or whole wheat).
Author:

Category:

Breakfast and brunch