This delicious Carrot, Radish, and Sweet Pea Salad is a perfect choice if you're looking for a vibrant and refreshing side dish that celebrates the bounty of spring. Featuring a bright and zesty Lemon Basil Vinaigrette, it's loaded with colorful veggies, sliced avocado, and creamy feta crumbles, all served on a bed of fresh greens.
Ingredients coming into season in the spring are some of my favorites – especially carrots, radishes and sweet peas. Colorful, crunchy, and flavorful, they add depth and texture to baby lettuces. The other day, I was brainstorming what sort of salad I would put together to go with my Lemon Basil Vinaigrette – my version of a dressing they serve at our country club. All these vibrant spring vegetables were jumping out at me at the grocery store, so I decided to put a few of them together.
It seems that shaved carrots are all the rage right now. They're easy to prepare, and so pretty on the plate, too! So, I decided to start with shaved carrots (see Tip below). Radishes are crisp and delicious – and would add a bit of spice to my salad. Sugar snap peas would add a bit of sweetness, to balance the tartness of the dressing, so in those went, too. A few slices of avocado (as I love it with this dressing!), and some feta cheese finished it off. So pretty, and delicious, too!
Pin it now to save for later
Print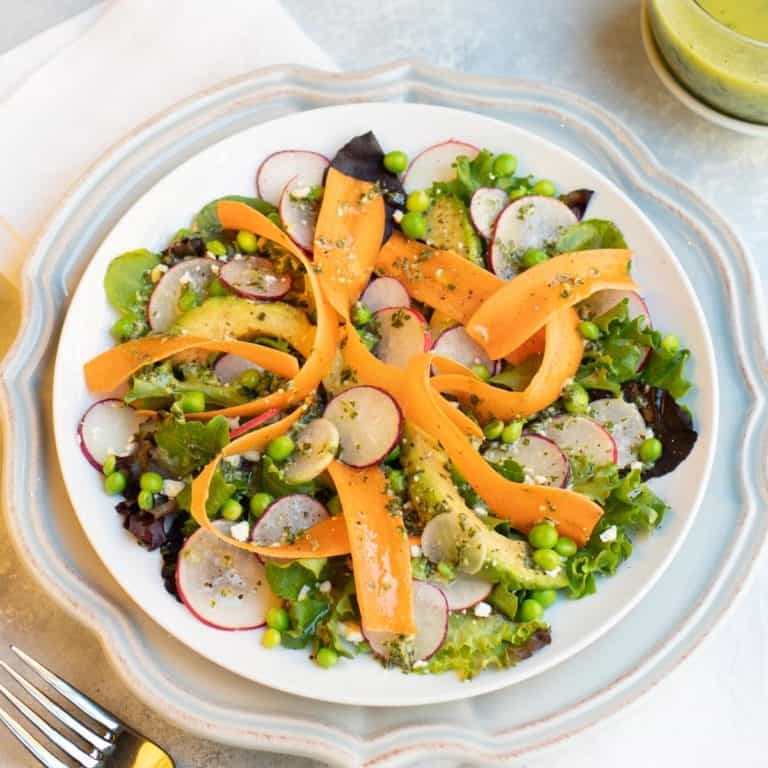 Carrot, Radish and Sweet Pea Salad with Lemon-Basil Vinaigrette
Shaved carrots are paired with crisp radish slices, sweet sugar snap peas, luscious sliced avocado and tangy crumbled feta cheese. It all sits atop fresh baby lettuces and is finished with a scrumptious lemon-basil vinaigrette dressing. Dressing and vegetables can be prepared ahead, too!
Lemon Basil Vinaigrette (Makes around 1 1/2 cups)
1 cup (packed) fresh basil leaves
3 tablespoons fresh lemon juice
2 tablespoons Dijon mustard, or more to taste
1 tablespoon white wine vinegar
1 1/2 teaspoons chopped fresh garlic (around 3 cloves)
2/3 cup extra virgin olive oil
1/3 cup vegetable or canola oil
Kosher salt, to taste
Fresh ground pepper, to taste
Carrot, Radish and Sweet Pea Salad
3/4 pound fresh sugar snap peas, shelled (around 3/4 cup peas) – see Note
4 medium carrots
1 bunch radishes, preferably rainbow colored
1 large ripe avocado
1 1/2 cups mixed baby lettuces (like red and green leaf and romaine)
1/3 cup feta cheese crumbles
Kosher salt, to taste
Fresh ground pepper, to taste
Instructions
Lemon Basil Vinaigrette
Place the basil, lemon juice, Dijon mustard, vinegar and garlic in a blender or food processor and blend until well mixed.
In a measuring cup, combine oils. With the machine on, slowly add oil mixture.
Season to taste with kosher salt and fresh ground pepper. Let sit for at least 30 minutes to allow flavors to blend.
Carrot, Radish and Sweet Pea Salad
Bring a small pot of water to a boil. Add shelled peas and cook just until crisp-tender, around 2 to 3 minutes. Strain and immediately place peas in a bowl of ice water (this will stop them from cooking and also keep their pretty green color!). Set aside to cool.
Peel and shave the carrots into long strips (see Tip below). Place in ice water with the peas.
Trim off greens and pointy ends from radishes. Shave or thinly slice.
Peel, pit and slice avocado.
On one large platter or six individual salad plates, arrange the mixed lettuces. Top with avocado slices. Sprinkle with some of the feta cheese crumbles. Arrange carrot strips decoratively over the top. Place radish slices around the carrots. Sprinkle with remaining feta and cooked, drained peas. Season with salt and pepper. Lightly drizzle with some of the dressing over the top, passing the rest on the side.
Notes
Note on sugar snap peas: When buying the peas, take the time to feel each pea and buy the ones with the largest peas inside (not always the largest pods!). If you can't find fresh sugar snap peas, substitute frozen edamame or green peas.
Tips on shaved carrots: Peel the carrots, then using your peeler, peel off one long strip lengthwise. Place that flat surface on a cutting board or your kitchen counter. Shave long strips off the other side until you come to the middle of the carrot. Flip it over and continue shaving on the other side. While I love the look of wide carrot shavings (as in this photo), it's a bit easier to eat if you make them thinner, by cutting the shavings in half lengthwise. They still look pretty, too.
Make ahead: Dressing can be made up to 2 days ahead, covered and refrigerated. Peas can be cooked up to 24 hours ahead. Carrots and radishes can be sliced earlier in the day and kept in cold water in the refrigerator. Drain and dry before serving.
Author:

Category:

Side salads, gluten free