Cheese Blintz Soufflés with Blueberry Balsamic Sauce – a quick and easy variation on traditional cheese blintzes, with a super flavorful sauce.
These Cheese Blintz Soufflés are an unusual, delicious and impressive brunch dish. The soufflé recipe comes direct from mom's recipe box, while the sauce is my creation. Mom was always looking for quicker and easier ways to make recipes, and this soufflé is a great example. Traditional blintz preparation calls for making a type of pancakes, then preparing a filling, then rolling/folding the filled pancakes, etc. In mom's variation, you simply use similar ingredients to make an egg batter, which is layered in individual soufflé dishes (or ramekins) with a cream cheese-cottage cheese filling. Then they are baked – and you don't even need to put them in a water bath! And, if you are cooking for a large group, the soufflé can easily be doubled for a crowd, using a 9- by 13-inch baking dish.
The Blueberry Balsamic Sauce is my creation. It's also super quick and easy to prepare and can be done while the soufflés are baking. Just six ingredients – sugar, water, cornstarch, fresh blueberries, a bit of butter, and – the secret ingredient – blueberry balsamic vinegar! (If you can't easily find blueberry balsamic, just use white balsamic vinegar).
I recently made this dish with Debbie Matenopoulos, co-host of Hallmark Channel's popular TV program Home & Family. It was super fun! Click on the photo below to watch!
Serve these delectable soufflés with our Spiced Bacon Twists (in Fresh Tastes) and a fresh fruit medley. Double the balsamic sauce and put half in the freezer to use later on pancakes or waffles.
Enjoy!
Cheese Blintz Soufflés with Blueberry Balsamic Sauce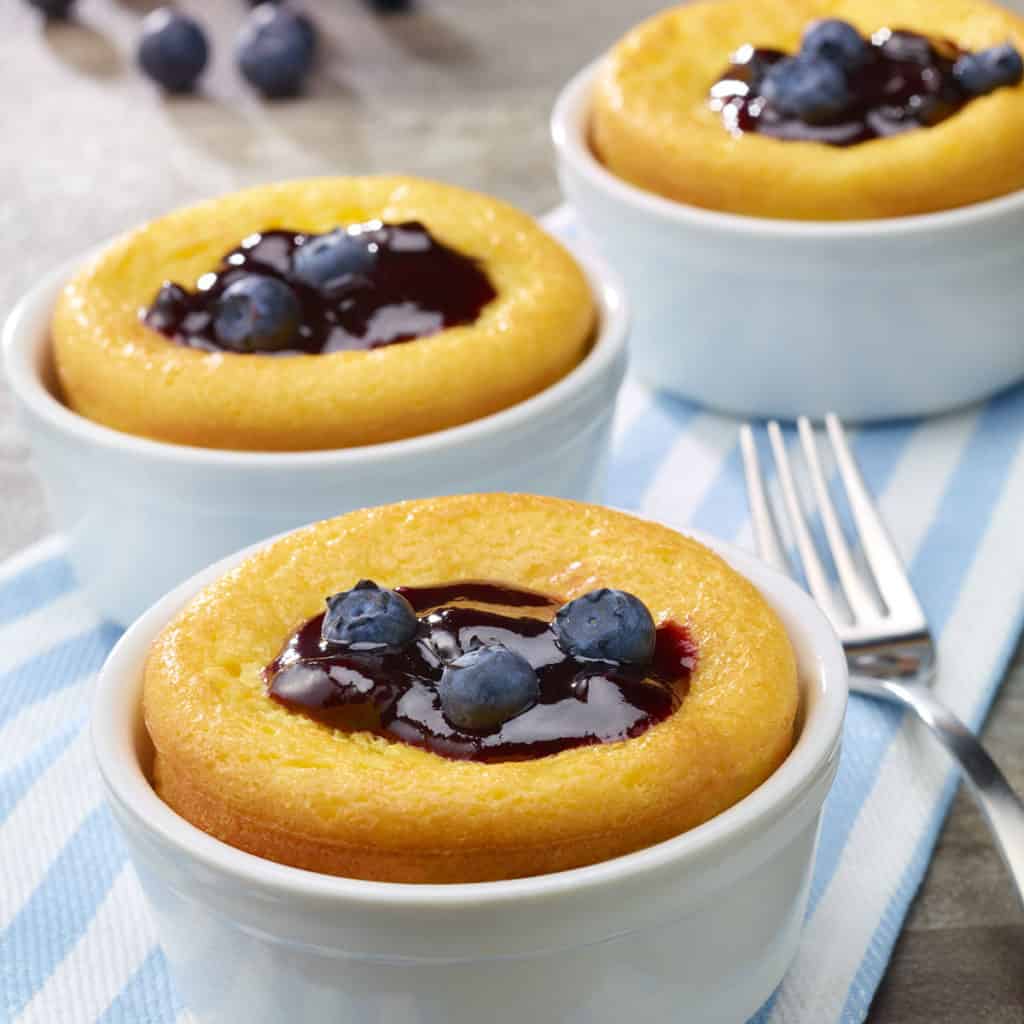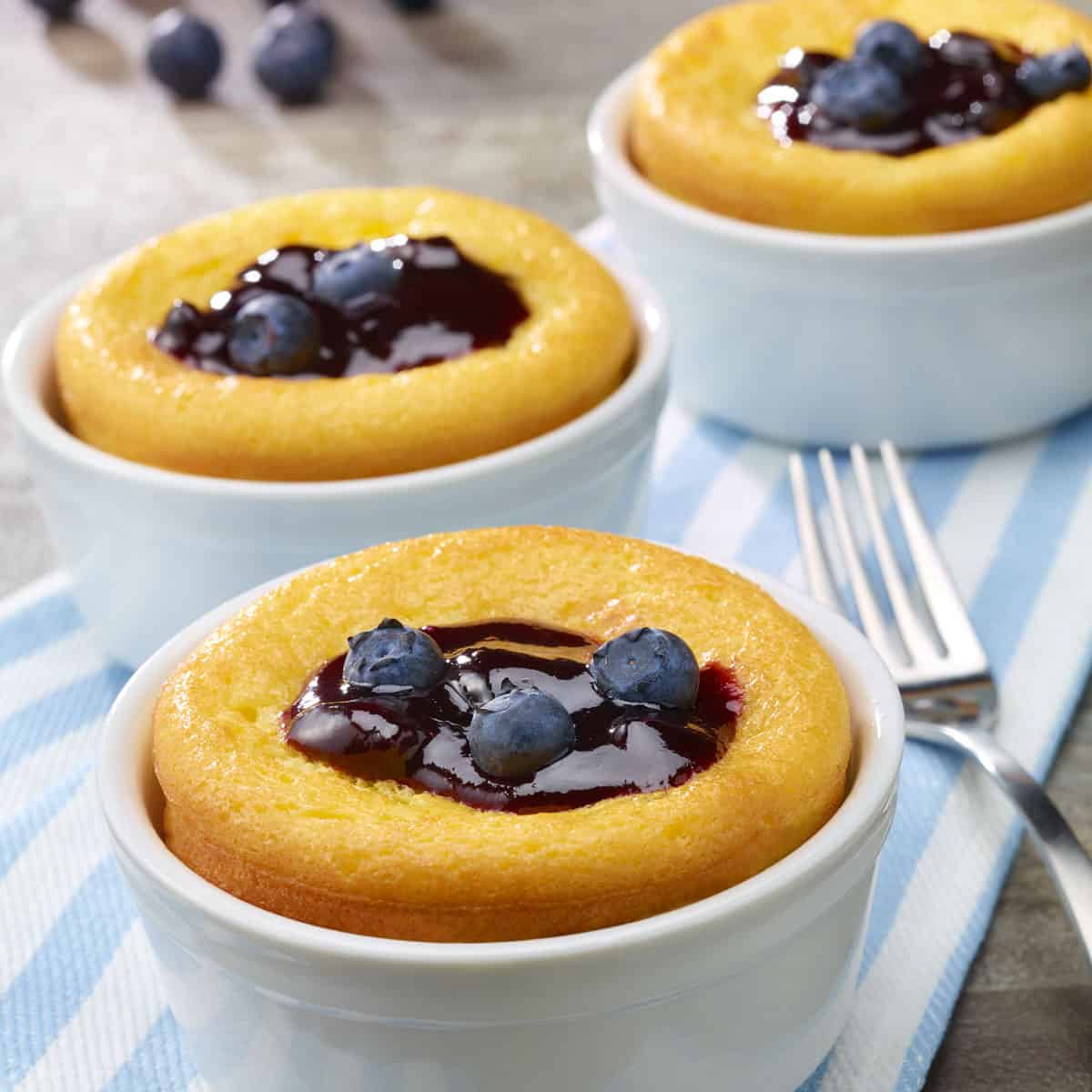 Author:
Yield:

6

Servings

1

x
Category:

Breakfast & Brunch, Dessert
Scale
Ingredients
Blueberry Balsamic Sauce
1 cup sugar
2 tablespoons cornstarch
1/2 cup water
1 1/2 cups fresh blueberries
1 tablespoon unsalted butter
2 tablespoons Blueberry Balsamic Vinegar (see Note)
Cheese Blintz Soufflés
3 large eggs
3/4 cup sour cream
1/4 cup (1 large navel orange) freshly squeezed orange juice
1/2 cup butter, softened
3 tablespoons sugar, divided
1 teaspoon baking powder
1/2 cup all-purpose flour, sifted
4 ounces cream cheese
1 cup small-curd cottage cheese
1 egg yolk
1/2 teaspoon vanilla extract
Garnish: additional fresh blueberries (optional)
Instructions
Blueberry Balsamic Sauce
In a medium saucepan, stir together sugar, cornstarch and water. Bring to a boil, reduce heat to medium and cook, stirring occasionally, for 5 minutes or until sugar dissolves.
Stir in blueberries and cook, stirring occasionally for 10 minutes.
Reduce heat to low, add butter and stir until melted. Stir in balsamic vinegar. Remove from heat and set aside.
Cheese blintz soufflés
Preheat oven to 350 degrees. Butter 6 individual (6- to 8-ounce) soufflé dishes or 6 large ramekins.
Using an electric mixer or food processor, blend together the eggs, sour cream, orange juice, butter, 2 1/2 tablespoons sugar and baking powder.
Add flour and blend until smooth. Pour half the batter (about 1/4 cup each) into the prepared baking dishes.
Beat together the cream cheese, cottage cheese, egg yolks, vanilla and remaining 1/2 tablespoon sugar. Drop by spoonfuls over the top of the batter in the baking dishes.
Gently drizzle remaining batter over the top (about 1/4 cup per dish).
Put ramekins on a large baking sheet and bake uncovered, for 30 to 35 minutes or until puffed, set in the center and golden brown.
Serve with warm sauce spooned over the top. Garnish with additional fresh blueberries.
Notes
Gluten free: Substitute gluten-free flour blend for the all-purpose flour. I like "Bob's Red Mill Gluten Free 1 to 1″ blend.
Make ahead: Blueberry Balsamic Sauce can be made up to two days ahead, covered and refrigerated. Can also be frozen for up to 6 months. Soufflés can be assembled but not baked up to 12 hours ahead, covered and refrigerated. Bring to room temperature before baking.
Note on vinegar: Blueberry Balsamic Vinegar can be purchased at specialty food stores or online. If you can't find it, substitute white balsamic vinegar and add a few more blueberries (to taste).
One-dish variation: Make the soufflé in one dish. Butter an 8- by 8-inch baking dish. Pour half the batter (about 1 1/2 cups). Top with cheese mixture as described, then drizzle remaining batter over the top. Bake, uncovered, 40 to 45 minutes or until puffed and set in the center and golden brown. Serve with Blueberry Balsamic Sauce on the side.