Delicate and elegant Pecan Cookie Cups are filled with scrumptious White Chocolate-Rum Mousse and topped with fresh berries – the perfect light and flavorful dish to end a spring or summer meal!
These pecan cookie cups were a favorite at mom's dinner parties. They are basically a molded Florentine cookie – lacy, crispy and light. Brown sugar gives them a butterscotch-y flavor, and who doesn't love butterscotch? And, not only are they delicious and pretty, they are deceptively easy to prepare. The key is getting the cookies off the pan quickly, before they finish setting up (details are in the recipe).
Mom liked to serve her Lemon Almond Ice Cream in these beautiful cups, along with fresh berries. While I love her ice cream and cookie combo, one day I decided to come up with a different filling. Initially, I thought maybe dark chocolate mousse (which would also be delicious!) but wanted something lighter in color – which led me to white chocolate. White chocolate, whipped cream, rum and cinnamon turned out to be the perfect combination of flavors. With all due humility, I have to say I LOVE this dish! The cookies, the white chocolate-rum mousse and the berries all work together perfectly.
Here is the plan I recommend following when making this beautiful dessert, to eliminate stress the day of serving:
One to three days before serving: Make the rum-white chocolate mousse through the refrigeration step
Day before dinner: Make the cookie cups
Day of the dinner: A few hours ahead, finish the mousse, cover and refrigerate
Just before serving: Pipe or spoon the mousse into the cups and top with berries
Note that you have to start this recipe at least 1 day in advance as the white chocolate mousse needs to refrigerate overnight.
If you happen to have any mousse left over, it's also delicious with chocolate cake!
Pin it now to save for later –
Print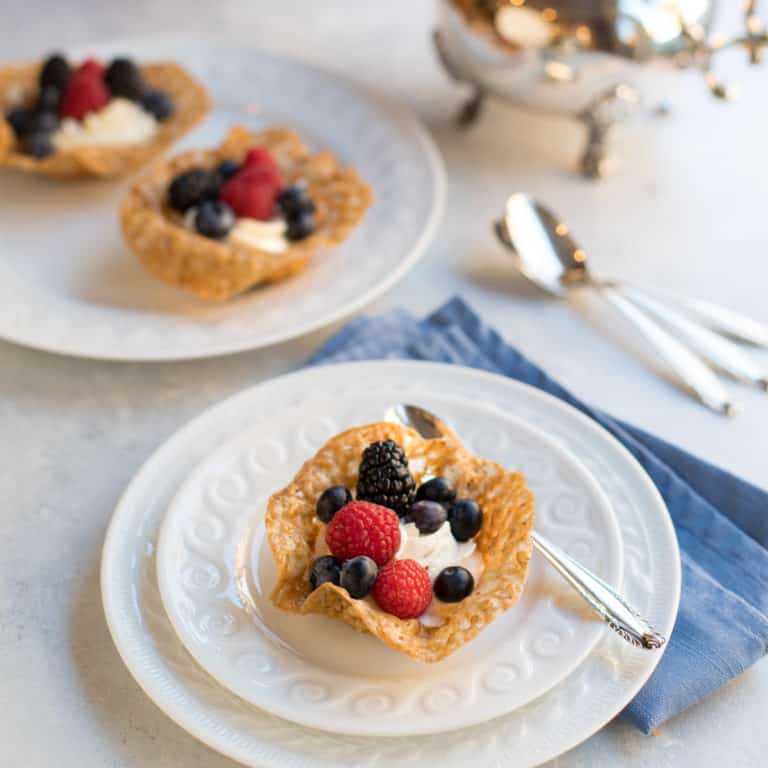 Pecan Cookie Cups with White Chocolate-Rum Mousse
Delicate and elegant Pecan Cookie Cups are filled with scrumptious Rum-White Chocolate Mousse and topped with fresh berries.
Yield:

8

to

10

servings

1

x
Pecan Cookie Cups (Makes 12 – see Note below)
1/4 cup unsalted butter
1/4 cup packed light brown sugar
1/4 cup light corn syrup
3 1/2 tablespoons flour
1/2 cup finely chopped pecans
1 teaspoon vanilla
Rum-White Chocolate Mousse
2 cups heavy whipping cream, divided
11 to 12 ounces white chocolate chips (see Note below)
1/4 cup dark rum
3/8 teaspoon ground cinnamon
1 1/2 to 2 cups fresh berries – raspberries, blackberries and blueberries
Instructions
Pecan Cookie Cups
Preheat oven to 325 degrees. Line 3 to 4 large cookie sheets with parchment paper (3 half-sheet pans work well).
In a medium saucepan, melt butter over low heat. Stir in brown sugar and corn syrup. Heat to boiling, stirring constantly. Reduce heat to simmer and cook, stirring, until sugar dissolves. Remove from heat and stir in flour and chopped pecans. Stir in vanilla.
Place 1 tablespoon of the batter on a prepared pan and smooth slightly. Repeat with remaining mixture, spacing about 6 inches apart (about 3 to 4 cookies will fit on one large sheet). Bake 10 to 12 minutes or until golden brown.
Remove from oven and let cool on the cookie sheet for 45 seconds to 1 minute, then gently slip a flat spatula under one cookie. (It should be still be soft, but hard enough to pick up off the cookie sheet). Invert each cookie over a deep ramekin or an inverted muffin tin. Press down gently on the edges to form a cup.
Repeat with each cookie. You need to do this quickly, before the cookies start to harden on the sheet. Cool for 5 minutes and then gently remove, flip over and place on a rack to cool completely.
Rum-White Chocolate Mousse
In a small saucepan, heat 1 cup of the cream over medium heat just until it begins to boil.
Put the chocolate chips in the bowl of a food processor fitted with the metal chopping blade and pour the heated cream over the top. Let sit for around 2 to 3 minutes, then turn the machine on and blend until smooth. Add the rum and blend again. Place in a container, cover and chill overnight.
Bring chocolate mixture to room temperature. Using an electric mixer with the whisk attachment, whip the white chocolate mixture until smooth (just a minute or two).
In a separate bowl, again using an electric mixer with the whisk attachment, whip the remaining 1 cup of cream until soft peaks form. Add the cinnamon and whip just until stiff peaks start to form. Fold into whipped white chocolate mixture.
Assembly
Pipe or spoon white chocolate mousse into cookie cups. Take care – these cookies are very fragile! Top with berries and serve.
Notes
Note on cookie cups: Mom's recipe will make 12 cups, and you won't need that many for this recipe. However, make extra as you are likely to break a few during the shaping process and/or when you fill them! Also, when moving filled cups, use a spatula to support from the bottom; if you pick them up by the rim, they can break.
Note on white chocolate: I have found that white chocolate chips – either Callebaut or Ghirardelli brand – work the best in this recipe, better than chopped white chocolate.
Make ahead: The cookies can be made one day ahead and stored in an airtight container at room temperature. The rum-white chocolate mixture can be made through the refrigeration step up to 3 days ahead, covered and refrigerated. The mousse can be completed up to 8 hours ahead, covered and refrigerated. Pipe into cups shortly before serving.
Author:

Category:

Desserts, Entertaining