Cooking on National TV:
A behind-the-scenes look at my appearance on Hallmark Channel's "Home & Family"
Last week I had an amazing experience – my first national TV appearance! I was a guest on Hallmark Channel  show Home & Family. I thought I would share a bit of my experience with you all.
First, my fabulous publicist Trina Kaye drove me to the Universal Studios Back Lot, which is where the Home & Family set is located – in this house:
After checking in, we were shown to my dressing room – yes, I had my own dressing room! All the offices, dressing rooms, make up, hair, etc. were in trailers; here I am in mine:
Shortly after getting my "TV clothes" hung up, we were asked to go to the house for a rehearsal. For my segment, I was making Cheese Blintz Soufflés with Blueberry Balsamic Sauce (from my latest cookbook, Fresh Tastes) together with the show's co-host, Debbie Matenopoulos. She's extremely nice, fun and very professional – she really knows what she's doing. Plus, she's a cookbook author, so it was great to be cooking on-air with someone who has cooking expertise! We did a quick run through, going over what they wanted me to say and do, where to stand, etc.
The folks at Home & Family make it very easy to be a guest on their show. First, they prep and style all the food! In all my prior TV appearances, I've always done everything. This experience was so much easier – to have professionals supporting me through the entire process definitely eliminated any stress.
After rehearsal, we went to what they call the "Craft Services" tent, where lunch was served. There was a delicious catered buffet of salmon, chicken, salads, and cookies. In addition, there was a separate table of small sandwiches and snack foods. All super yummy. And it was a beautiful day (around 70 something degrees at that point), so it was delightful for this Colorado girl to sit outside and enjoy the warm weather!
While we were in the tent, a group of around 20 or 30 people showed up. It turns out they are the fan club for the hugely popular Hallmark Channel show, When Calls the Heart. They had flown in from as far away as Paris, to meet and talk to the star of the show, Erin Krakow. Turns out Erin was also a guest on Home & Family show that day. The show's fans are called "Hearties" (see the heart necklaces some of them are wearing in the photo above) and their Facebook group has almost 60,000 members!
We had a few hours until my taping, as I was "Segment 6". So, when the taping for the other segments began, Trina and I went into the house to watch. Then, all of a sudden (or so it seemed!), it was my turn. After a quick wardrobe change, I was in the Home & Family kitchen, not just with co-host Debbie, but also joining us were Debbie's co-host Mark Steines, a few of the show's "family members" (regulars), and two of the shows other guests – the previously mentioned Hallmark Channel star Erin Krakow (When Calls the Heart), and also a charming young fellow Milo Manheim, star of the upcoming movie Zombies (and son of Emmy-winning Camryn Manheim, who was also on set!).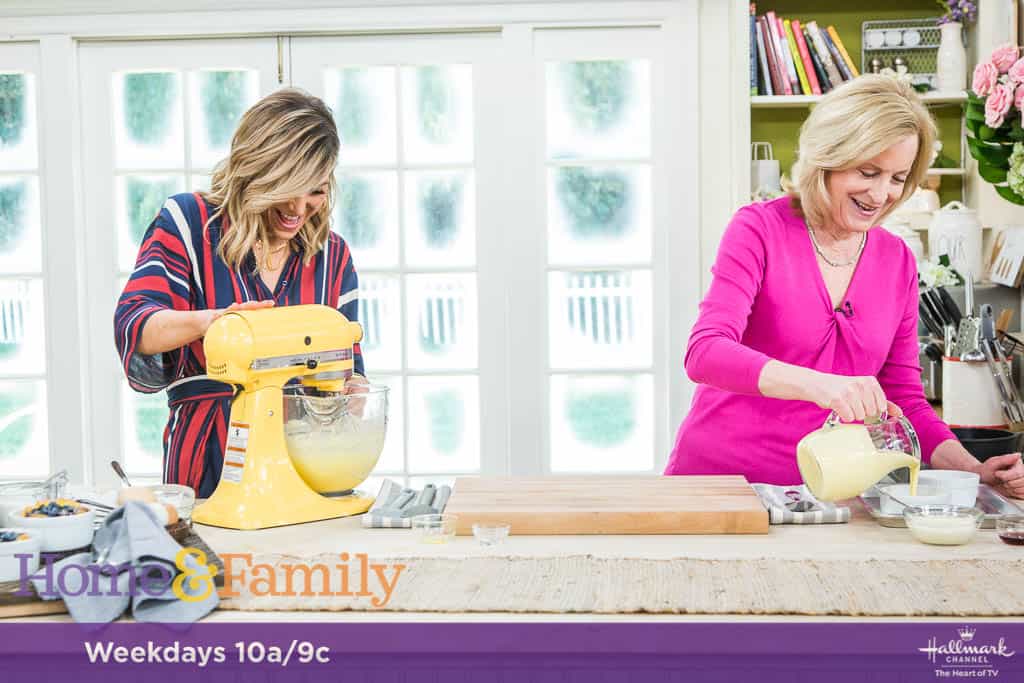 The time went quickly, and before I knew it, we were done. The demo was a blast, and they all loved the cheese blintzes! Click on this photo to watch us cooking:
Everyone was so nice and supportive. They had one last request of me, and that was to shoot a quick promo for my segment. It took me a few tries to get it right:
Many thanks to Trina for all her support and to all the folks at Home & Family who made me shine on air!
FYI, here's the Cheese Blintz Soufflés with Blueberry Balsamic Sauce recipe: