Crepes? Are they back in style again? I guess so! Earlier this month at the IACP (International Association of Culinary Professionals) conference in New York City, I went to a session lead by Chef Sarah Moulton on "How to Conduct a Killer Cooking Demo", in which she made – yes – crepes. The next day, I went to the restaurant Un, Deux, Trois for lunch, and they were featuring crepes on the menu. Crepes everywhere! I had never made crepes, and at that point was inspired to try. So, this past weekend, I decided to give it a go – and created a healthy breakfast crepe for Sunday breakfast, which turned out to be delicious – and not complicated to make!
For the crepes, I used whole wheat flour and almond milk, but you could use regular flour and/or regular milk if you prefer. For the filling, I used scrambled egg whites, but you could use scrambled whole eggs instead. I put the leftover crepes in the freezer for future use – I'll be creating more fillings to go in them!
Print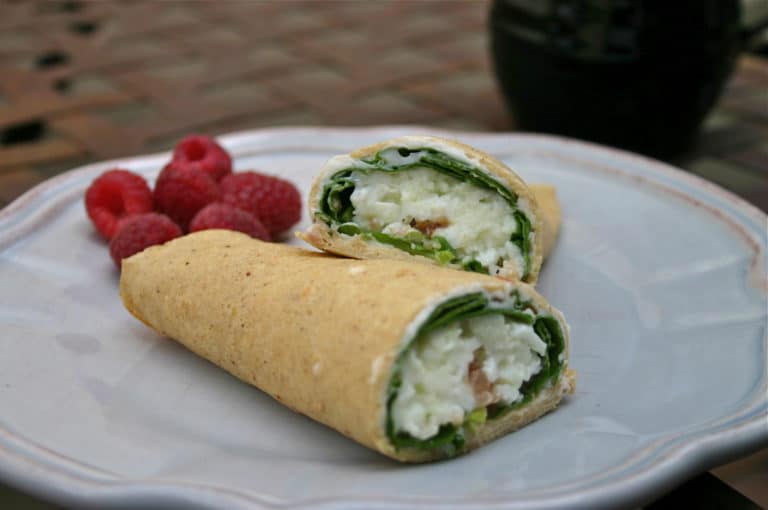 Scrambled Egg, Spinach and Ham Crepes
2

eggs

1 cup

almond milk (can also use fat free, low fat or whole milk)

1/2 cup

whole wheat flour

1/2 teaspoon

ground nutmeg

1/4 teaspoon

salt

8

egg whites

4

wedges Laughing Cow cheese

1

to

1 1/2

cups fresh baby spinach

1/4 cup

chopped cooked country ham (can substitute Virginia ham or bacon)

1/4 cup

chopped green onions
Instructions
Place the eggs and milk in a blender and mix well. Add the flour, nutmeg and salt and mix until smooth. Set aside, cover and let stand for 20 to 30 minutes at room temperature.
Spray an 8-inch skillet with olive oil and set pan over medium heat until a drop of water sizzles in the pan. Pour 1/4 cup of batter into pan and quickly tilt pan to coat bottom completely. Cook until top is set and bottom is lightly brown, around 5 to 6 minutes. Flip and cook around another 25 seconds, or until second side is light brown. Remove to a plate. Repeat with remaining batter. You should have around 8 crepes. You will use 4 for this recipe; wrap and freeze the rest.
Spray the same pan with olive oil and heat over medium-low heat. When hot, add the egg whites and cook, stirring, until no longer runny. While the eggs are cooking, spread each of 4 crepes with 1 wedge of the cheese. Spread 1/4 of the spinach down the middle of each crepe. Spoon the cooked scrambled eggs on top of the spinach. Sprinkle ham and onions over eggs. Season with fresh ground pepper. Roll up and place on a plate, seam side down. Serve immediately.