Fresh cucumbers and sweet, mellow leeks are the stars in this super savory, chilled Cucumber Leek Vichyssoise soup.
Robert doesn't like cucumbers on their own, but will eat them mixed in with other foods. I, on the other hand, love cucumbers, so accommodate him I often experiment, finding new ways to incorporate them into a dish. One day I decided to combine a cucumber soup recipe and a Vichyssoise recipe together.
Vichyssoise is basically a leek, potato and cream-based puréed soup that is velvety smooth. Growing up, I loved the version served at the country club where my family belonged (it's still on the menu today!). Since it's traditionally served cold, adding cold cucumber seemed a natural fit. It turns out, other ingredients from my cucumber soup recipe also add more depth to the combined soup's flavor – garlic adds a bit more bite, baby spinach earthiness and color, and fresh lemon juice brightens everything up. Finally, thinly sliced radishes add even more color and a bit of crunch!
Serve on a warm summer day paired with one of our main dish salads – like Crab and Shrimp Salad with Curry-Chutney Dressing, or Smoked Salmon Chopped Salad.
Note that the soup needs to chill for several hours.
Pin it now to save for later!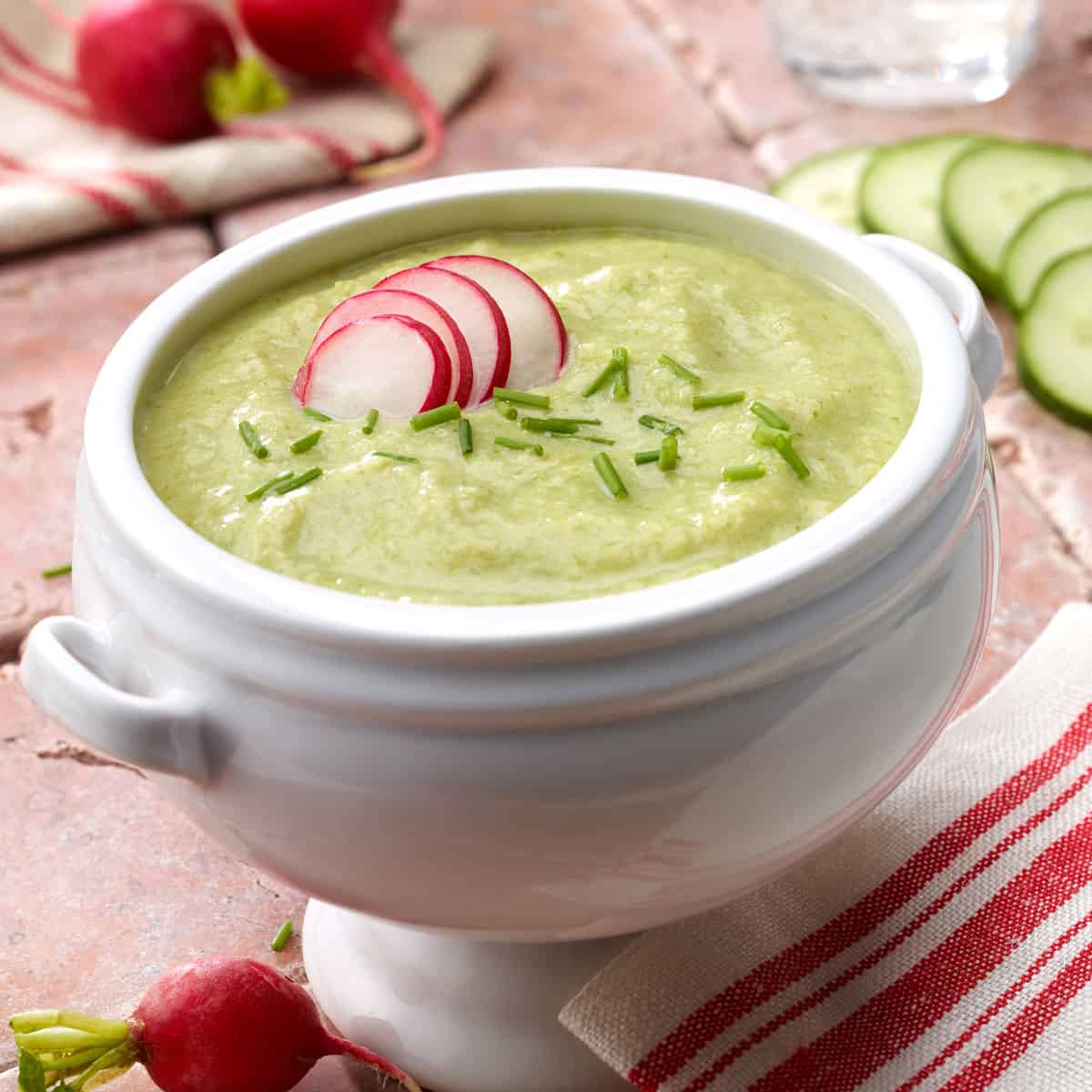 Cucumber Leek Vichyssoise
Author:

Yield:

6

servings

1

x

Category:

Chilled Soups, Gluten Free, Easy Entertaining
---
Description
Fresh cucumbers and sweet, mellow leeks are the stars in this super savory, chilled Vichyssoise soup. Note that the soup needs to chill for several hours.
---
1 tablespoon butter
1/2 teaspoon chopped garlic or shallots
1/4 cup (1/4 large) chopped onion
1 1/2 cups (2 large) chopped leeks, white and light green parts
2 cups chicken stock
1/2 teaspoon salt
2 cups (2 large) peeled, seeded and chopped cucumber
1/2 cup packed chopped fresh baby spinach
1 large russet potato, peeled and thinly sliced
3/4 cup half and half
Juice from 1/2 lemon
Kosher salt
Ground white pepper
Garnish: thinly sliced radish, chopped fresh chives
---
Instructions
In a large skillet or sauté pan, melt butter over medium-low heat. Add garlic (or shallots), onion and leeks. Cook, stirring frequently, about 5 to 7 minutes or until soft and the leeks are just beginning to turn brown. Remove from heat. Set aside.
In a large saucepan, bring chicken stock and salt to a boil over medium-high heat. Add cucumber, spinach and potato. Cover, reduce heat to low, and simmer about 10 to 15 minutes or until potatoes are tender. Remove from heat, uncover and cool for 15 minutes.
Stir in leek mixture and half and half. Purée with an immersion blender or transfer to a blender in 2 batches and purée until smooth. Season to taste with lemon juice, salt and ground white pepper.
Cover and chill for several hours. Adjust seasonings, as needed. Serve cold; garnish servings with thinly sliced radishes and chopped chives.
---
Notes
Gluten free: Use gluten-free chicken stock.
Make ahead: Soup can be made up to 2 days ahead, covered and refrigerated.