Spring is just around the corner, and what a better way to usher in the new season than with a delicious and elegant Easter Dinner Menu. I love Easter – the wonderful feeling of awakening I feel, as we move out of the cold and dark winter and into the freshness and lightness of Spring. After all, that's what Easter is really all about (to this good Presbyterian girl!) – renewal and rebirth. And from a cooking standpoint, we can share those feelings of freshness and lightness through the foods we prepare – using delicious spring vegetables like fresh peas, carrots, leeks and more.
My mom loved to serve leg of lamb at her dinner gatherings, especially on Easter Sunday. I love to serve it, too – it's an elegant, impressive entrée that's actually easy to prepare. Mom always marinated a boneless, butterflied leg and then grilled it. Her marinade is fabulous! It's in our first cookbook A Well-Seasoned Kitchen®, and also included in my recipe for Slow Roasted Leg of Lamb. I prefer rolling and tying the butterflied leg, then searing it and slow roasting it. When rolled, the presentation is prettier and the carving is easier.
I also like to make our Leek Gratin recipe for one of the sides. It calls for hard boiled eggs, so when you are cooking up those eggs for dying, just make a few extra to have ready to go into this scrumptious dish. If you have any vegetarians coming to dinner, just make extra gratin – it's substantial enough to be their main dish.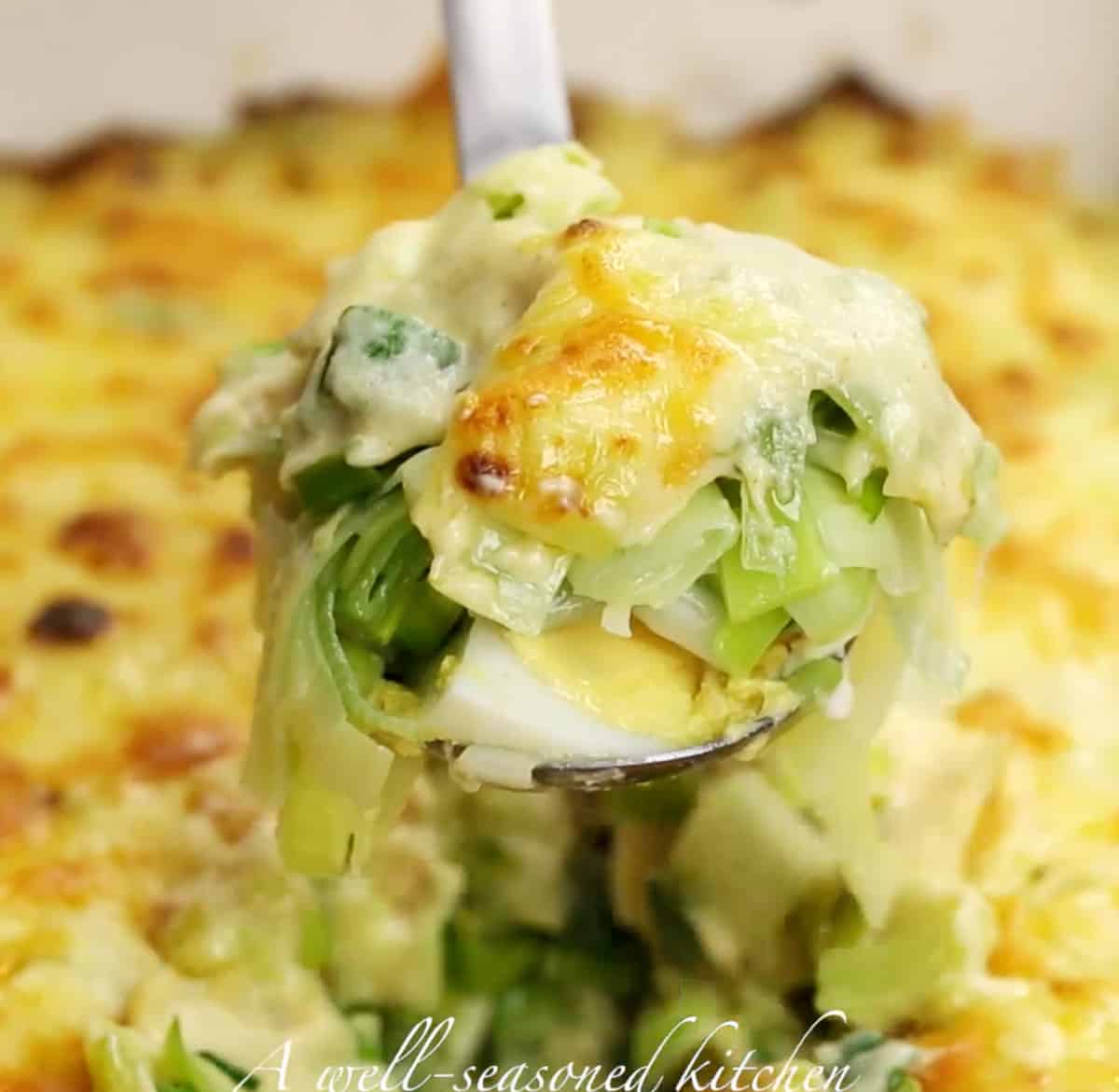 Here's my complete menu, the majority of which can be made ahead of time!
Goat Cheese, Pesto and Tomato Crostini (p. 17, Fresh Tastes)
Chilled Minted Pea Soup (p. 58, Fresh Tastes)
Slow Roasted Leg of Lamb
Leek Gratin (p. 199, A Well-Seasoned Kitchen®)
Oven Roasted Carrots
Nama's Rolls (p. 218, A Well-Seasoned Kitchen®) – or purchased dinner rolls
Pavlova with Fresh Berries (p. 242, A Well-Seasoned Kitchen®)