Oven Roasted Carrots are a scrumptious, easy to prepare side dish that provides lots of color on the plate!
Often when I'm creating a menu, one challenge is finding a side dish that adds color to the plate – especially a bright color, like red or orange. After all, Mom always said that we eat with our eyes first! Fresh, plump tomatoes are a great provider of color, but unfortunately not always in season. The other day, I looked around the produce section at our grocery store for other colorful vegetables and zeroed in on carrots.
Robert and I both love carrots, and I'm able to find fresh (good) ones year-round. So, I started creating fun, easy carrot recipes that not only provide delicious flavor and a bit of crunch, but also add that "pop" of color that makes the whole meal even more appealing. These Oven Roasted Carrots are one of my newest carrot recipes, that's not only colorful and delicious, it's easy to prepare too!
I love roasted vegetables – pretty much any kind. Carrots are naturally sweet, and the slight caramelization that comes with roasting them brings out their sweetness even more. Plus, it concentrates and amps up the carrot flavor, too. While you could prepare this recipe with larger carrots, I like to use smaller ones (around 4 to 6 inches in length). You could also use baby carrots – just try to find the real ones, that usually have the greens still attached. Actually, most "baby" carrots in bags (the ones that are around 1 to 2 inches long and look like logs) are just carved large carrots, not babies at all! Look at the shape – and the greens are a sure way to tell as well.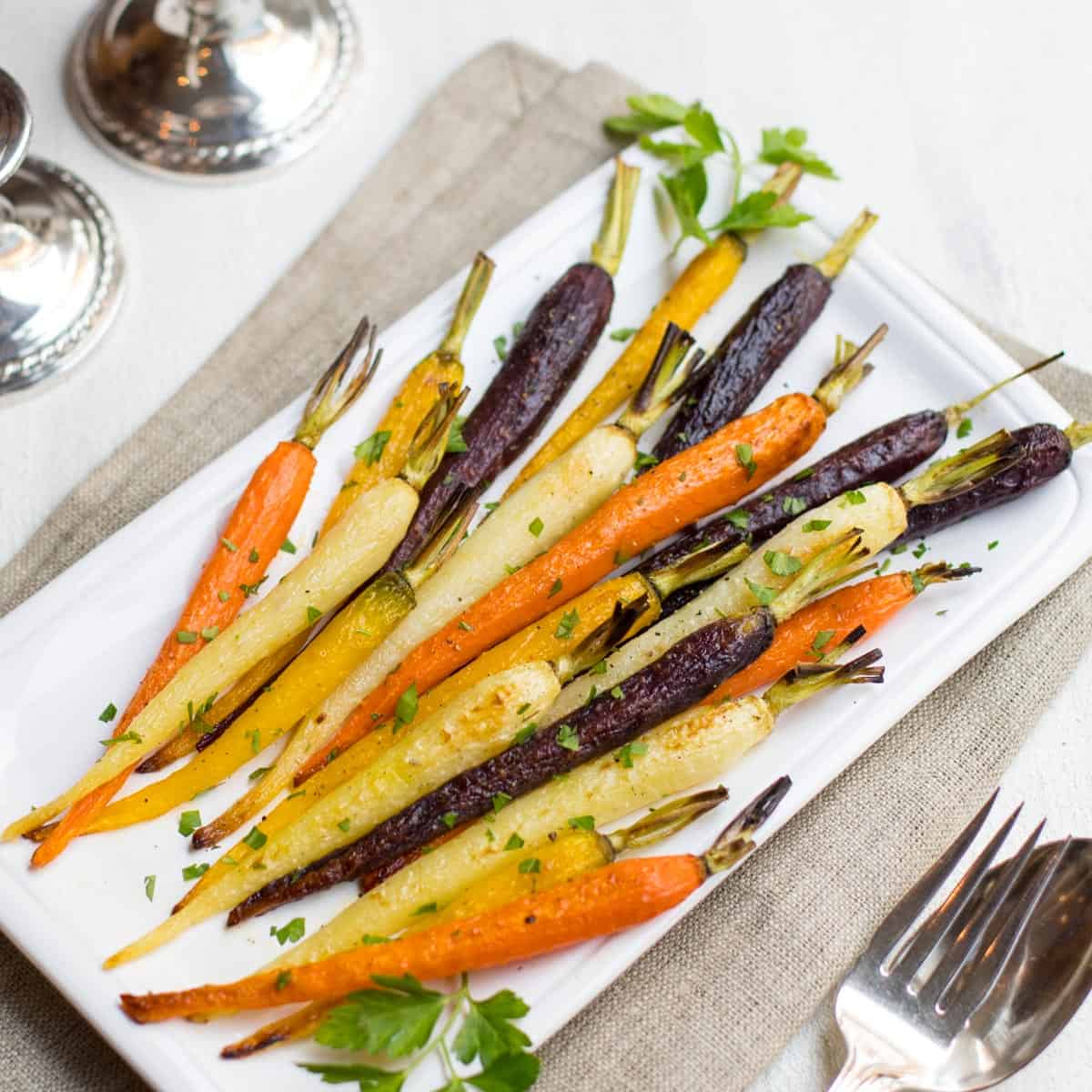 I think this dish also looks pretty if you can find a bunch of the multi-colored (sometimes labeled "rainbow") carrots – like the ones in my photos here.
These roasted carrots are a great side dish to serve with almost anything – I like them with lamb, beef or pork. They are a wonderful addition to my Easter Dinner Menu, too.
Pin it now to save for later!
Oven Roasted Carrots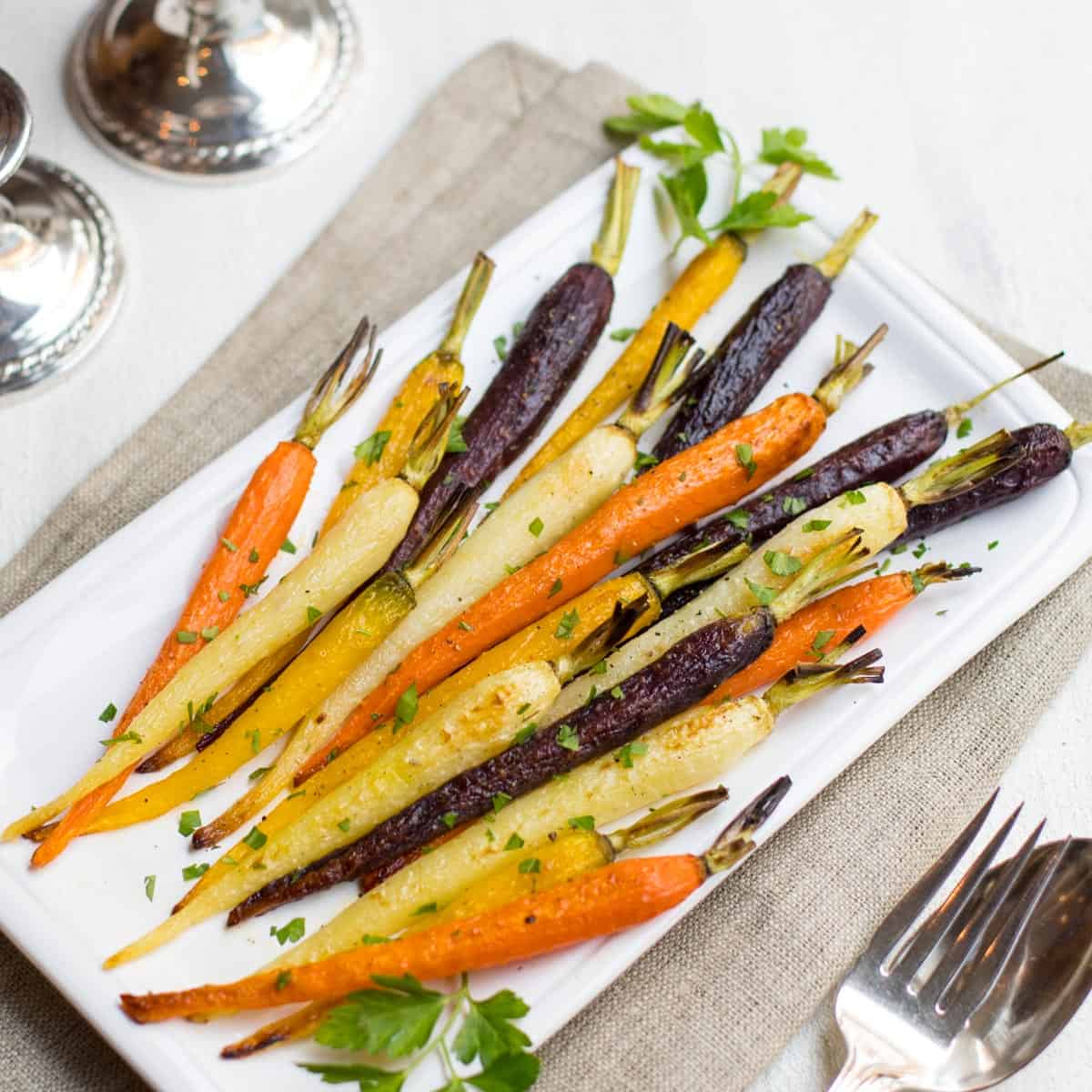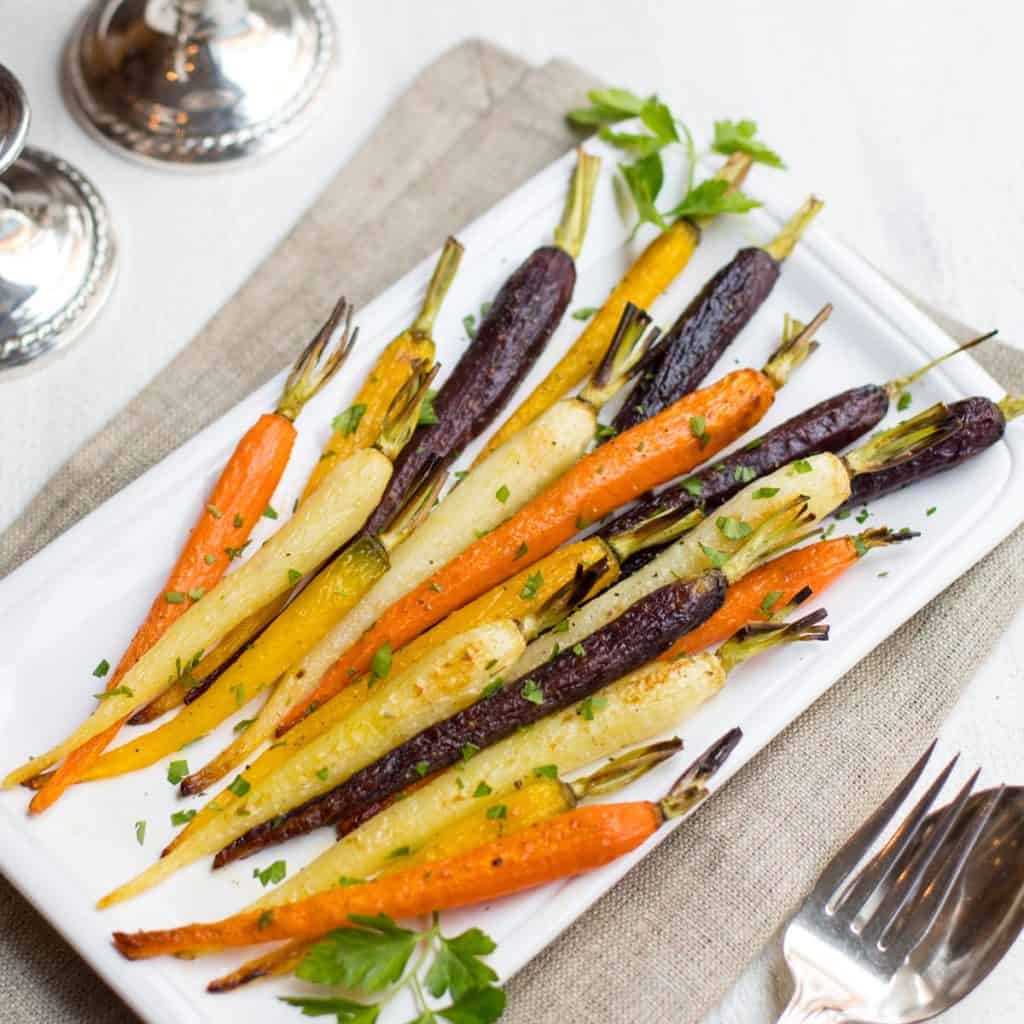 Oven Roasted Carrots are a scrumptious, easy to prepare side dish that provide lots of color on the plate!
Author:
Prep Time:

10 minutes

Cook Time:

30 minutes

Total Time:

40 minutes

Yield:

4

servings

1

x
Category:

Side dishes, vegetables, easy, gluten free
Ingredients
1 1/2 pounds (around 20) small-ish carrots (4 to 6 inches in length)
2 tablespoons extra virgin olive oil
Kosher salt, to taste
Fresh ground pepper, to taste
Chopped fresh Italian (flat leaf) parsley, for garnish
Chopped roasted nuts (pecans, almonds, walnuts, etc.), for garnish (optional)
Instructions
Preheat oven to 425 degrees.
Peel carrots, trim green tops to around 1-inch long.
Place carrots in a single layer on a large rimmed cookie sheet. Drizzle with olive oil; season with kosher salt and fresh ground pepper, and toss (I like to use my hands). Roast for around 25 to 30 minutes, stirring every 10 minutes or so, until carrots are just tender and not mushy.
Garnish with chopped parsley and nuts (if using).
Serve warm or at room temperature.