Why is it that sometimes the best recipes are the result of creating a new dish only using ingredients you have on hand – and that you need to use up? The other night, Robert was hungry for hamburgers or meatloaf, so I opened the fridge and started pulling out various ingredients that I thought might be good to spice up the ground beef. When I started to mix the herbs and vegetables together, I realized that I had the basics of many Italian dishes – basil, tomatoes, garlic, roasted red pepper, Parmesan cheese. This recipe was going be to perfect for Robert, since he loves anything Italian! So, a new recipe for an Italian meatloaf was born – and we both loved it. Super moist and flavorful, the cold leftovers made great sandwiches the next day. Definitely going to become a regular dish in our household. Enjoy!
Italian Meatloaf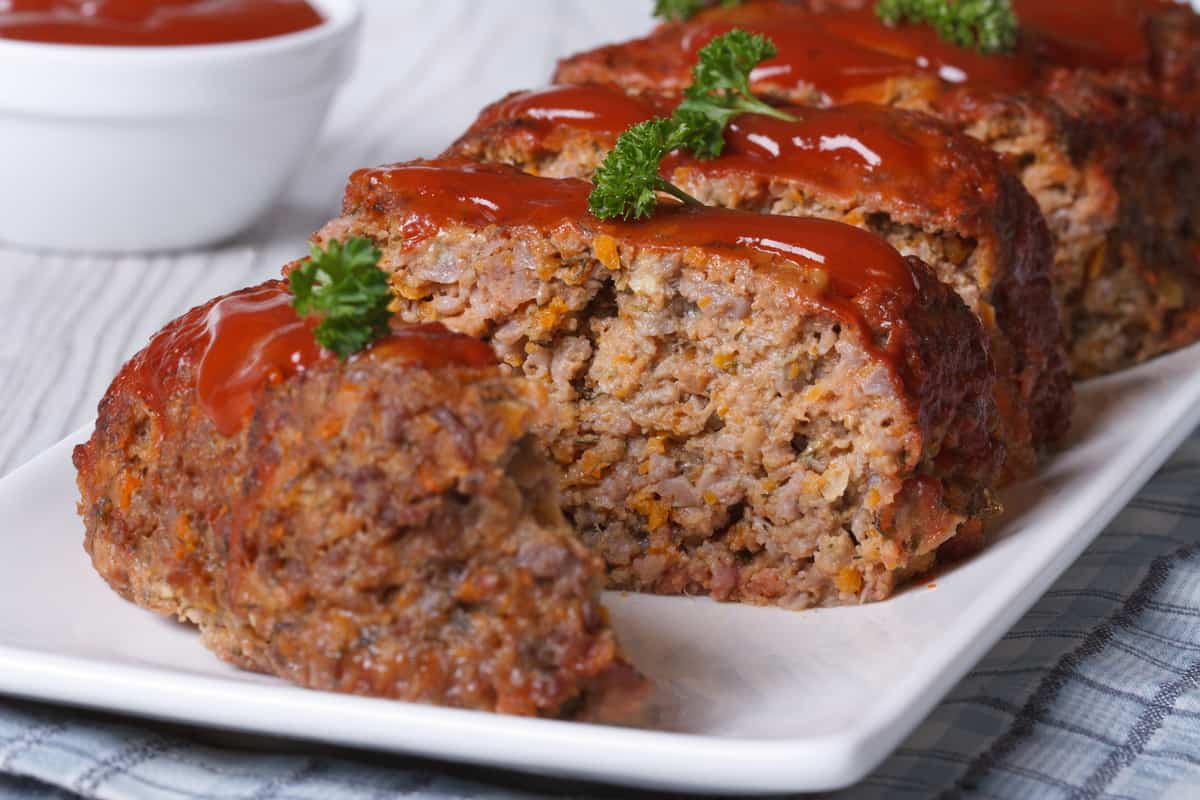 Ingredients
1 tablespoon

olive oil

1

leek, cleaned and chopped (white and light green parts only)

1/2

large green pepper, seeded and chopped

2 teaspoon

s chopped garlic

1 cup

chopped baby spinach

2 teaspoon

s dried basil (or

2 tablespoon

s chopped fresh basil)

1 cup

diced canned tomatoes

1/4 cup

chopped roasted red peppers (from a jar)

3/4 cup

Panko breadcrumbs

1/4 cup

whole milk (if using ground bison)

2

eggs, beaten

1/4 cup

grated Parmesan cheese

1 1/4

to

1 1/2

pounds ground beef or bison

1 cup

tomato sauce
Instructions
Preheat oven to 375 degrees.
Heat olive oil in a large nonstick skillet or sauté pan over medium heat. Add the leek, green pepper and garlic. Cook, stirring occasionally, until soft. Stir in the spinach and basil and continue cooking until the spinach is fully wilted. Remove from heat and stir in diced tomatoes and red pepper. Place in a large mixing bowl and stir in breadcrumbs, milk (if using) and eggs. Add ground beef (or bison) and mix well, using your hands. Season with salt and fresh ground pepper. Place in a 5 by 8-inch loaf pan and bake for 45 minutes. Spoon tomato sauce over the top and continue baking for another 15 minutes. Remove from oven and let sit 5 to 10 minutes before serving.