Mini Meatloaves Wrapped in Prosciutto are impressive little bundles of warmth and deliciousness – tender and moist on the inside, golden on the outside.
What says "cozy family dinner" better than meatloaf and mashed potatoes? It warms us up from the inside out. I have several favorite meatloaf recipes – like my Cajun Meatloaf – but I'd never created mini meatloaves. I've had them at restaurants and thought they were a fun way to make a basic home dish a bit more elegant, especially when wrapped with prosciutto.
In my experience, a mixture of ground beef and ground pork produces a moist meatloaf with the right consistency – moist and tender, but still keeping its loaf shape. So for my mini meat loaves, I start with this mixture, and for flavor I add carrots, celery, onion, bell pepper and garlic, along with a few fresh herbs. Breadcrumbs, milk and eggs are added for texture and moisture. Lastly, to wrap them up like little bundles, a few slices of prosciutto.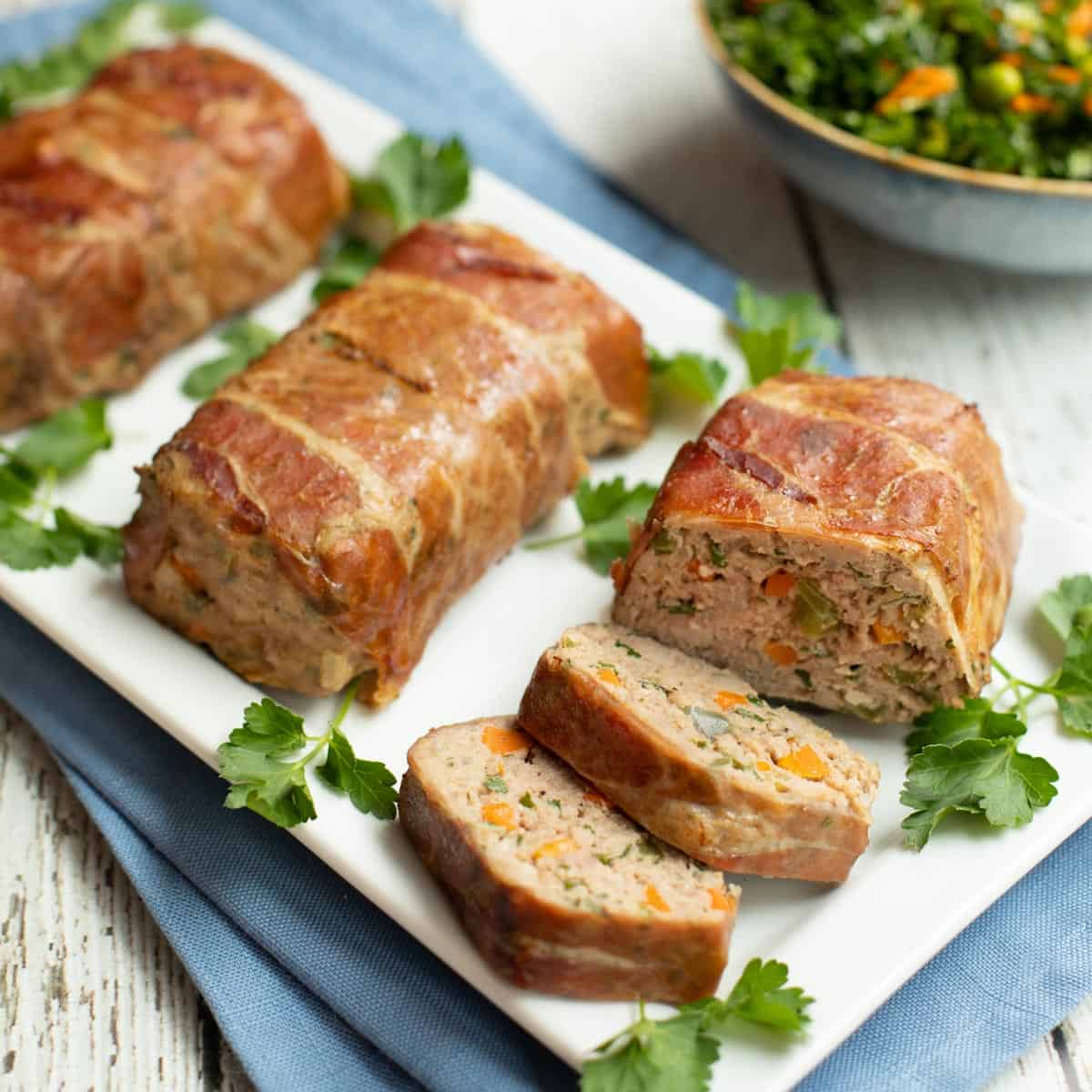 The challenge for me was how to create a tightly wrapped loaf with crisped prosciutto. Putting the mixture in mini loaf pans kept them nice and tight in a loaf shape, but the prosciutto was soft and a bit soggy. Then I came across a recipe for Chorizo Meatloaves by the fabulous Australian chef and cookbook author Donna Hay, in which she had a brilliant cooking method that solved my problem! Partially cook the prosciutto-wrapped loaves in mini pans to set their shape, then take them out of the pans and finish them on a cookie sheet, allowing the prosciutto to crisp. Perfection!
I like to serve these mini bites of deliciousness with Mashed Potatoes with Parsley and Chives and a tossed salad.
Pin it now to save for later!
Print
Mini Meatloaves Wrapped in Prosciutto
Mini Meatloaves Wrapped in Prosciutto are impressive little bundles of warmth and deliciousness – tender and moist on the inside, crispy on the outside.
Yield:

4

to

6

servings

1

x
1 cup breadcrumbs
1/2 cup milk (whole, 2% or skim)
2 tablespoons extra virgin olive oil
2 large carrots, chopped
2 stalks celery, chopped
1 medium onion, chopped
1/2 fresh green bell pepper, seeded and chopped
4 cloves garlic, chopped or pressed
1 pound ground beef (I like 85% lean)
1 pound ground pork
1/4 cup chopped fresh Italian (flat leaf) parsley
1 teaspoon fresh thyme leaves
1 teaspoon chopped fresh sage
2 large eggs, beaten
Kosher salt
Fresh ground pepper
8 slices prosciutto (or pancetta – see Note below)
Instructions
Preheat oven to 350 degrees.
In small mixing bowl, stir together the breadcrumbs and milk. Set aside.
In a large skillet or sauté pan, heat the oil over medium heat. Add the carrot, celery, onion, bell pepper and garlic and cook until soft, stirring occasionally. Remove from heat to cool a bit.
In a large mixing bowl, mix together the ground beef, pork, parsley, thyme and sage. Mix in the celery-onion mixture, the breadcrumb-milk mixture and the eggs until well blended (I like to use my hands). Season with salt and pepper.
Line 4 small (2 1/2- by 5-inch) loaf pans with 2 slices of prosciutto each – it should hang over the long sides of the pan. Divide the meat mixture evenly between the pans; push down and flatten the top. Wrap any prosciutto ends sticking out over the top of the meat.
Place filled loaf pans on a large rimmed cookie sheet and bake for 15 minutes. Remove from the oven and off the cookie sheet, and let cool for 5 minutes.
Line the cookie sheet with foil (careful, it may still be hot!). Loosen loaves from the pans by running a knife around the sides, and invert partially cooked loaves onto prepared baking sheet. Continue cooking for another 15 minutes or until the prosciutto is crispy and the meat reaches an internal temperature of 150 degrees.
Notes
Make ahead: Mini loaves can be prepared but not baked earlier in the day, covered and refrigerated. Bring to room temperature before baking.
Note: I have made these both with prosciutto and pancetta, and they are delicious both ways. I find the pancetta a bit easier to work with, as most pre-sliced prosciutto is sliced very thin.
Author:

Category:

Beef,meats, main dish, easy entertaining