Whether you are a pro at making scones or this is your first time, my super easy Mini Cheddar-Dill Scones recipe is for you. When filled with slices of smoked salmon, these moist and buttery scones make a unique, impressive two-bite appetizer. And, my step-by-step instructions ensure these scrumptious scones come out perfect, every time!
How I first met scones
I was first introduced to the wonderful world of scones while traveling in the United Kingdom on business. I arrived at my London hotel, and my room wasn't yet ready. The hotel staff graciously offered me "tea" in the lobby lounge while I waited. In addition to a variety of flavorful hot teas, they also provided me with a delicious array of small sandwiches – and scones with clotted cream and jam. Sort of like a Southern biscuit, the scones were buttery and super delicious. I devoured them all in no time!
After arriving home, I decided to try my hand at making a batch of scones, and was pleasantly surprised at how easy they are to prepare. And, they don't take much time, either – no rising, no kneading required. Again, just like my grandmother Nama's Biscuits (you can find her recipe in my cookbook "Fresh Tastes"). All you do is mix, cut and bake. That's it!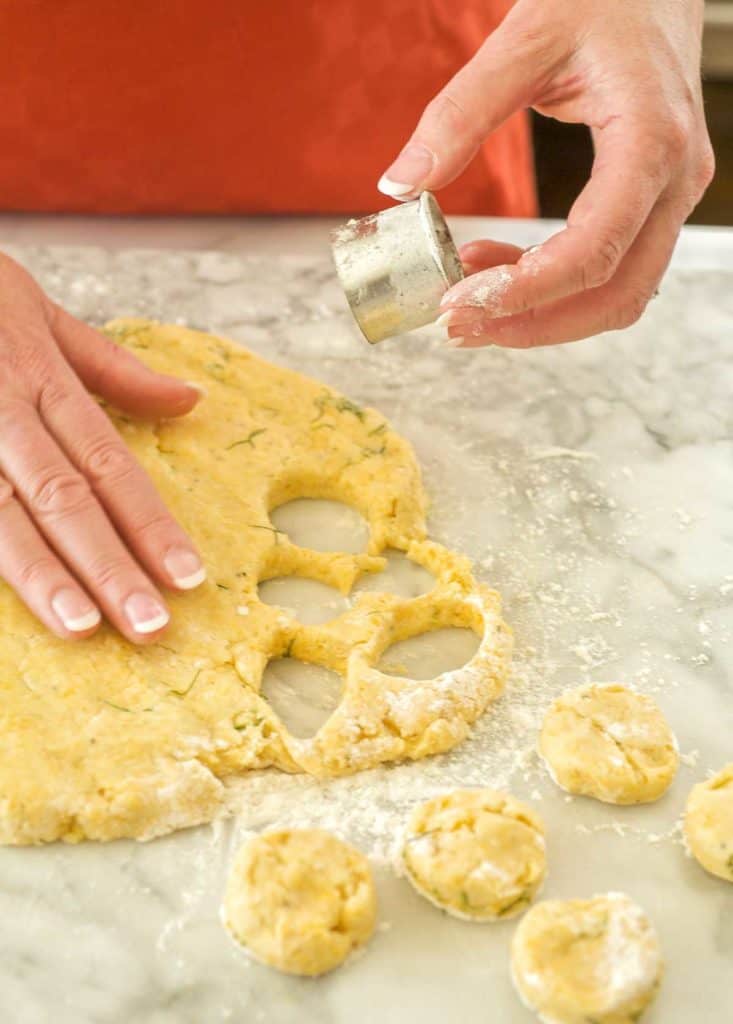 Creating Cheddar Dill Scones
Years ago, there was a deli in Denver that sold several different varieties of savory scones, including a cheddar-dill version. They were both pretty and delicious! After discovering how easy it is to make scones, I decided to create my own mini-sized Cheddar-Dill version. Sharp Cheddar cheese and lemony-fresh dill complement one another perfectly, and add not only depth of flavor but also brightness and pops of color to the scones, with subtle flecks of orange and green.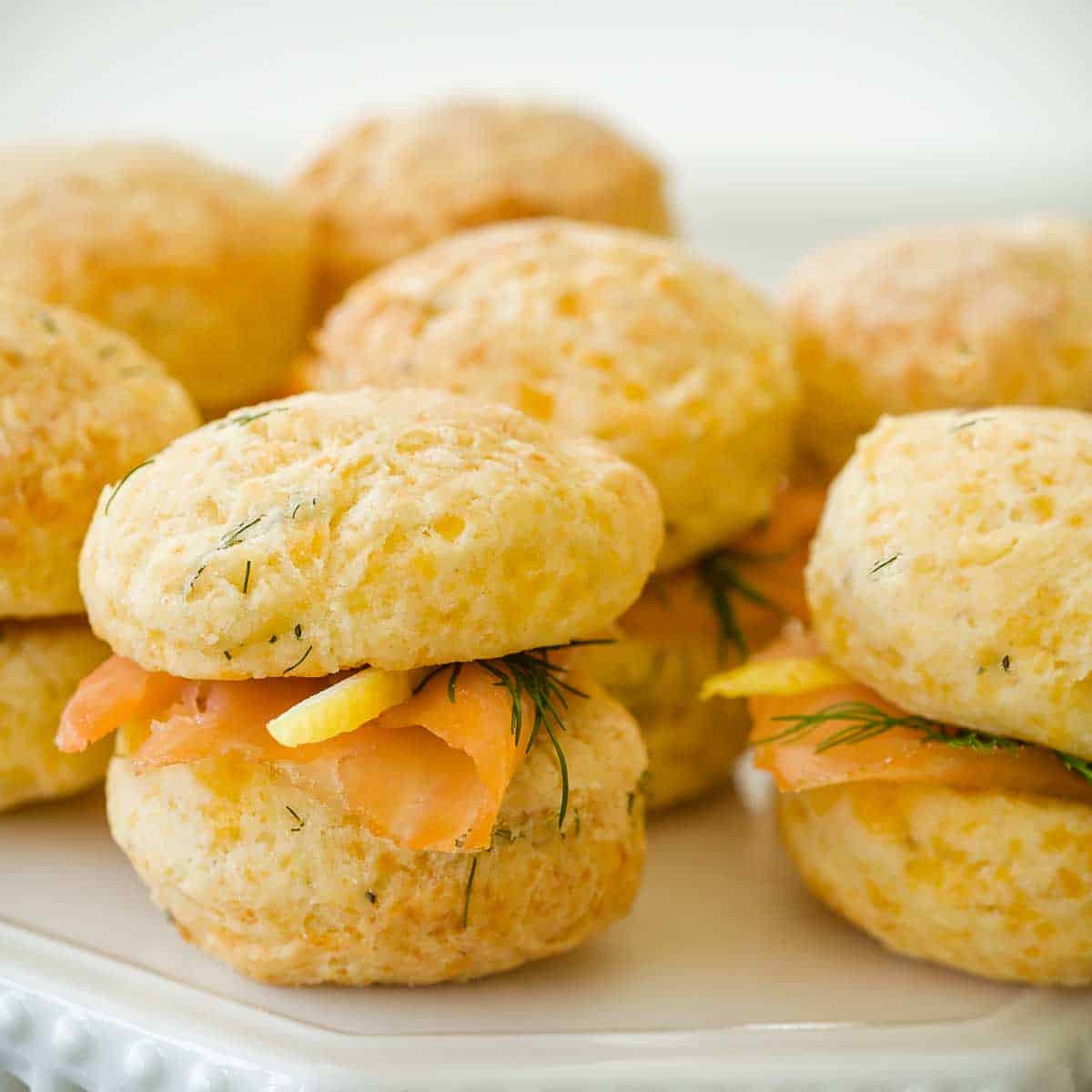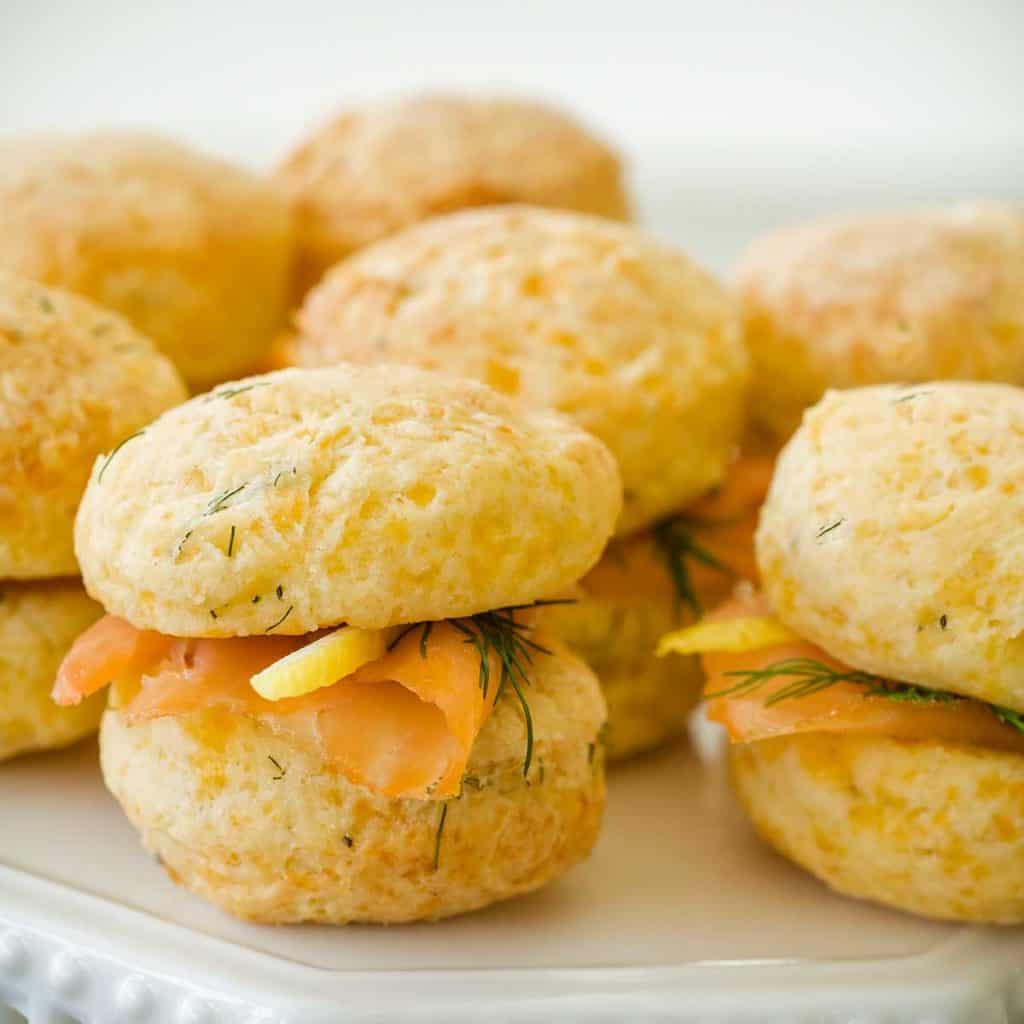 Turning Cheddar Dill Scones into an appetizer
While these scones are delicious as is, placing a slice of smoked salmon, a sprig of dill and a piece of lemon zest inside turns them into a unique, impressive, two-bite appetizer. And for your non-salmon eating friends and family, you can fill a few with sliced ham or duck breast and honey mustard. They're a light starter that's perfect for entertaining at home or taking to a potluck, as they can be made and assembled ahead of time!
How else can I serve these scones?
Mini Cheddar-Dill Scones are extremely versatile. Besides as an appetizer, I've served them alongside one of our main dish salads – both with and without the smoked salmon inside. They're also a great savory addition to a brunch menu, balancing out sweet muffins and breads. Make them larger and use them to make Breakfast Sandwiches with Egg!
How do I get my scones to rise evenly?
When cutting out the scones, it's important to push a floured round cutter straight down onto the dough, and don't twist it! If needed, move it sideways to separate the cut-out scone from the rest of the dough. If you twist, your scones will rise unevenly.
How do I keep my scones from drying out?
Placing the scones close together on the baking sheet keeps them from drying out. It also helps them rise evenly.
Pin it now to save for later!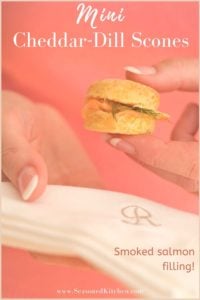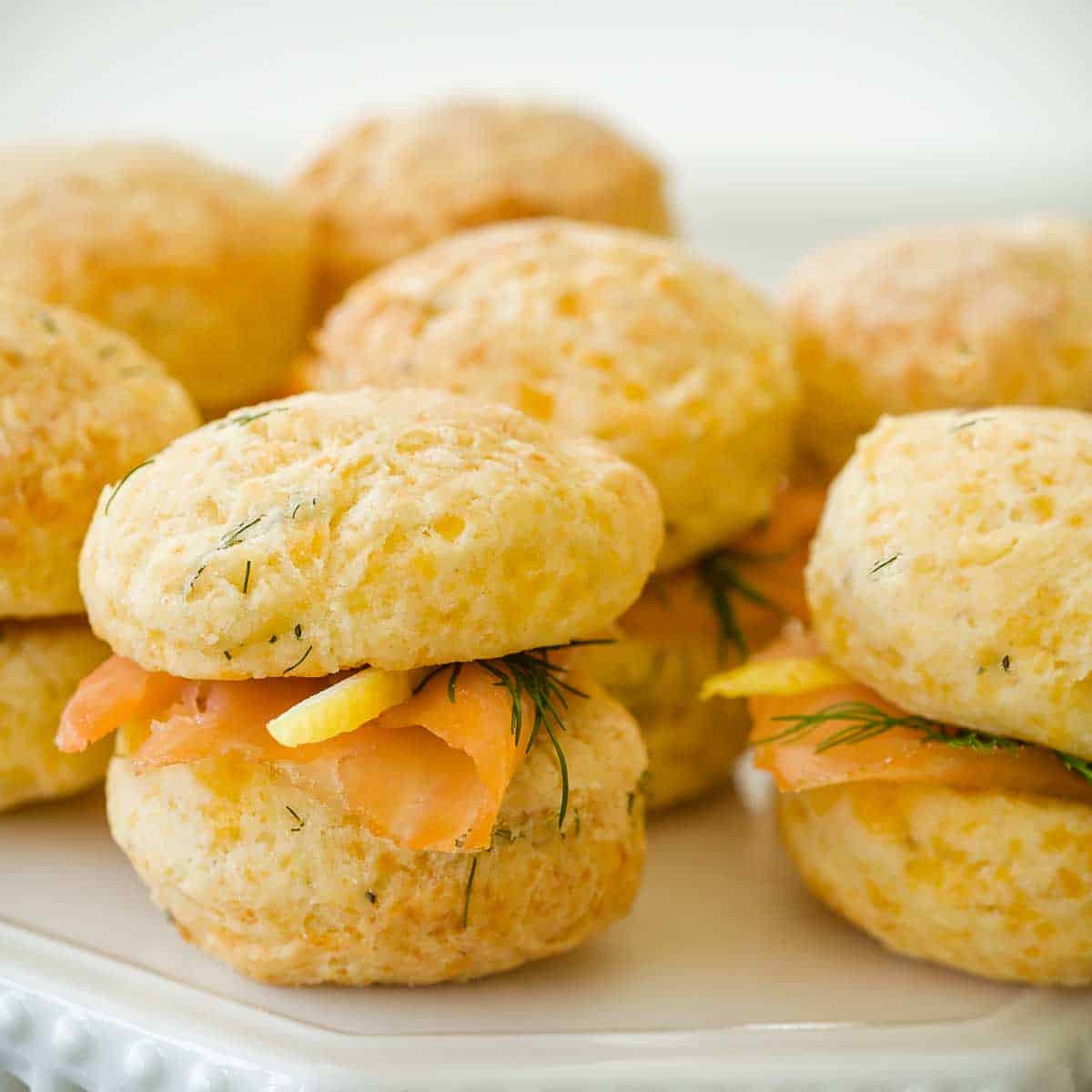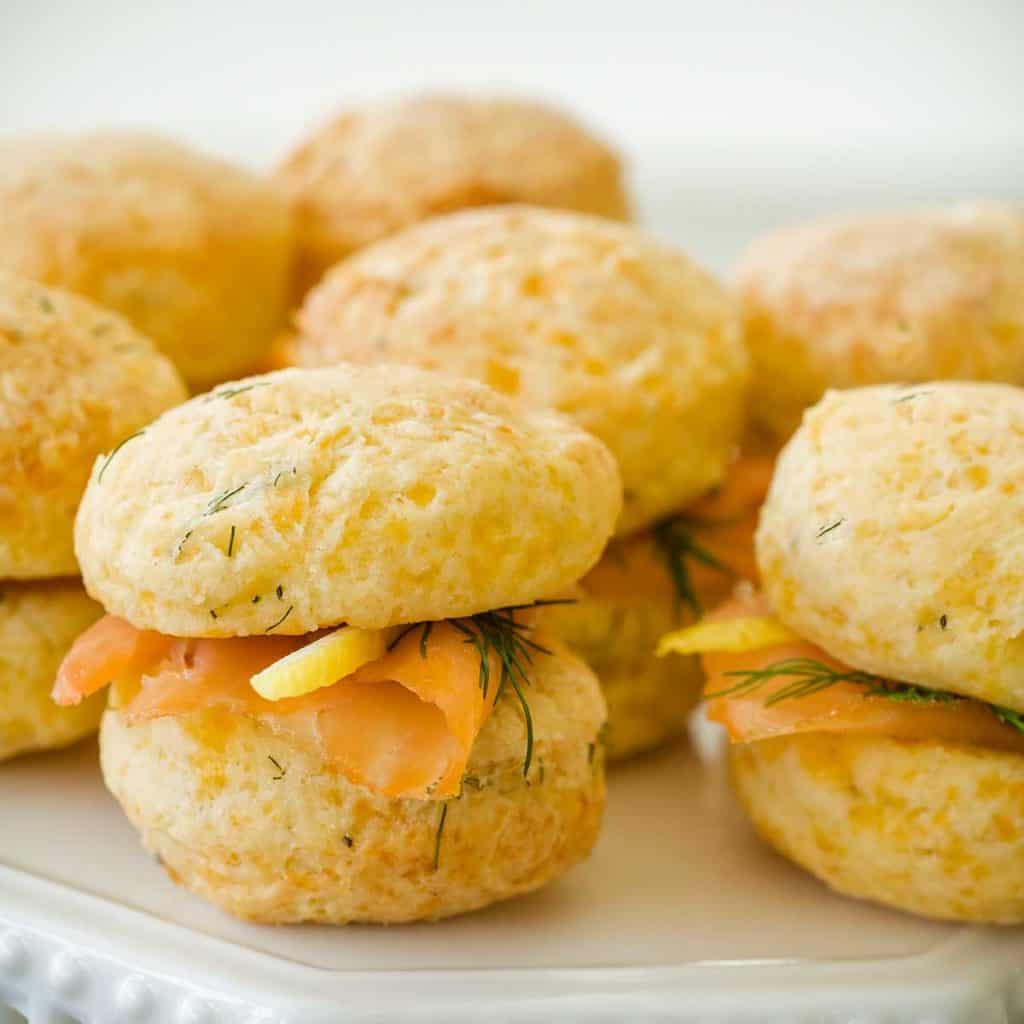 Mini Cheddar Dill Scones
Author:

Yield:

45

to

50

small scones

1

x

Category:

bread, appetizer, side dish, brunch

Method:

baking
---
Description
Super easy to prepare, Mini Cheddar Dill Scones are moist and buttery. When filled with smoked salmon, they make a unique, impressive two bite appetizer. They can also be served alongside salad or soup, and make a great addition to a brunch menu.
---
Cheddar-Dill Scones
2

large eggs

1/2 cup

+

1/2 tablespoon

half and half

2 tablespoons

chopped fresh dill

2 cups

all-purpose flour

1 tablespoon

baking powder

1 teaspoon

table salt

1/2 teaspoon

ground pepper

7 tablespoons

cold unsalted butter, divided

1 1/2 cups

grated sharp Cheddar cheese
Smoked Salmon Filling
Smoked salmon pieces – see Variation below
Sprigs of fresh dill
Lemon zest pieces
---
Instructions
Cheddar-Dill Scones
Preheat oven to 425 degrees. Place rack in upper 1/3 of oven. Line baking sheets with parchment paper.
In a small mixing bowl, whisk together eggs and half and half until well blended. Whisk in chopped dill and set aside.
Place flour, baking powder, salt, and black pepper in the bowl of a food processor. Process to mix.
Cut 6 tablespoons of the butter into pieces, add to flour mixture and pulse just until butter is incorporated.
Add the grated cheese and pulse one or two times to blend.
While the machine is running, quickly add half and half mixture through the feed tube and process the dough just until moist clumps begin to form a ball. Don't over process or your scones will be tough.
Turn dough out onto a lightly floured surface and shape into a ball. Using your fingers, gently flatten dough to 1/2-inch thickness. (Do not make thinner as the scones won't rise.)
Cut out mini scones with a 1- or 1 1/2-inch round cutter and place on prepared baking sheet. Reroll scraps and continue cutting.
Melt remaining 1 tablespoon of butter and brush over top of each scone. Bake in the upper third of the oven for 10 to 13 minutes or until golden brown.
Remove from oven and place scones on a wire rack to cool.
Assembly
Once cooled, slice scones in half horizontally. Place a piece of salmon, a small piece of fresh dill and a small piece (or two) of lemon zest inside each scone. Serve immediately.
---
Notes
Make ahead: The mini scones can be made ahead and stored in an airtight container at room temperature for up to 24 hours. They can also be frozen for up to 3 months. Can also be filled earlier in the day, covered and refrigerated. Bring to room temperature before serving.
Variations in filling: other fillings you can use include sliced ham or duck with honey mustard.
Variation in scone size: Cut the scones out larger and use to make Breakfast Sandwiches with Egg.
Keywords: scones, breads, smoked salmon