Hearty Sheet Pan Chicken with Mushroom-Onion Sauce is a hearty, flavorful dish that will warm you up on a cold winter's night!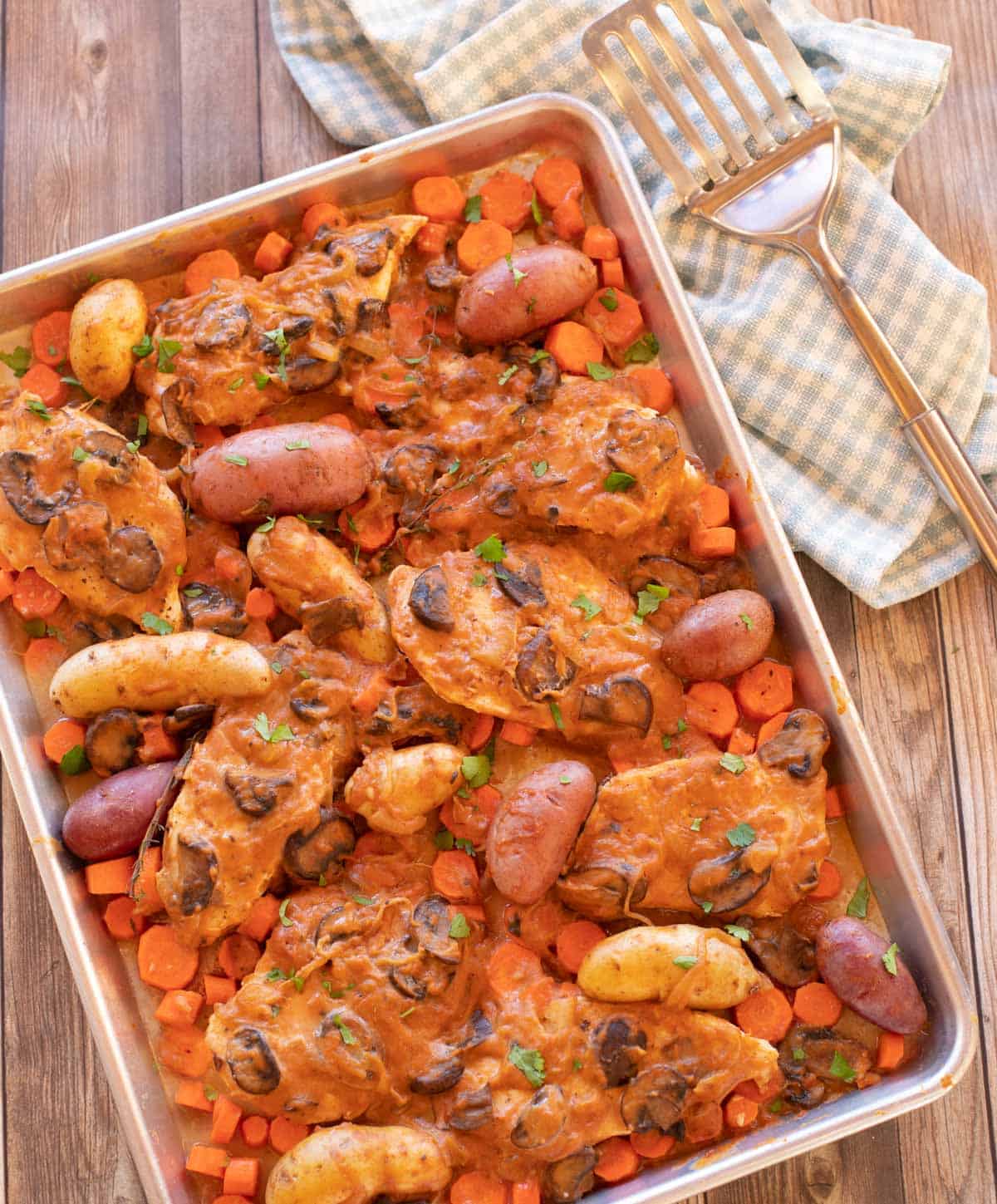 I enjoy making "sheet pan" recipes – those multiple ingredient dishes that are prepared all in one sheet pan (basically a rimmed cookie sheet). These recipes are definitely in my wheel house – easy to prepare with readily available ingredients, and delicious, too. So, I decided to start creating a few of my own – and this Sheet Pan Chicken with Mushroom-Onion Sauce is my first.
It all started with the sauce. I'd been tinkering around with creating a Mushroom-Onion Sauce for several months, and just couldn't get the flavor quite right – it needed more depth, more earthiness. Adding in sage and tomato paste definitely helped, but it still needed more. I was looking for a sort of meaty, woodsy flavor, and my sauce wasn't quite there.
Then, I saw an advertisement from the company Better Than Bouillon that recommended adding their broth concentrates to sauces. So, I added in some of their beef broth concentrate to my mushroom sauce – and the result was just what I was looking for. Lots of depth, tons of flavor. I first tried it on turkey burgers – and Robert and I both loved it!
For my sheet pan recipe, I pair my mushroom-onion sauce with chicken and some hearty sides – potatoes and carrots. I throw in a few sprigs of thyme as well, as thyme is an herb that will work well with my rich sauce. It all goes into a sheet pan together and is baked, covered. The resulting Sheet Pan Chicken with Mushroom-Onion Sauce is just what I hoped for – a blend of deep, rustic, earthy flavors. Robert and our friends I tested it on all thought it was scrumptious!
Pin it now to save for later –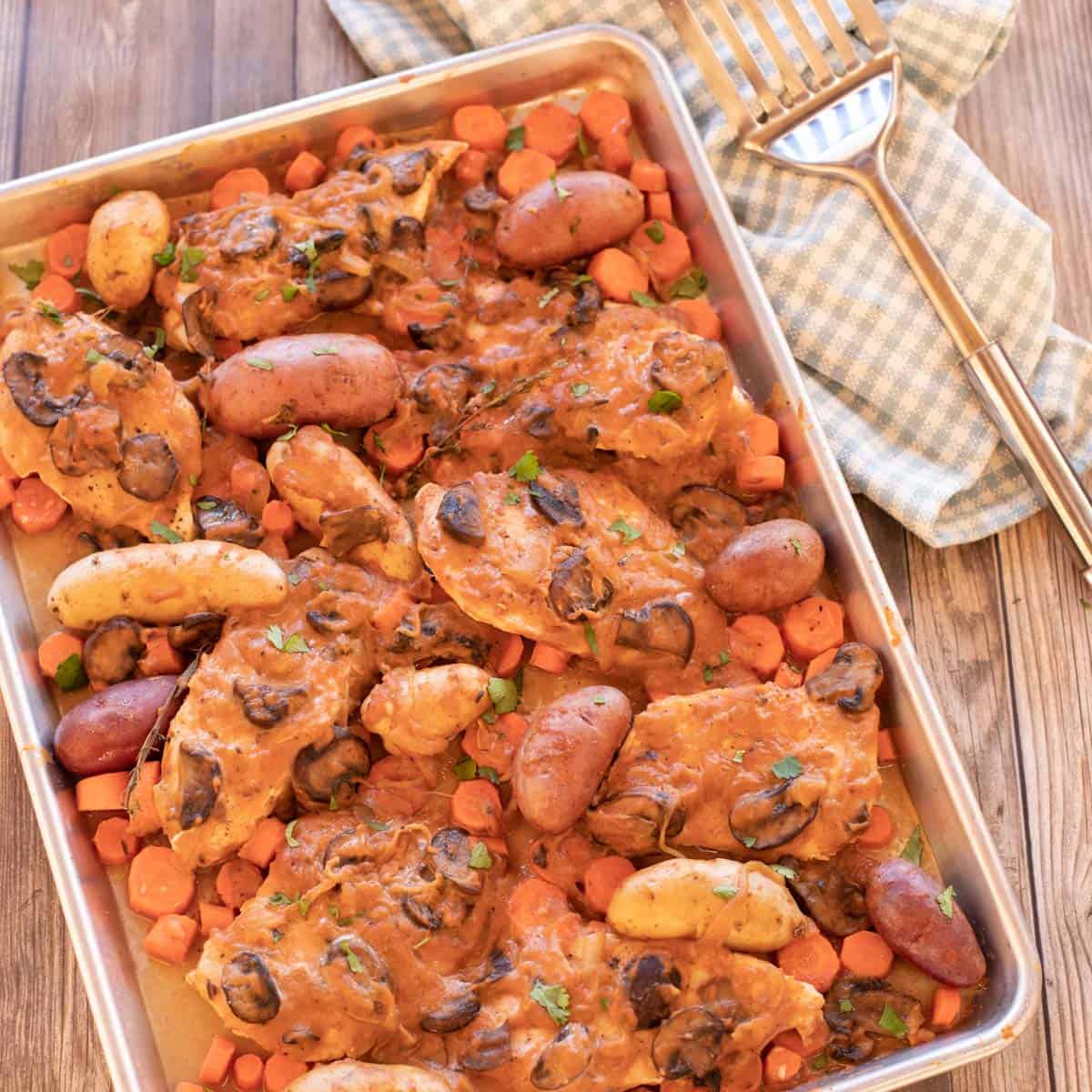 Sheet Pan Chicken with Mushroom-Onion Sauce
Author:

Yield:

4

to

6

servings

1

x

Category:

Main dish, poultry, easy entertaining, sheet pan cooking
---
Description
Chicken, carrots and potatoes are topped with a hearty mushroom-onion sauce and then baked on a sheet pan. So easy, so delicious!
---
Mushroom Sauce
1 tablespoon butter
1 tablespoon olive oil
8 ounces sliced mushrooms (I like to use baby bella/cremini)
1 medium onion, cut in half and thinly sliced
1 teaspoon chopped garlic (around 2 cloves)
3 tablespoons all-purpose flour
1 1/2 cups milk (whole, 2% or skim)
1/2 cup dry white wine
1 teaspoon dried sage
2 tablespoons beef broth concentrate (I like Better than Bouillon brand)
2 tablespoons tomato paste
Kosher salt, to taste
Ground pepper, to taste
Sheet Pan Chicken
1 1/2 to 2 pounds boneless, skinless chicken thighs or breasts
4 medium carrots, peeled and cut into 1/4-inch slices
8 fingerling potatoes (around 2-inches in length)
3 or 4 sprigs of fresh thyme
Chopped fresh parsley, for garnish
---
Instructions
Preheat oven to 350 degrees. Spray a half-sheet pan with nonstick cooking spray.
Mushroom Sauce
In a large skillet or sauté pan over medium heat, add the butter and oil; cook until butter is melted and oil is hot. Add mushrooms, onion and garlic and cook until most of the mushroom moisture has evaporated, and the mushrooms and onion are beginning to turn a light golden brown. Reduce heat to low, sift in flour and continue cooking, stirring, for 3 minutes.
Whisk in the milk, wine, sage, beef broth concentrate and tomato paste. Cook over medium-low heat, stirring, until sauce thickens. Season to taste with salt and pepper. Remove from heat and set aside. (It will thicken as it sits, and that's okay. Just stir it a time or two.)
Sheet Pan Chicken
If using chicken breasts, butterfly and halve larger pieces. Season chicken to taste with salt and pepper.
Arrange chicken pieces on prepared pan in one layer, smooth side up. Arrange carrots and potatoes around chicken. Stick thyme sprigs in and around all the ingredients. Spoon mushroom sauce over the top. Cover with foil and bake for 30 to 40 minutes, or until chicken reaches an internal temperature of 165 degrees on an instant read thermometer. Carrots and potatoes should also be tender. Remove thyme sprigs; sprinkle with parsley and serve.
---
Notes
Note on cook time: The thickness of your chicken pieces, not the carrots or potatoes, will determine how long you need to bake this dish.
Make ahead: mushroom sauce can be made up to 24 hours in advance, covered and refrigerated.