Dense and decadent, Triple Chocolate Zucchini Cake uses unsweetened and semi-sweet chocolate in the batter, then is topped off with a super scrumptious bittersweet chocolate glaze.
Every year during August and September I receive lots of requests for zucchini recipes. I've shared a few recently – one side dish (Roasted Zucchini Custard) and one vegetarian main dish (Mushroom, Spinach, Tomato and Zucchini Pie). So today, I decided to share my favorite zucchini dessert recipe – Triple Chocolate Zucchini Cake.
This cake is dense, super chocolate-y – and super delicious. I favor dark chocolate over milk chocolate, so this recipe calls for unsweetened chocolate in the batter. Semi-sweet chocolate chips ramp up the chocolate factor by adding in hunks of concentrated chocolate flavor. Cinnamon and nutmeg add a bit of spice and are a great complement to the chocolate. Grated zucchini adds moisture, and a touch of lemon or orange zest adds a bit of brightness. I finish it off with a rich and decadent bittersweet chocolate glaze and a dusting of powdered sugar.
If you love chocolate, you will LOVE this cake! No zucchini flavor, just lots and lots of chocolate. The goods news – research studies have shown positive benefits from eating chocolate, especially dark – including improvements in brain activity and reductions cardiovascular disease. So, now you can enjoy this rich and delicious dessert guilt-free!
Note that high altitude instructions are included at the bottom of the recipe.
Pin it now to save for later!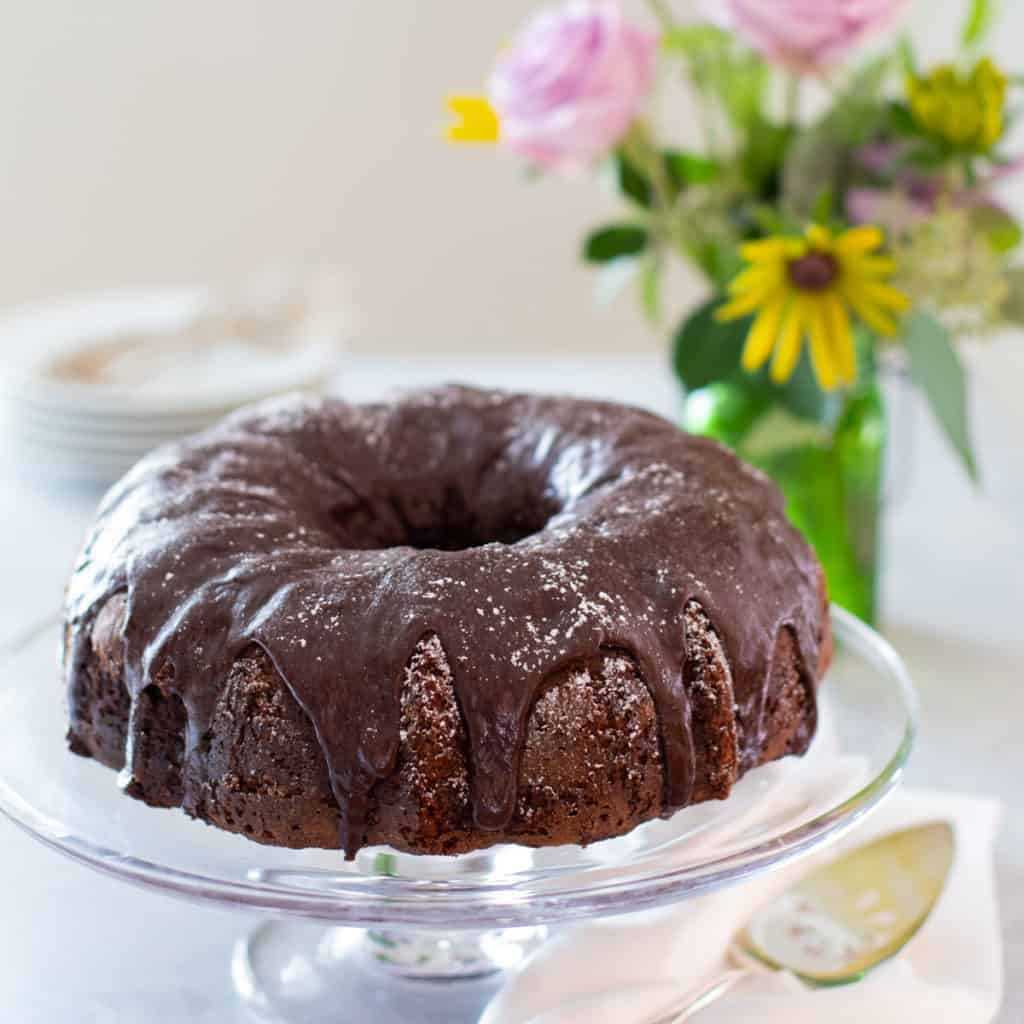 Triple Chocolate Zucchini Cake
Author:

Yield:

12

to

14

servings

1

x

Category:

Desserts, cakes, easy entertaining
---
Description
Dense and decadent, Triple Chocolate Zucchini Cake uses unsweetened and semi-sweet chocolate in the batter, then is topped off with a super scrumptious bittersweet chocolate glaze. (Note that high altitude instructions are included at the bottom of the recipe.)
---
Scale
Ingredients
Chocolate Zucchini Cake
2 ounces unsweetened chocolate, coarsely chopped
2 1/2 cups all-purpose flour
2 1/2 teaspoons baking powder
1 teaspoon baking soda
1/2 teaspoon ground cinnamon
1/2 teaspoon ground nutmeg
1/2 teaspoon table salt
1/2 cup (1 stick) butter, softened
1 3/4 cups granulated sugar, plus more for preparing the Bundt pan
3 large eggs
1/2 cup half and half
1 teaspoon lemon or orange zest
1 1/2 teaspoons vanilla, divided
1 3/4 cups grated (unpeeled) zucchini – don't squeeze dry or drain
1/2 cup semi-sweet chocolate chips (regular or mini)
Chocolate Glaze
8 ounces bittersweet chocolate
3/4 cup heavy whipping cream
1/4 cup light corn syrup
1 to 2 tablespoons powdered (confectioner's) sugar
Vanilla or butter pecan ice cream, for serving (optional)
---
Instructions
Preheat oven to 350 degrees.
Put unsweetened chocolate in a small bowl and microwave on high for 30 seconds. Stir; microwave for another 30 seconds. Stir again and continue microwaving in 10 second increments just until melted. Set aside to cool.
In a large mixing bowl, whisk together flour, baking powder, baking soda, cinnamon, nutmeg and salt. Set aside.
Using an electric stand mixer with the paddle attachment, beat butter on medium speed (3 to 4) until creamy. With the machine running, add granulated sugar. Continue beating until well combined, around 2 to 3 minutes. Beat in cooled melted chocolate. Beat in the eggs, one at a time. Beat in half and half, zest and 1 teaspoon of the vanilla.
Reduce machine speed to low (or "stir") and add zucchini. Stop mixing but leave batter in bowl on machine (you'll come back to it shortly).
Using nonstick cooking spray, grease and sugar a 10-inch Bundt pan (see Note below). Don't use butter or flour; the cake's more likely to stick to the pan with those.
Back to the batter: with the machine on low ("stir"), beat in flour mixture and chocolate chips just until blended. Spoon batter into prepared pan and bake for around 45 to 50 minutes, or until a wooden pick inserted in the middle comes out clean.
Remove cake from oven and gently run a knife around the edges (inside and out). Let sit in pan for 10 minutes.
Again, run a knife around the edges of the cake, and then turn over (upside down) onto a wire rack. Let sit for around 5 minutes – the cake should fall out of the pan onto the rack. If not, gently shake the pan a few times. If still not out, let sit for a few more minutes – it should fall out. Let cool completely.
While the cake is cooling, make the chocolate glaze: in the top of a double boiler, stir together the bittersweet chocolate, cream, corn syrup, and remaining 1/2 teaspoon vanilla. Place over boiling water and cook, stirring constantly, until the chocolate is melted and the glaze is smooth. Remove from over water and set aside to cool and thicken slightly, for around 5 minutes.
Spoon glaze over the top of cake, letting it drip down the sides. (You might have some glaze left over.) Let the cake stand until glaze is set, around 20 to 30 minutes. You can also pop it in the refrigerator to get it to set faster.
Just before serving, dust top of cake with powdered sugar. If desired, serve with a scoop of ice cream.
---
Notes
High altitude adjustments: reduce baking powder by 1/4 teaspoon. Reduce baking soda by 1/8 teaspoon. Increase 1/2 and 1/2 by 1 tablespoon.
Note on baking dish: you can also use a 9 by 13-inch baking dish. No need to remove from pan, just spread glaze over the top.
Make ahead: Cake can be baked and glazed up to 24 hours ahead. Cover and store in refrigerator. Bring to room temperature before serving.