Mushroom, Spinach, Tomato and Zucchini Pie is the perfect end-of-summer dish to prepare with the fresh bounty from your garden or your favorite farmer's market.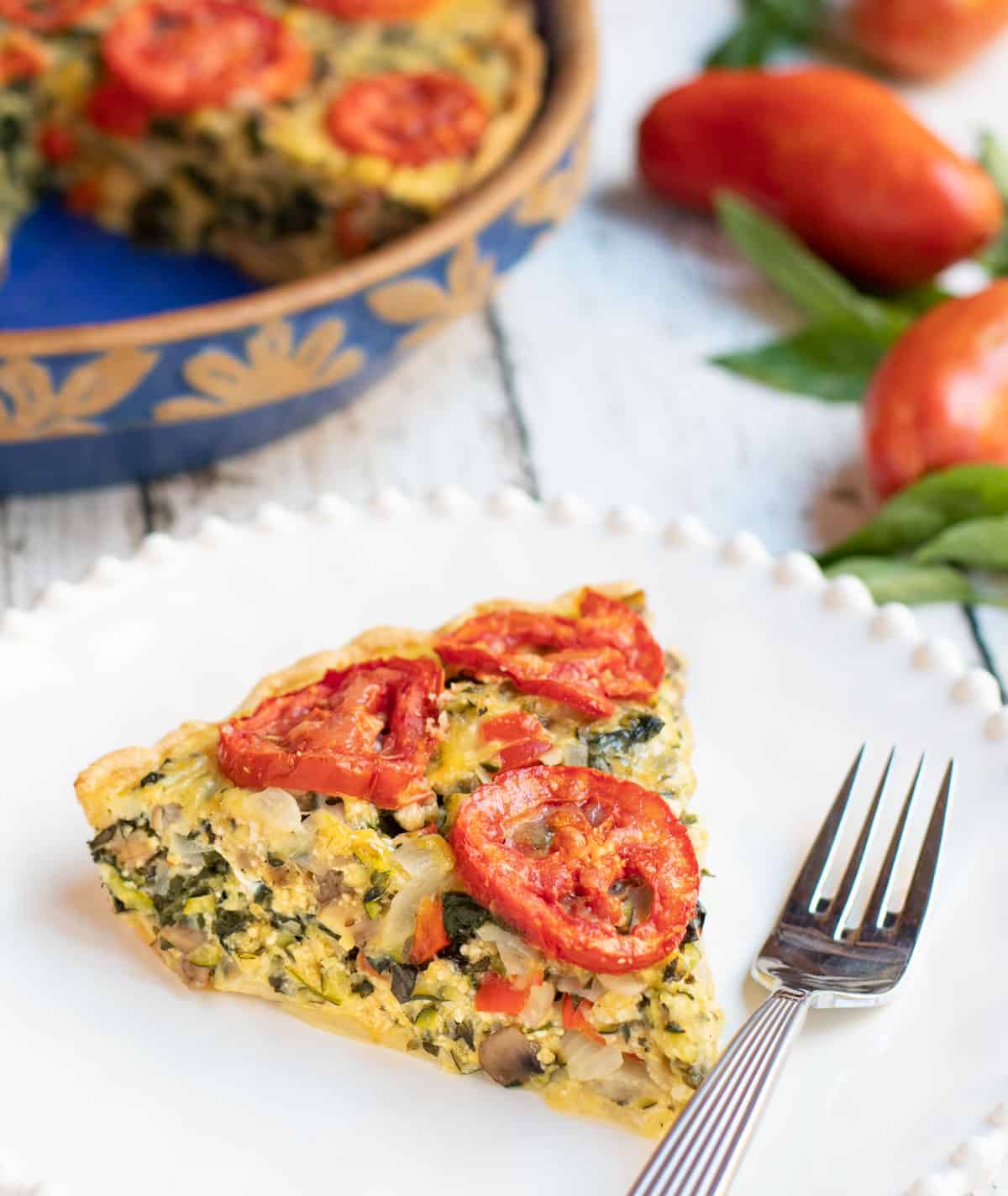 At the end of summer, I love creating flavorful and colorful dishes with all the fresh vegetables and herbs that are at their peak. And, this Mushroom, Spinach, Tomato and Zucchini Pie is an all time favorite!
In this scrumptious dish, mushrooms, onion, garlic, spinach, zucchini and bell pepper are sautéed, combined with a three-cheese mixture (ricotta, Cheddar and Parmesan) and spooned into a flaky pie crust. Slices of fresh tomato are arranged over the top, additional Parmesan sprinkled over all, then the whole fabulous vegetable-cheese medley is baked until set. So colorful, so fresh – and so delicious!
And there's a secret ingredient, too – the pre-baked pie crust is brushed with Dijon mustard before filling, which not only adds flavor, it prevents the crust from getting soggy!
Pin now and save for later!
Print
Mushroom, Spinach, Tomato and Zucchini Pie
Mushroom, Spinach, Tomato and Zucchini Pie is the perfect end-of-summer dish to prepare with the fresh bounty from your garden or your favorite farmer's market.
Yield:

8

servings, as a main dish

1

x
1 prepared crust for a 9 or 10-inch pie (see my recipe for Easy Flaky Pie Crust)
2 cups packed grated zucchini (1 large or around 3 medium)
3 tablespoons butter, divided
1 teaspoon chopped garlic
8 ounces fresh mushrooms (white, cremini/baby bella, shitake, or a mixture), sliced
1 tablespoon olive oil
1 1/2 cups chopped onion (around 1 large)
1 red bell pepper, seeded and chopped
5 to 6 ounces fresh baby spinach leaves
2 tablespoons chopped fresh basil
2 teaspoons fresh thyme leaves
1 cup whole milk ricotta cheese (see Note)
1 cup grated sharp Cheddar cheese
1 cup grated Parmesan cheese, divided
Kosher salt, to taste
Fresh ground pepper, to taste
3 large eggs, beaten
3 tablespoons Dijon mustard
2 large plum tomatoes, sliced (or more – see Note)
Instructions
Preheat oven to 350 degrees.
Roll prepared pie crust dough to a 12-inch circle. Transfer to a 9-inch deep dish pie pan or 10-inch tart pan. Push down carefully on bottom and sides to remove any air pockets. Fold over edges and crimp as needed. Refrigerate for 20 to 30 minutes.
Prick bottom of crust with a small fork. Line crust with foil and fill with pie weights. Place on a rimmed baking sheet and bake for 15 minutes. Remove weights and foil and continue cooking for another 5 to 10 minutes or until crust is lightly browned and crisp on the bottom. Set aside to cool. Leave oven on.
Place the grated zucchini in a dish towel and wring out moisture. Set aside.
Melt 2 tablespoons of the butter in a large skillet over medium heat. Add garlic and mushrooms and cook 7 to 10 minutes, or until the mushrooms are tender and liquid has evaporated. Remove mushroom mixture from pan and set aside to cool a bit; don't wash out the pan.
In the same large skillet, heat the remaining 1 tablespoon butter and the olive oil over medium heat. Add zucchini, onion and red pepper and cook, stirring occasionally, until vegetables are soft.
Stir in spinach by handfuls and continue cooking, stirring occasionally, until spinach is cooked and all of the moisture has evaporated.
Remove vegetable mixture from heat, place in a strainer and press with back of a spoon to push out moisture. Let sit for 5 minutes in strainer to allow moisture to drain.
Put zucchini mixture back in skillet (or in a mixing bowl) and stir in cooked mushrooms, basil, thyme, ricotta cheese, Cheddar cheese and 3/4 cup of the Parmesan cheese. Season to taste with salt and pepper. Stir in beaten eggs.
Brush bottom of pre-baked pie crust with the Dijon mustard. Spoon the vegetable mixture into the crust and spread evenly. Top with tomato slices. Sprinkle remaining Parmesan cheese over the top.
Bake in top 1/3 of oven until the filling is set, around 40 minutes for a deep dish pan and 30 minutes for a shallower tart pan. Let sit for 10 minutes before slicing and serving.
Notes
Note on ricotta cheese: I find this recipe works best with whole milk ricotta cheese rather than part skim or low fat. The latter two have a bit more water, and it's important to keep this filling from getting too watery; otherwise you end up with a soggy crust.
Note on tomatoes: You can add more sliced tomatoes op top of the pie than the recipe calls for. Try overlapping slices in a circular pattern for a pretty look!
Make ahead: pie crust and vegetable mixture can be prepared earlier in the day and stored separately, in the refrigerator. Bring to room temperature, assemble and bake 1 hour before serving.
Author:

Category:

Vegetarian main, brunch