Looking for a totally unique, scrumptious, savory bread to serve at your next gathering? Then this Anise Bread's for you. This distinctive bread is different than any you've ever had – unless, of course, you enjoyed it at my or my mom's house! A crisp, brown crust flecked with sesame seeds surrounds a moist interior spiced with anise seeds. And no licorice flavor here; I don't like black licorice and I love this bread!
The story behind this Anise Bread
Growing up, my mom often served Anise Bread at her dinner parties, to the delight of her guests. Delectably different than basic breads, its crispy and golden brown crust contrasts with white sesame seeds on top and a moist, pale interior. The uniqueness comes from the addition of anise seeds. The good news is that the anise (licorice) flavor is very subtle, without being overwhelming. In fact, it doesn't taste like licorice at all! Mom served it with lots of different dishes – everything from roast beef to pasta casseroles.
A few years ago, when mom and I were writing our first cookbook, A Well-Seasoned Kitchen®, we wanted to include her Anise Bread recipe. Unfortunately, by the time we thought of it, mom's memory was going and she just couldn't remember where she put it.
(Here's mom cooking in her kitchen:)
I searched high and low, but wasn't able to find it. So, I started experimenting, trying to recreate the recipe based on what I remembered it looked and tasted like. My brother Jim and I think that this version is pretty close to mom's original bread, and the recipe testers for my second cookbook, Fresh Tastes, approved!
What type of flour should I use?
I like to make this bread with all-purpose flour, preferably unbleached.

What should I serve with Anise Bread?
As I mentioned earlier, you can serve this bread with just about anything! It's delicious as a side dish with everything from meats, to fish, poultry – even pasta. I also like it sliced, toasted and slathered with butter for breakfast.
Can I freeze it?
Yes, definitely! It will keep, well wrapped, in the freezer for up to 2 months.
Pin it now to save for later!
Other bread recipes you might like:
Print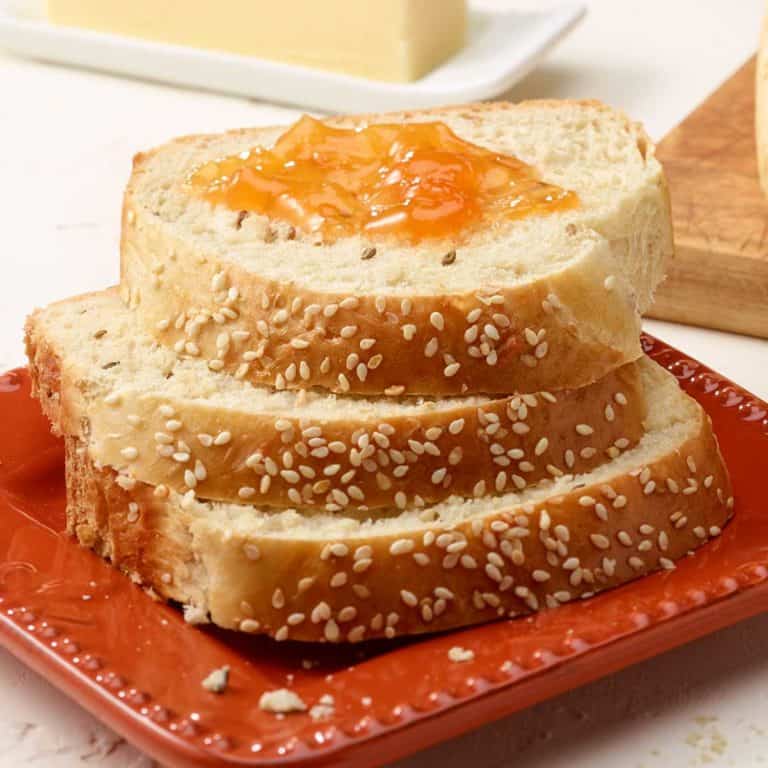 Anise Bread
This distinctive Anise Bread is different than any savory bread you've ever had. A crisp, brown crust flecked with sesame seeds surrounds a moist interior spiced with anise seeds. And no licorice flavor here; I don't like black licorice and I love this bread!
Yield:

2

(8 by 5-inch) loaves

1

x
1 cup

whole milk

4 tablespoons

salted butter

3 tablespoons

sugar

1 1/4 teaspoons

table salt

1

(.25-ounce) package active dry yeast

1/4 cup

warm water

3

to

4

cups all-purpose flour, divided

1

large egg, beaten, divided

1 tablespoon

anise seed
Sesame seeds, for sprinkling on top
Instructions
In a medium saucepan, heat milk and butter over medium-high heat, stirring occasionally, until the butter melts. Stir in sugar and salt. Remove from heat and let cool to no higher than 110 degrees.
Dissolve yeast in 1/4 cup warm (100 to 110 degrees) water. Set aside.
Put cooled milk mixture in a large mixing bowl and using whisk attachment on an electric mixer, blend in 1/2 cup flour. Blend in 1/2 beaten egg, anise seed and then the yeast.
Using a dough hook and keeping machine on speed 2, add just enough flour to blend in, 1/2 cup at a time, to form dough. Beat for 2 additional minutes or until dough clings to the hook and cleans sides of the bowl. Knead an additional 2 minutes on speed 2 or until the dough is smooth and elastic (dough will be sticky).
Remove dough from bowl and turn out onto a lightly floured surface. Knead a few times by hand to confirm texture is correct (it should feel like your earlobe or a baby's bottom).
Transfer dough to a large greased bowl, turning once to coat surface. Cover with a clean dish towel and let rise in a warm place (85 degrees) about 45 to 60 minutes or until doubled in bulk.
Preheat oven to 350 degrees. Butter two 8-by-4-inch loaf pans.
Punch down dough and knead briefly to push out additional air. Divide dough in half and shape each half into an oblong loaf that will fill the prepared pans; put in pans. Brush tops with remaining beaten egg and sprinkle with sesame seeds.
Bake about 35 minutes or until golden brown and loaves sound hollow when tapped on top. Remove from pan and cool completely on a wire rack.
Author:

Category:

bread, side dishes

Method:

bake