Angel Hair with Chicken and Artichoke-Caper Sauce – a light and healthy pasta dish that is chock-a-block full of flavor!
I love to layer flavors into a dish at various points, and this recipe for Angel Hair Pasta with Chicken and Artichoke-Caper Sauce does that in spades. First, garlic slivers are sautéed in olive oil to imbue garlic flavor throughout the dish. Chicken pieces are then dredged in flour that is flavored with oregano, paprika and parsley and sautéed in the garlic oil. Once the chicken is cooked, wine and chicken broth are added to the juices in the pan and reduced, concentrating the flavors. And then, the sautéed garlic slivers are added back into the sauce, along with artichokes and capers. Lastly, a small pad of butter is stirred into finish it off. (My mouth is watering just writing this!) It's then served atop light and lovely angel hair pasta.
I should warn you: This light and healthy pasta is heavy on the garlic! You can leave it out, but personally I love garlic, and the extra dimension it adds to this dish.
Note: I recommend not using a nonstick pan, as the browned bits that stick to the bottom of the pan while cooking the chicken add flavor to the sauce. In this recipe, you'll do something called "deglazing" the pan, which naturally removes those bits, making clean up easier — so no need for that nonstick surface!
Pin it now to save for later: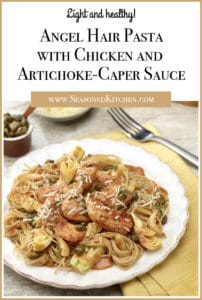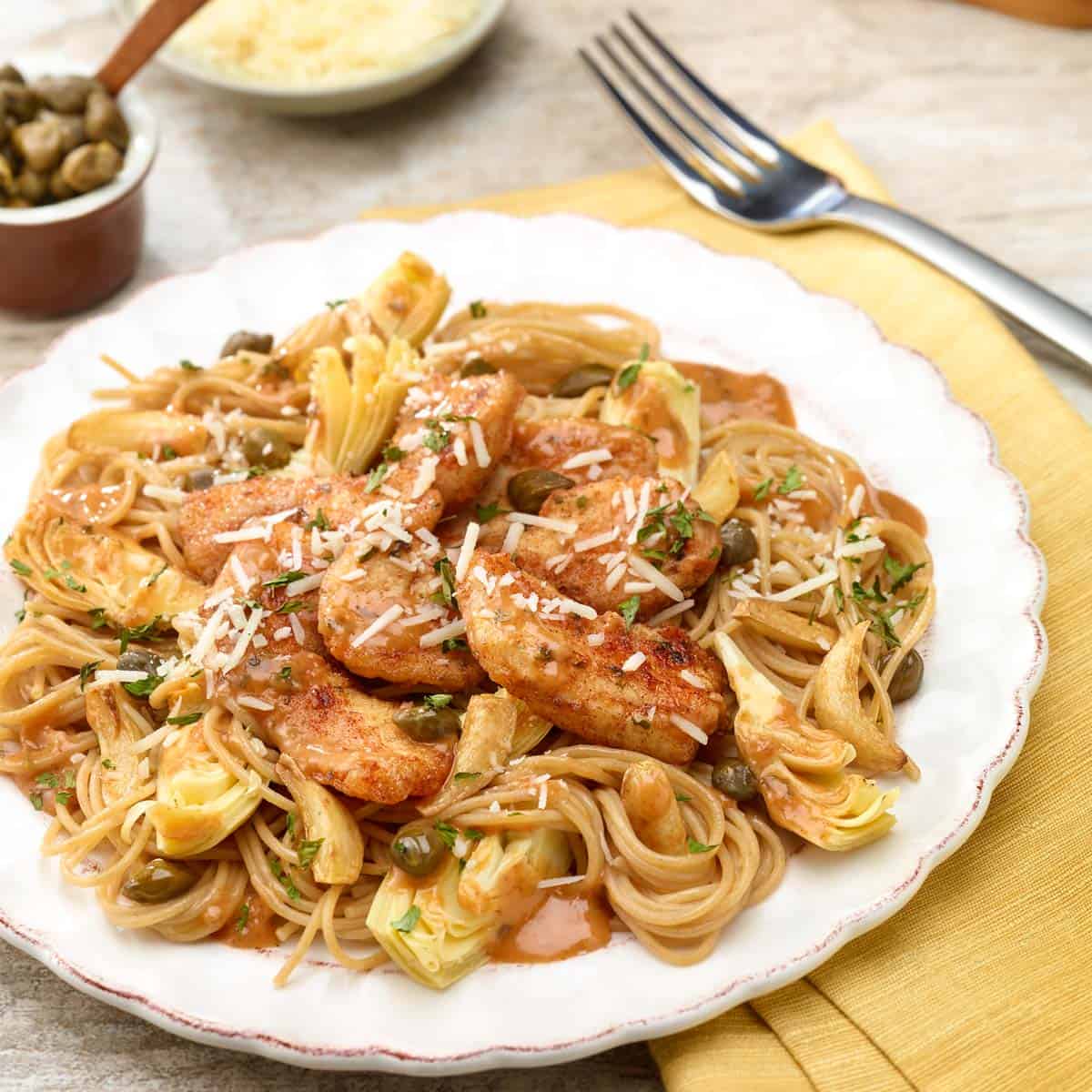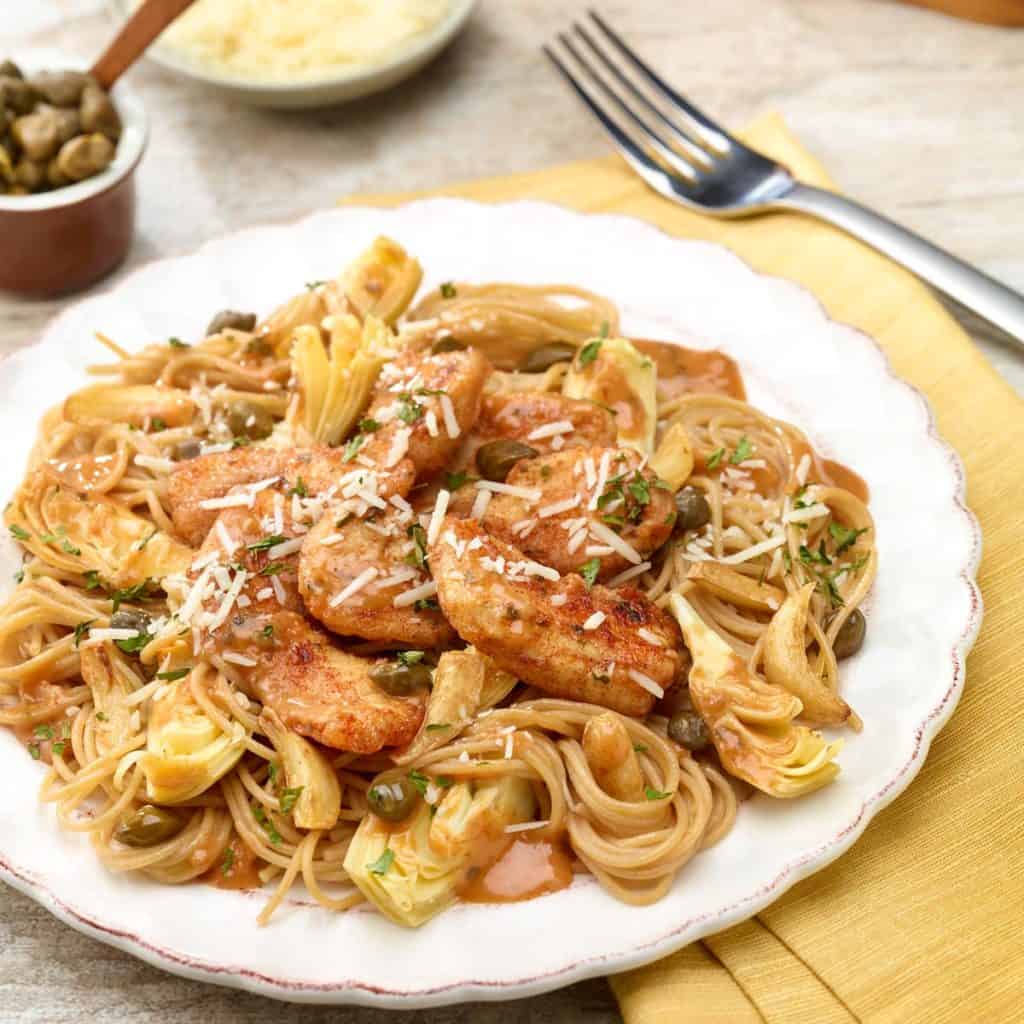 Angel Hair with Chicken and Artichoke-Caper Sauce
Author:

Yield:

6

to

8

servings

1

x

Category:

Pasta, light and healthy
---
Description
Angel Hair with Chicken and Artichoke-Caper Sauce – a light and healthy pasta dish that is chock-a-block full of flavor.
---
6 to 8 ounces angel hair pasta, preferably whole wheat
1/4 cup all-purpose flour
1/2 teaspoon dried oregano
1/2 teaspoon paprika
1/2 teaspoon dried parsley
Salt, to taste
Freshly ground black pepper, to taste
1 pound boneless, skinless chicken breasts, cut into 2– by 1/2-inch strips
2 to 3 tablespoons olive oil
2 garlic cloves, cut into quarters
3 tablespoons white wine
2 cups chicken broth
1 (14-ounce) canned artichoke hearts in water, drained and quartered
1/4 cup capers, drained
1 tablespoon butter
1/4 cup (1 ounce) freshly grated Parmesan cheese (optional)
Garnish: chopped fresh parsley
---
Instructions
In a large pot, bring salted water to boil for the pasta.
Place flour in a shallow dish and whisk in oregano, paprika and parsley; season liberally with salt and pepper. Dredge chicken in flour mixture, coating both sides and shaking off excess.
In a large skillet, heat 2 tablespoons of olive oil over medium-low heat. Add garlic and cook just until garlic begins to turn a light brown. Using a slotted spoon, remove garlic from oil and set aside.
Increase heat to medium-high, add chicken to oil in pan and cook 6 to 8 minutes, or until golden brown on both sides, adding additional olive oil if needed. Remove chicken from pan, place on plate and keep warm (don't clean out the pan).
Add the wine to the pan, reduce heat to medium-low (wine should be at a simmer), scraping up any browned bits from the bottom of the pan. Add the chicken broth and bring to a boil; reduce to a simmer and cook 7 to 10 minutes or until reduced by half.
Place pasta in boiling salted water and cook 3 to 4 minutes, according to package directions. Drain and set aside (don't rinse).
Chop cooked garlic slivers; stir into the wine-broth mixture. Stir in artichokes and capers. Cook for 1 to 2 minutes, or until thoroughly heated. Stir in chicken and any juices that may have accumulated on the plate. Bring to a low boil, remove from heat and stir in butter.
If pasta isn't done yet, keep sauce warm over very low heat. Spoon chicken and sauce over pasta; sprinkle with freshly grated Parmesan cheese and garnish with chopped parsley, if desired.
---
Notes
Gluten free: Use gluten-free angel hair pasta. Substitute cornstarch for all-purpose flour. Use gluten-free chicken broth.