Chicken is one of the most versatile and popular meats, and for good reason. It's a healthy and tasty source of protein that can be cooked in countless ways to suit almost any taste preference. However, cooking chicken that's flavorful, moist and tender can sometimes be a challenge. That's where seasoning comes in. There are many different ways to season chicken, from marinades and rubs to sauces and brines. In this post, we'll take a closer look at six of the most popular methods for seasoning chicken, along with some recipe suggestions to help you get started. Whether you're a beginner cook or a seasoned pro, there's something here for everyone to enjoy.
The Best Way to Season Chicken
Chicken is a very versatile meat that can be cooked in many different ways and paired with a wide range of flavors and ingredients to create a variety of dishes. It can be seasoned with many different herbs, spices, sauces, and marinades to achieve different flavor profiles. In this post, I go into detail about six different seasoning methods for chicken – explaining each one and including a corresponding recipe example.
Chicken Seasoning Ideas
There are many different ways to season chicken. Here's an overview of 6 of the most popular methods: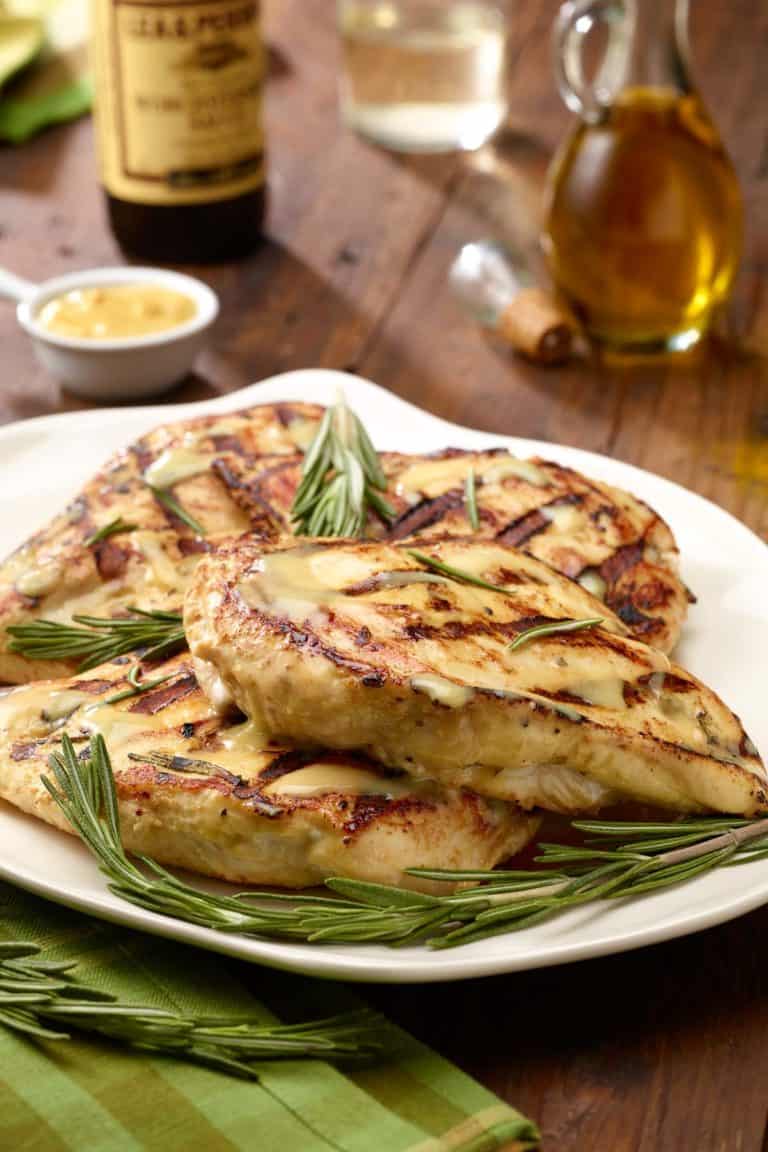 Marinade
Marinades are a great way to add flavor. They typically consist of a combination of oil, vinegar, herbs, and/or spices. Use marinades to flavor chicken before cooking and/or to season the chicken while it's cooking by using it as a basting sauce. The combination of ingredients used in a marinade will depend on personal tastes. Give our Chicken with Rosemary Dijon Marinade a try, it's always a crowd-pleaser in our house!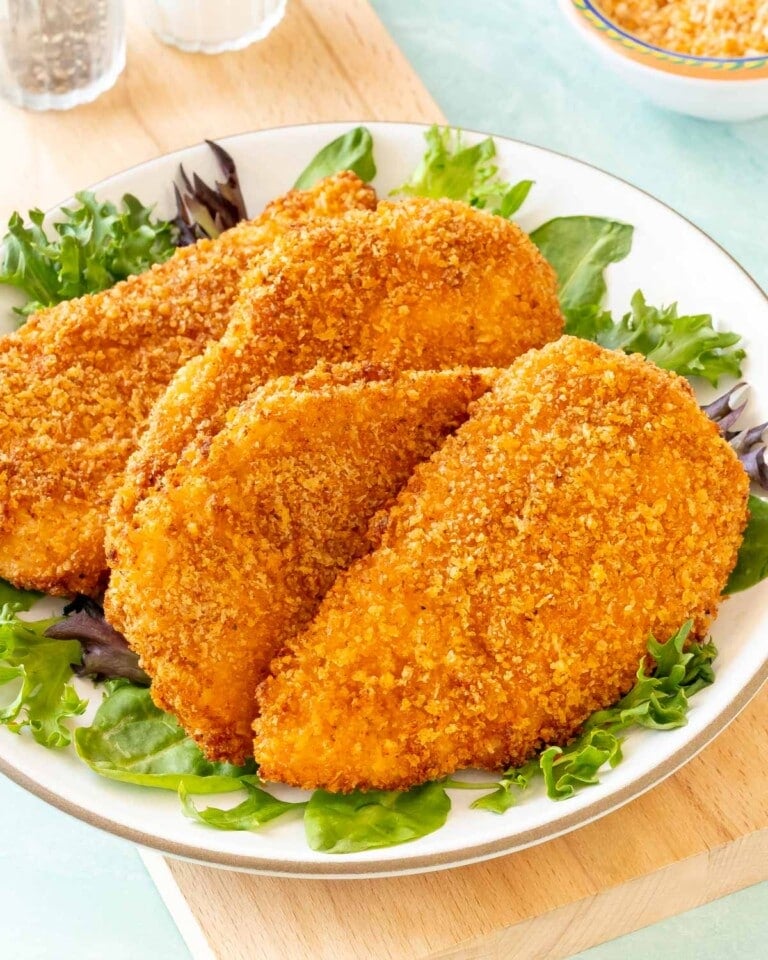 Crusted Chicken
Homemade breadcrumbs, Panko breadcrumbs, grated Parmesan cheese, or chopped nuts – all of these and more make great crunchy coatings. There is a layering process involved in adding a crust to chicken, that varies slightly depending on the crust's ingredients. And, crusted chicken can be baked, pan-fried, or cooked in an air fryer. Our Air Fryer Fried Chicken is a favorite for its crispy exterior, moist interior, and versatility.
Chicken Rub
Rubs are a super quick and easy way to jazz up chicken. In fact, chicken takes on a new personality when rubbed with sweet, smoky, and/or salty spices and then cooked. My Spicy Chicken Wings pack a flavorful punch, thanks to a combination of seven smoky, spicy, piquant, and salty spices used in the coating!
Sauce for Chicken
Sauces can add both flavor and moisture to chicken. There are many different types of sauces, ranging from simple to complex. In some cases, chicken is cooked in a sauce; others the sauce is prepared separately and added when serving. In Hungarian Chicken Paprikash, chicken pieces are stewed in a richly colored, ambrosial sauce of onion, tomatoes, spicy peppers, paprika, and sour cream.
Brine
Brining helps make chicken both tender and flavorful. Brines are made by dissolving salt in water, then, if desired, layering in additional flavors by adding herbs, spices, or sugar. Chicken is then marinated in the brine for 1 to 12 hours before cooking. I always brine my Thanksgiving turkey – directions can be found in the Oven Roast Turkey recipe in my cookbook A Well-Seasoned Kitchen®.
Stuffed Chicken
Stuffing chicken with various ingredients adds flavor and texture. There are many different stuffing recipes available; one of my go-to's is Spinach and Cheese Stuffed Chicken Breasts with a Cherry Balsamic Glaze. Our "how to stuff a chicken breast" instructions ensure the stuffing stays inside the chicken breast!
Tips for Seasoning Chicken
Here are some tips for seasoning chicken:
Match seasoning to the cooking method. Different cooking methods require different seasoning approaches. For grilling, you'll want to use a dry rub or marinade. For baking or frying, you might want to use a crust.
Use fresh herbs in marinades and brines. Fresh herbs can add a subtle, fresh flavor to both marinades and brines. If you don't have fresh, you can use dried – just keep in mind that dried herbs have a concentrated, stronger flavor. The general rule of thumb is 1 to 3; that is, 1 teaspoon of dried herb = 3 teaspoons of fresh.
Watch the time when using acidic ingredients. When you have an acidic ingredient in a marinade (like lemon juice or vinegar), limit the marinating time to 2 hours. Any longer and the acid can cause the meat to become tough.
Watch the time when brining. If you brine chicken for too long (I recommend no more than 12 hours), it can become overly salty and even mushy.
How to Season Chicken FAQs
What are the best herbs for chicken?
Many herbs pair well with chicken, including dill, basil, cilantro, rosemary, oregano, thyme, and parsley.
How long should seasoning sit on chicken?
It all depends on the seasoning method and ingredients. Brining times are the longest, followed by marinating, then crusted, then rubbed. If the seasoning includes an acidic ingredient, then the resting time will be less (see the Tips section above).
Do you wash chicken before seasoning?
I always rinse and pat dry my chicken before seasoning. Just make sure to avoid any cross-contamination in your kitchen when doing so:
1. Empty your sink of all items before rinsing chicken.
2. Avoid splashing any water or chicken juice on other surfaces.
3. Place rinsed chicken on a paper towel-lined rimmed cookie sheet next to the sink.
4. Pat dry with more paper towels and immediately throw used towels away.
5. Thoroughly wash cookie sheet, sink, and your hands with soap and water
How do you add flavor to dry chicken?
If your cooked chicken is dry, make a flavorful sauce to serve with it. Try to match the sauce to how the chicken was originally seasoned. A mushroom sauce works well in many instances.
Pin this Post Now to Save for Later!