Rack of Lamb with Nut Crust – an easy, elegant entrée.
I love lamb, especially rack of lamb. It really is very easy to make and so impressive at a dinner party. The key is to make sure that the racks are "frenched" or "trimmed" – it will cook better, and look better. So, what is frenched or trimmed rack of lamb? Basically, it's removing all the meat, fat and membrane from the individual bones that stick out of the meaty part. I also like to trim off the thick layer of fat that's on top of that meaty part – the crumb topping will stick better, and the finished product won't be as greasy. There are lot of videos on line on how to french a rack of lamb, but I always ask the butcher to do it for me! Much less work, and less stress, too.
In this recipe, the racks of lamb are coated with tangy Dijon mustard and a mixture of ground nuts, breadcrumbs, rosemary and a bit of olive oil. Then they are roasted for around 25 minutes or until medium-rare. So easy, so delicious, so beautiful on the plate!
People often steer away from serving lamb at dinner parties because not everyone likes it, but in all my years of entertaining, only one person who has come to dinner wasn't a fan. So, I say – go for it!
Print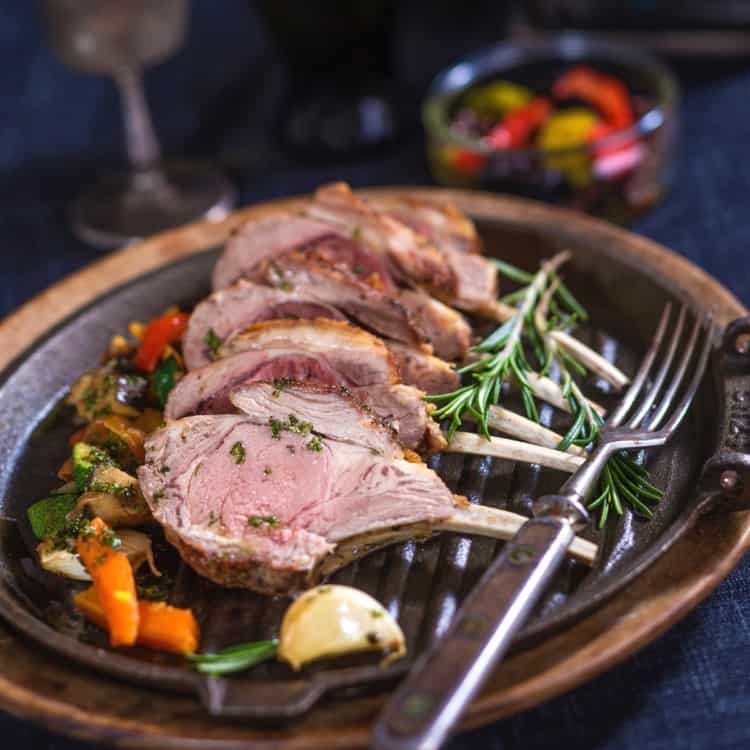 Rack of Lamb with Nut Crust
Prep Time:

10 mins

Cook Time:

25 mins

Total Time:

35 mins

Yield:

8

servings

1

x
1 cup

ground hazelnuts (can substitute almonds)

1 cup

fresh breadcrumbs, preferably made from French bread

3 tablespoons

chopped fresh rosemary

2 tablespoons

olive oil

4

racks of lamb (around

7

to

8

ribs each), frenched/trimmed by the butcher

3 tablespoons

Dijon mustard
Instructions
Preheat oven to 425 degrees. Line large rimmed cookie sheets with foil.
Combine hazelnuts, breadcrumbs and rosemary in a medium mixing bowl. Toss with olive oil to coat.
Place racks of lamb on prepared cookie sheets, meat side up. Brush with mustard. Season with salt and pepper.
Press breadcrumb mixture onto Dijon mustard.
Cover the ends of the bones with foil to prevent burning.
Roast for about 25 minutes or until a meat thermometer inserted into the thickest part of a rack registers 130 degrees (for medium-rare, the best way to serve lamb).
Remove from oven and let stand for 10 minutes. Cut between each rib to separate and serve.