Mom's Rhubarb Pie – no strawberries here, just scrumptious rhubarb baked in a custard filing and topped with a pretty lattice crust.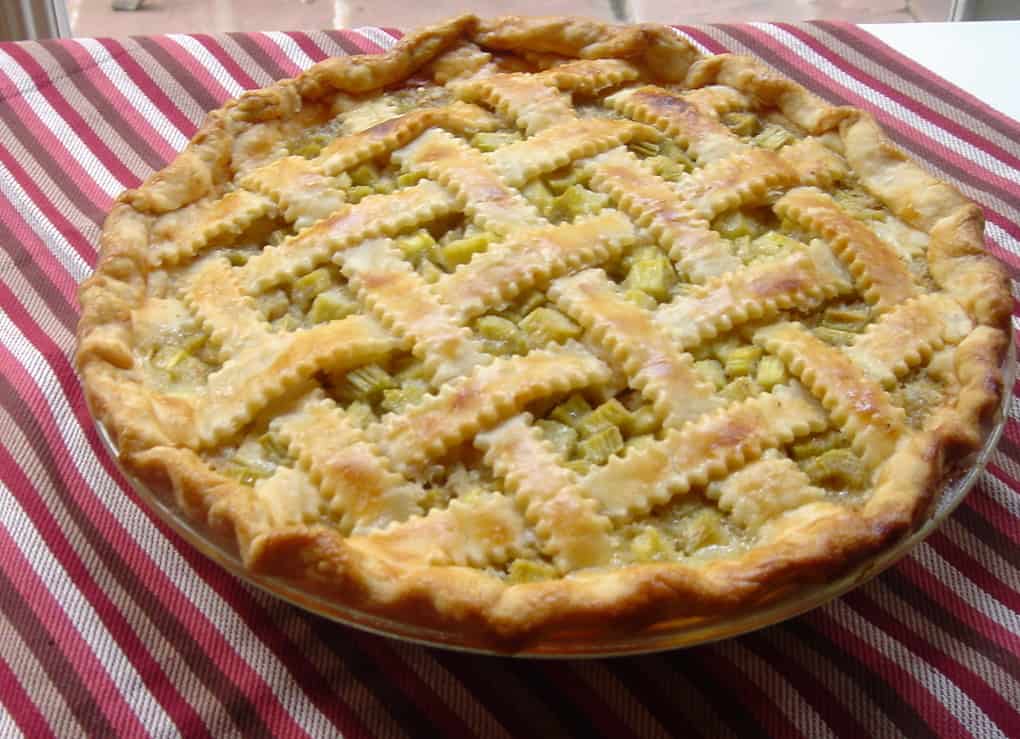 Spring always makes me think of my mom Sally, with whom I wrote "A Well-Seasoned Kitchen," because she grew rhubarb in her garden. The young shoots of rhubarb leaves signified the start of spring and months of rhubarb-inspired dishes to come. Of course, rhubarb pie is a timeless family favorite. Some cooks like to combine rhubarb with other fruits in their pies, but Mom was a rhubarb purist. Her luscious pie was juicy, delicious and full of perfect rhubarb flavor. She always served it to rave reviews.
Rhubarb Pie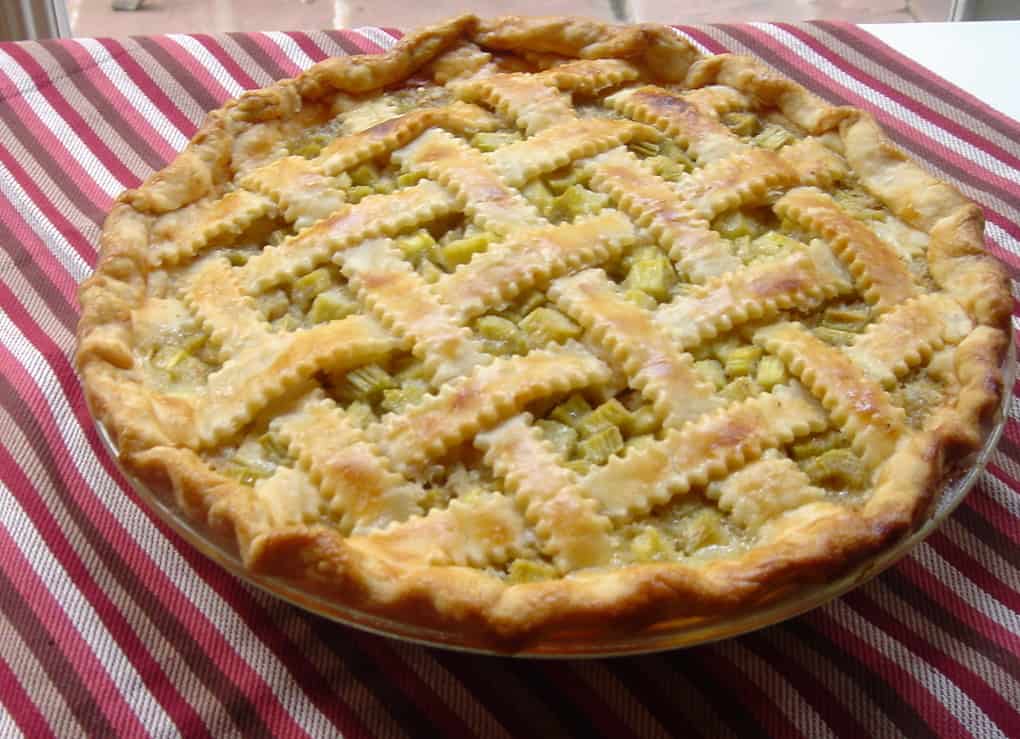 Author:
Yield:

6 to 8 servings

Category:

Pies, desserts
Ingredients
3 eggs, beaten
2 2/3 tablespoons whole milk
2 tablespoons melted butter, cooled
4 cups chopped, peeled rhubarb stalks
1 3/4 to 2 cups sugar
4 tablespoons flour
3/4 teaspoon nutmeg
2 prepared 9-inch pie crusts (top and bottom), uncooked
Instructions
Preheat oven to 400 degrees.
In a small mixing bowl, whisk together the eggs, milk and melted butter. Set aside. In a large mixing bowl, stir together the rhubarb, sugar, flour and nutmeg. Add the liquid ingredients and stir to mix.
Place one pie crust in a 9-inch pie pan. Spread rhubarb mixture evenly. Make a lattice top with second crust and place on top, sealing edges. (Read our easy directions on how to make a lattice top.) Bake for 40 to 60 minutes. Cover edge with foil if it browns too fast.
Notes
More about Rhubarb: Rhubarb comes in both red and green varieties. Both varieties work equally well for cooking, canning and making pie. Rhubarb is often sold by the "bunch" which is usually 2 to 2 1/2 pounds. One pound of rhubarb yields about 3/4 cup cooked. When you buy your rhubarb, choose fresh crisp stalks. Always peel off any stringy covering before use, and then stand the stalks in cold water for about an hour to refresh them before cooking (skip this step if you grow your own!). It's important to note that you should never eat the leaves of a rhubarb plant – they're toxic.