In this recipe for Shrimp Tostadas, sautéed shrimp, mushrooms and onions are layered atop crispy corn tortillas, along with salsa-flavored cream cheese, fresh guacamole, shredded cheese and lettuce. A fresh, colorful and easy weeknight dinner!
One time Robert and I were invited to a local benefit where corn tortillas were being made from scratch during dinner. At the end of the evening, I noticed that most of the bread baskets on the tables were close to full, so to Robert's embarrassment, I filled my purse and the pockets of his tuxedo with the leftover tortillas. They were too delicious to let go to waste! After making various enchilada recipes with them, I decided to experiment and came up with this shrimp dish, which both Robert and I love. You don't have to rob a bread basket for your tortillas – they taste good with store-bought, too!
Pin it now to save for later –
Print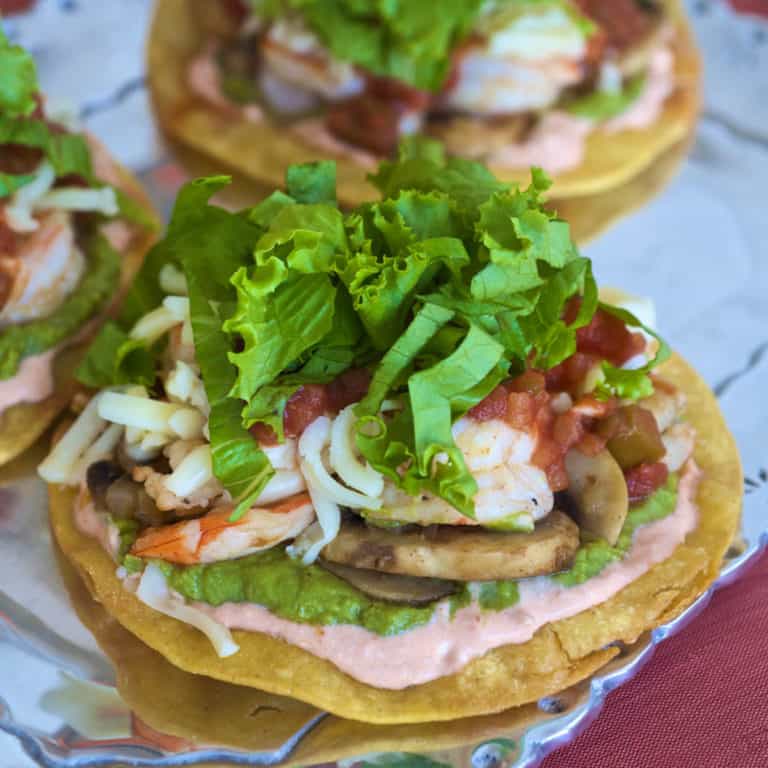 Shrimp Tostadas
Yield:

8

tostadas, around 4 servings

1

x
1/2 cup extra virgin olive oil, divided
8 corn tortillas (best if you can find home made)
1 cup sliced fresh mushrooms
3/4 cup sliced yellow onion
4 teaspoons Mexican seasoning (or more to taste) – see Note below
24 ounces cooked medium (30 to 45 per pound) shrimp, peeled
1/2 cup salsa-flavored cream cheese- see Note below
1/2 cup prepared guacamole
1/2 cup shredded Monterey Jack or other mild, white cheese
1/2 cup purchased chunky-style salsa
1 cup shredded lettuce
Instructions
Heat 1/4 cup olive oil in a small skillet over high heat until very hot. Add one corn tortilla and cook until starting to crisp (about 1 minute); use tongs and turn over. Cook just until crispy. Place on paper towel to drain. Repeat with remaining tortillas.
Heat the remaining 1/4 cup olive oil in a medium skillet over medium heat until hot. Add the mushrooms and onion; stir in Mexican seasoning. Cook, stirring occasionally, until mushrooms and onion are soft. Stir in shrimp and cook just until the shrimp are heated through and seasoned. Add more Mexican seasoning and salt to taste.
While the mushroom and onion mixture is cooking, spread 1 tablespoon of the cream cheese on each cooked tortilla. Top with 1 tablespoon of the guacamole. When the mushrooms, onion and shrimp are done, place equal amounts on top of each tortilla and top with shredded cheese, salsa and lettuce.
Notes
Note on Mexican seasoning: To make your own, combine together 1/2 cup chili powder, 1/4 cup paprika, 2 tablespoons ground cumin, 2 teaspoons garlic powder, 1 teaspoon cayenne pepper, and 1/2 teaspoon salt. Store in an airtight jar (this is the seasoning used in our Black Bean Chicken Enchiladas).
Note on salsa-flavored cream cheese: Mix together 1/2 cup whipped cream cheese with 1 tablespoon salsa if you can't find already prepared.
Author:

Category:

seafood, gluten free, easy