These Toffee-Chocolate Chip Cookie Bars are a variation on the traditional Toll House Chocolate Chip Cookies my mom made when I was growing up. They are chewy, chocolatey and caramel-y deliciousness!
The Family Cookie Jar
Growing up, the cookie jar in our kitchen was always, and I mean always, full of delicious cookies. Most often, it was chocolate chip cookies. And, my mom followed the popular chocolate chip cookie recipe at the time – from the Toll House Inn in Massachusetts. Even today, eating chocolate chip cookies brings back visions of our family cookie jar – which I now have in my own kitchen! It was included in the cookie photo in my first cookbook, A Well-Seasoned Kitchen®:
How to make Chocolate Chip Bar Cookies with Toffee
Recently, I started to play around with the traditional Toll House Chocolate Chip Cookie recipe that I found in mom's recipe box. First, I switched out half of the chocolate chips for English toffee-flavored chips. Mom also made her own amazing Chocolate Almond Toffee – so that's another flavor I am partial to – and I was thrilled to find Heath Milk Chocolate English Toffee Bits at the grocery store one day. If you can't find them at your store, no worries – I provide substitutions in the recipe's Notes section.
Next, I simplified the process by making bar cookies instead of drop cookies. And, I created my own high altitude adjustments, based in large part on recommendations from my favorite high altitude baking cookbook, "Pie in the Sky" by Susan Purdy. (High altitude adjustments are included in my recipe's Notes section.)
The resulting cookies are now Robert's favorite! They are chewy, chocolatey, caramel-y tasting – and oh, so delicious. When eating these delectable cookies, I can still see my brother Jim trying to very quietly take the lid off the cookie jar, to grab a cookie (or two) before mom caught him doing so . . .
If I don't have a half sheet pan, can this cookie bars recipe be made in a different pan?
Yes! Two 13 by 9-inch pans (also known as "quarter sheet" pans) would work.
How to store Nestle Toll House Cookie Bars
These cookies should be stored in an airtight food storage container. The flavor and texture will be best if eaten within a week.
What is the best way to maintain soft chocolate chip cookie bars while storing?
Storing these cookies in an airtight container at room temperature should keep them moist. If after a few days they start to become hard/dry, simply throw a piece of fresh white or whole wheat bread in the container, under the cookies. After a few hours, they should become soft again!
Do these Toll House Pan Cookies freeze well?
Yes you can freeze them for up to 3 months, in a tightly sealed container.
Other Cookie Bars Recipe Add-Ins
Want to vary these cookies up a bit? Well, there are lots of fun ingredients you can add in and/or swap for the heath bar and chocolate chips and the pecans. Here are some suggestions:
Other chip flavors. There are lots and lots of different chips on the market today – white chocolate, butterscotch, peanut butter, even chocolate peanut caramel! Any of these would be delicious in these cookies.
Other toasted chopped nuts. Walnuts, macadamia nuts, hazelnuts, peanuts would all work well.
Chopped pretzels instead of nuts!
Add 2 teaspoons espresso powder. Whisk it together with the flour and other dry ingredients. Note; espresso powder is the secret ingredient in the famous Neiman Marcus chocolate chip cookie recipe
Add 1 tablespoon cinnamon. Whisk it together with the flour and other dry ingredients.
Add in raisins or dried cranberries.
For these additions, here are a few recommended combinations to use in place of the chips and nuts in the original recipe.
3/4 cup semi sweet chips + 3/4 cup white chocolate chips + 3/4 cup dried cranberries + 3/4 cup macadamia nuts.
1 cup peanut butter chips + 1 cup semi sweet chips + 1 cup toasted chopped peanuts.
Pin it now to save for later!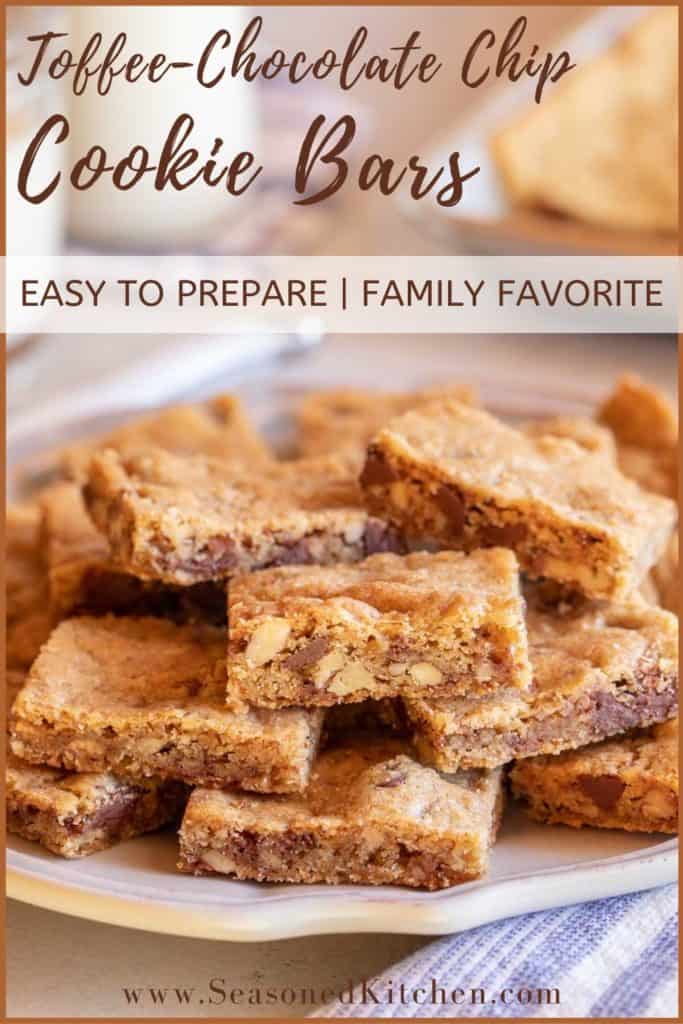 Print
Chocolate Chip Cookie Bars with Toffee
These Toffee-Chocolate Chip Cookie Bars are a variation on the traditional Toll House Chocolate Chip Cookies my mom made when I was growing up. They are chewy, chocolatey and caramel-y deliciousness! High altitude adjustments included in Notes section.
Prep Time:

15 mins

Dough refrigeration::

30 mins

Cook Time:

19 mins

Total Time:

1 hour 4 minutes

Yield:

Around

5

dozen

1

x
2 1/4 cups

all-purpose flour

1 teaspoon

baking soda

1 teaspoon

table salt

1 cup

unsalted butter (

2

sticks), softened

3/4 cup

granulated sugar

3/4 cup

packed brown sugar

1 teaspoon

vanilla extract

2

large eggs

1 cup

toffee (Heath Bar) chips – See Note

1 cup

semisweet chocolate chips

1 cup

chopped pecans, toasted
Instructions
Preheat oven to 350 degrees. Line a half-sheet pan (13 by 18-inch) with parchment paper.
In a medium mixing bowl, whisk together the flour, baking soda and salt. Set aside.
Using an electric mixer with the paddle attachment, beat butter until creamy. Beat in granulated sugar and brown sugar until blended. Beat in vanilla extract. Add eggs, one at a time, beating well after each addition. Gradually beat in flour mixture. Stir in toffee chips, chocolate chips and nuts. Cover and refrigerate dough for 30 minutes.
Spread dough in prepared pan by placing small clumps around the pan. Top with a piece of waxed paper. Push down on the paper to spread the dough evenly in the pan. Remove the paper and bake for 18 to 20 minutes, or until light golden brown.
Cool completely in pan on a wire rack. Cut into bars and serve.
Notes
Heath Bar chips: if you can't find these in your grocery store, buy a few Heath candy bars (Almond Roca candy would also work), put in a zip top baggie, and smash into bits!
High altitude: Increase flour by 1/4 cup. Increase vanilla by 1/2 teaspoon. Increase oven temperature to 375 degrees and reduce cook time to 15 to 17 minutes.
Make ahead: Dough can be prepared, covered and refrigerated for up to 3 days. Let sit at room temperature just until pliable enough to spread in the pan.
Author:

Category:

cookies, desserts, easy

Method:

Bake

Cuisine:

American