After reading several different blog posts for recipes with squash "ribbons", I decided to try my hand at making my own for Robert one night, and he loved them. I have tried slicing the squash with a mandolin, a sharp knife, and a vegetable peeler – and the peeler wins. The slices are long and very thin. This dish is so easy to prepare I even made it one night while we were camping in our airstream trailer. Enjoy!
Print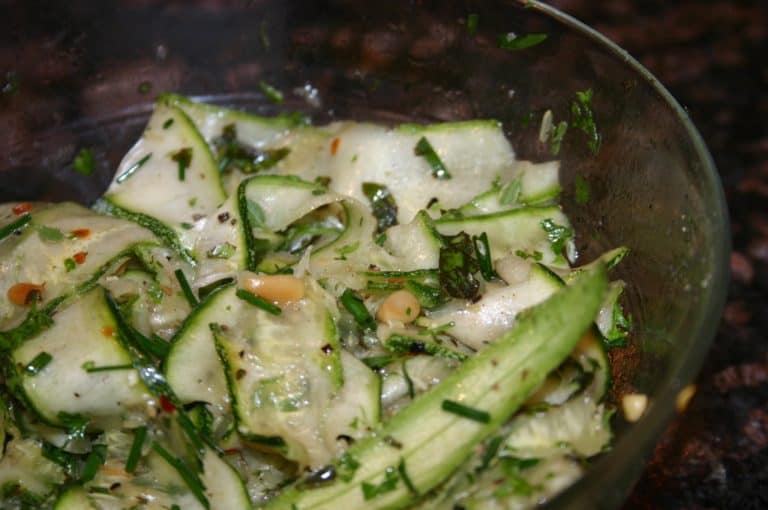 Zucchini and Yellow Squash Salad
1

pound zucchini, small to medium size

1

pound yellow squash, small to medium size

1/4 cup

lemon-flavored olive oil (see Note below)

1/2 cup

chopped fresh herbs, such as chives, basil, tarragon, thyme, and/or parsley

1/4 cup

toasted pine nuts
red pepper flakes, to taste
Instructions
Cut the ends off of the zucchini and yellow squash, and using a vegetable peeler, thinly slice lengthwise, until you reach the center where the slices start to get rough and uneven. Turn the zucchini or squash over and slice until you reach the same place on the other side. Discard the middle section (or save for another recipe). Place squash and zucchini ribbons in a large mixing bowl. Toss with remaining ingredients. Season to taste with salt and pepper. Let stand at room temperature for at least 30 minutes before serving.
Notes
If you don't have lemon-flavored olive oil, just substitute regular olive oil and a squeeze of fresh lemon juice.