Handheld Chicken Pot  Pie Envelopes – the perfect hearty nibble to serve to friends and family while watching sports and other events on TV!
The Academy Awards are coming up on Sunday, March 4th, and I've been thinking about fun foods to serve for awards viewing. I don't know about you, but my friends and family are glued to the TV, and don't what to break away for a meal. So, I thought it would be fun to come up with a menu of finger foods and small dishes to serve – stuff that folks can nibble on comfortably while watching the broadcast, that's also filling enough to be a meal. (Check out my complete Oscar Party Grazing Menu!)
To begin, I started researching what is served at the official "after party" in LA – the one that's catered by Wolfgang Puck. It turns out that during the last few years, the favorite entrée has been Chicken Pot Pie! Well, I have a great Chicken Pot Pie recipe in my cookbook Fresh Tastes. But, it doesn't qualify as finger food, nor as a small plate. So, I came up with the idea of making mini "envelopes" of chicken pot pie. Envelopes – you know, like the ones they open on the award show to find out who won. I thought that would make a fun and filling dish for my menu.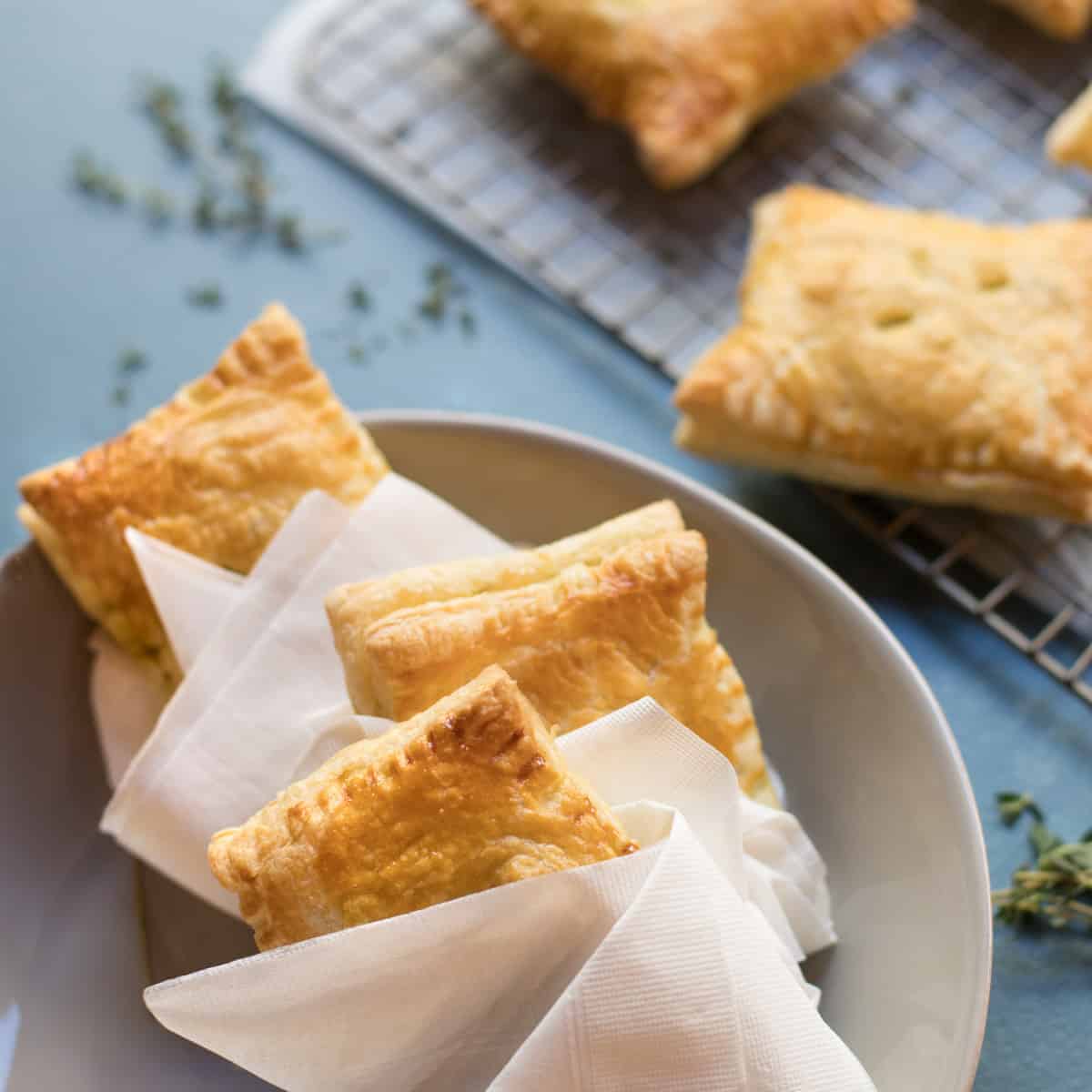 I decided to use puff pastry for the envelope part, keeping it simple – just roll, cut, fill and bake. Well, if I do say so myself, I think they turned out pretty cute – and they are delicious, too! Robert loves them. And you can make them ahead of time, and bake just before serving.
Since the Academy Awards, I have served these little hand held delights at other gatherings in our home – including while watching football games (go Broncos!) and other sports on TV.
Pin it now to save for later!
Print
Handheld Chicken Pot Pie Envelopes
Yield:

Makes

12

mini envelopes (

3

by 4-inches)

1

x
1 tablespoon butter
3 to 4 ounces chopped fresh mushrooms (any kind)
1/4 large onion, chopped
1 large celery rib, chopped
1 large carrot, peeled and chopped
6 to 8 ounces boneless, skinless chicken breasts or thighs, cut into 1/4-inch pieces
1 teaspoon curry powder, divided
1/2 cup chicken broth
1/4 cup light coconut milk, evaporated milk or half and half
1/4 cup dry white wine
1 1/2 tablespoons all-purpose flour
1/3 cup frozen shelled edamame (or frozen green peas)
1 teaspoon chopped fresh rosemary
1/2 teaspoon fresh thyme leaves
1/2 teaspoon chopped fresh oregano
Salt, to taste
Freshly ground black pepper, to taste
Pinch or 2 of sugar (optional)
1 (17.3 ounce) package (2 sheets) frozen puff pastry, thawed in refrigerator
1 egg
1 tablespoon water
Instructions
In a large skillet or sauté pan, melt butter over medium heat. Add the mushrooms, onion, celery and carrots and sauté for 5 minutes. Stir in the chopped chicken and 1/2 teaspoon curry powder; cook, stirring frequently, until the chicken is no longer pink.
Slowly stir in the chicken broth, milk and wine. Sift the flour over the top and whisk to blend. Add remaining 1/2 teaspoon curry powder, edamame and rosemary, whisking until well blended. Bring to a boil, reduce heat and simmer 15 minutes or until thickened. Remove from heat; stir in thyme and oregano and season to taste with salt and pepper. (If using evaporated milk, you may need to add a pinch or two of sugar.) Set aside to cool.
Preheat oven to 375 degrees. Line two large rimmed baking sheets with parchment paper.
Remove 1 sheet of puff pastry from refrigerator. On a lightly floured surface, roll puff pastry into a 12-inch square. Cut into 12 rectangles, 3 x 4 inches each.
Place the 6 squares on a work surface. Place 3 tablespoons of the chicken filling in the middle of each square, leaving a 1/4-inch border. Roll the remaining squares to be slightly larger and place on top of the filling. Gently press around the edges with your finger, then press around the edges with the tines of a small fork to seal. Place on prepared baking sheets.
Repeat with second puff pastry sheet and remaining filling.
In a small mixing bowl, whisk together the egg and water. Brush on top of pastry envelopes. Cut 4 small slits in the top of each envelope to vent. Bake for 20 to 30 minutes, or until puffy and golden brown. Let cool around 10 minutes before serving. 
Notes
MAKE AHEAD: Pot pie filling can be prepared, cooled, covered and refrigerated up to 24 hours in advance. Envelopes can be prepared and frozen for up to 3 months. Bring to room temperature before baking.
VEGETARIAN VARIATION: In place of the chicken, use 1/4 bunch fresh asparagus, tough ends removed and sliced into 1/4-inch pieces. Follow same directions as above.
Author:

Category:

Small plates, appetizers, entertaining