Healthy Breaded Pork Chops is an an easy-to-prepare main dish that's perfect for busy day dinner.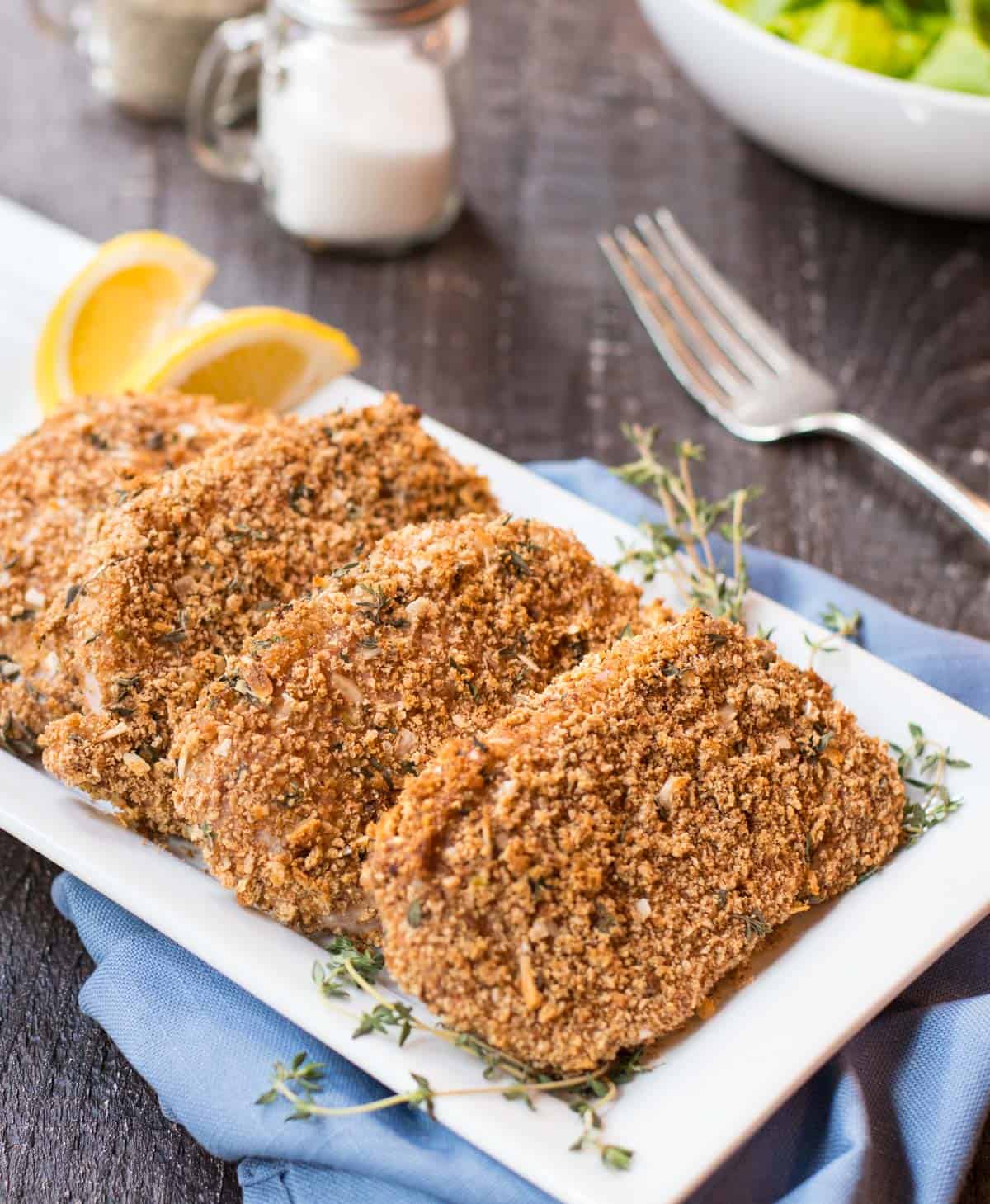 Healthy Breaded Pork Chop Recipe
This recipe for Healthy Breaded Pork Chops is another scrumptious dish that I adapted from one I found in my Aunt Bobbie's recipe box. She loved to cook, and was always looking for new, easy recipes. Well, I think this one definitely fits the bill! Boneless pork loin chops are dredged in seasoned flour, dipped in an egg white-Dijon mustard mixture, then dredged in thyme, garlic and onion-flavored whole wheat breadcrumbs, and baked. What could be easier? Just steam or roast up some broccoli and toss a salad while the chops are baking, and you'll have dinner on the table in around 45 minutes.
How to Bread Pork Chops
Time needed: 3 minutes.
Breading, by definition, means to coat a cut of meat (chicken, beef or pork) with breadcrumbs or a breadcrumb mixture. It's very easy to do! There are 3 basic steps involved:
Dredge the pork chops in a seasoned flour mixture.

"Dredging" means to take a pork chop and, using one hand, drag it through flour (in a shallow dish) to coat it on all sides. Make sure to shake off any excess flour.

Next, dredge the floured chop in an egg mixture.

In this recipe, I use just egg whites and season them with Dijon mustard – layering in more flavor. Again, using one hand (not the one you used to put the chop in the flour), drag the chop through the beaten egg mixture, coating it on all sides. Hold the chop over the bowl and let any excess egg drip off.

Final step is to dredge the chop in a seasoned breadcrumb mixture.

Using the hand you used to drag the chop through the flour, take the egg-covered chop and drag it through breadcrumbs, thoroughly coating the chop on all sides.

Tip:

It's important to use one hand for the dry coating and another for the wet (egg) coating, so you hands don't get all gunky with eggy breadcrumbs.
Are Pork Chops healthy?
The answer to the question as to whether pork chops are healthy is "it depends." In fact, it's the cut you select that makes the difference. Pork chops that are "sirloin" or "top loin" chops are lean, and therefore lower in saturated fat and calories.
Should you cover pork chops when baking?
For these breaded chops, you definitely don't want to cover them. You want the bread coating to crisp up and brown in the oven. Covering them would trap moisture around the chops (released from the chops when heated), which would keep the breadcrumbs soft.
How can you tell when the pork chops are done?
The best way to tell when pork chops – or any protein really – is done is with an instant read thermometer. My favorite brand, which I've found to be the most reliable, is Thermoworks. They are a bit pricey ($85 – $100), but they do offer a less expensive option, called a ThermoPop (around $21). Per USDA guidelines, pork should be cooked to 145 degrees. Let the chops rest for 3 minutes before serving.
Storing and Reheating Leftover Baked Breaded Pork Chops
Pork chops can be put in an air tight container and stored in the refrigerator for around 3 days. The tricky part about reheating breaded foods is to keep the crust from getting soggy. I find this is the best method:

1. Preheat oven to 400 degrees. Spray a cookie sheet with nonstick spray. 
2. Place the chops in an even layer on the prepared sheet and mist the chops with nonstick spray.
3. Bake for around 4 to 5 minutes, then flip them over and continue cooking for another 4 to 5 minutes.

Serving Suggestions – Side Dishes that pair well with Breaded Baked Pork Chops
Here are some of the dishes I like to serve with these pork chops:
Pin it now to save for later!
Baked Breaded Pork Chops
Author:

Prep Time:

10 minutes

Resting time:

5 mins

Cook Time:

25 mins

Total Time:

40 minutes

Yield:

4

servings, 1 chop each

1

x

Category:

Main Dish, Pork, Quick and Easy

Method:

Baking

Cuisine:

Healthy

Diet:

Low Fat
---
Description
Healthy Breaded Pork Chops – an easy-to-prepare main dish that's perfect for busy day dinner.
---
1 cup

whole wheat Panko or homemade breadcrumbs

2 tablespoons

fresh thyme leaves, or

2 teaspoons

dried, plus more for garnish

1/4 teaspoon

garlic powder

2 teaspoons

instant onion flakes – see Note

4

large egg whites

4 teaspoons

Dijon mustard

1/4 cup

all-purpose flour
Kosher salt
Fresh ground pepper

4

pork loin chops, around 3/4-inch thick

1

lemon, cut into wedges
---
Instructions
Preheat oven to 400 degrees.
In a shallow dish, using your hands mix together the breadcrumbs, thyme, garlic powder, and onion flakes.
In another shallow dish, whisk together the egg whites and mustard.
Place the flour in a third shallow dish. Season liberally with salt and pepper.
Dredge one pork chop in the seasoned flour, coating all sides, shaking off any excess. Next dredge it in the egg mixture, again covering all sides. Last, dredge it in the breadcrumb mixture, thoroughly coating. Press down on the crumbs to get them to adhere to the chops if needed. Place breaded chop on an oven-safe rack sitting in a rimmed cookie sheet (or on a broiler pan sprayed with nonstick spray or oil). Set aside.
Repeat steps with remaining chops.
Bake chops for 20 to 25 minutes or until the internal temperature on an instant-read thermometer reaches 145 degrees. Remove from oven and let chops sit for 3 minutes before serving.
Garnish with additional fresh thyme and serve with a lemon wedge on the side.
---
Notes
Note on instant onion flakes: these are usually found in a jar, in the spice section at most grocery stores. They are sometimes labeled "dried chopped onions" or "minced onions".
Keywords: main dish, healthy, make ahead, easy