Easy to prepare, Korean BBQ Beef is the perfect choice for busy day dinner. My cousin Dave's recipe is full of Asian flavors (think soy, sesame, ginger, garlic) that perfectly complement thinly sliced beef. And, no grill, wok or other special equipment needed – just a skillet or sauté pan and you're good to go!
What is Korean BBQ Beef?
Korean BBQ Beef, also known as Korean Beef Bulgogi, is a classic dish whose origins can be traced back literally thousands of years. Simply put, it's thinly sliced beef marinated in a pungent Asian sauce, then cooked over high heat (traditionally over an open flame). Today, it's a popular dish worldwide – it's that delicious!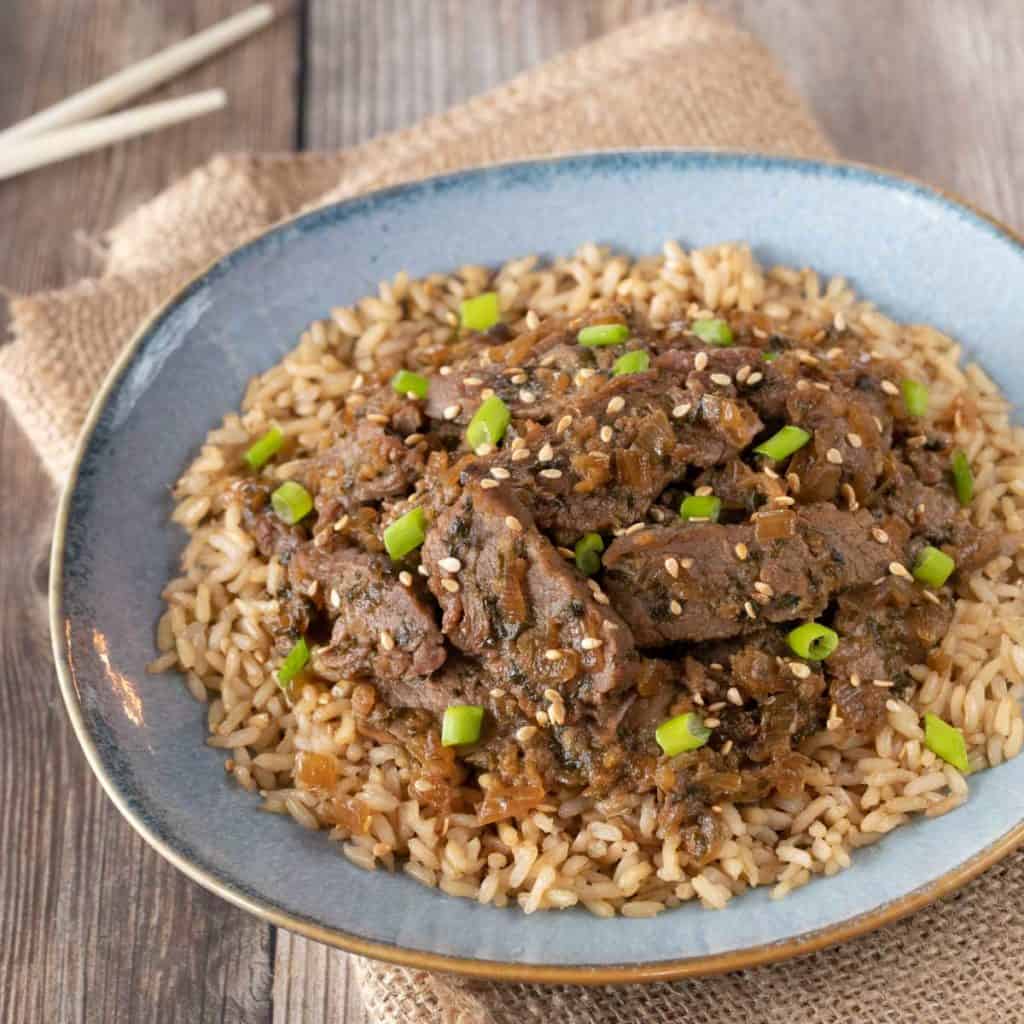 How to make Korean BBQ Beef
Not only is it scrumptious, Korean BBQ Beef is also easy to prepare, with only 15 minutes of prep time plus around 15 minutes of cook time. Simply mix up the marinade, add thinly sliced beef and let it sit for 2 to 24 hours. Don't have 2 hours to wait? No problem. With my cousin Dave Berry's recipe, shorter marinating time is okay, because you finish cooking the beef in the marinade! Once it's ready to go, you sear the beef in a hot skillet or sauté pan, then add back in the marinade and cook for 10 to 15 minutes. How easy is that?
What kind of beef is used in Korean BBQ?
There are literally hundreds of different recipes for Korean BBQ Beef. Many recipes call for using ribeye, or other tender cuts of beef (like sirloin). Dave's recipe calls for less expensive flank steak, which works well in this recipe as long as it's cut very thin and across the grain.

Can I use chicken instead of beef?
Yes, Korean BBQ marinade is also delicious with chicken or pork.
What's in this marinade?
Dave's marinade calls for most of the traditional ingredients, including soy sauce, sugar, sesame oil, ginger and garlic. He also adds onion, sherry and Tabasco. I've added chopped green onion as a garnish – another typical ingredient in this dish. One ingredient in many Korean BBQ marinades that's not in this recipe is Asian pear. Frankly, I don't miss it. The brown sugar adds just the right amount of sweetness for my taste.
How to serve
I like to serve this dish over cooked brown rice. White rice can also be used. Alternatively, you can wrap it in lettuce leaves (Bibb/butter lettuce or iceberg).
Pin it now to save for later!
More Asian-inspired recipes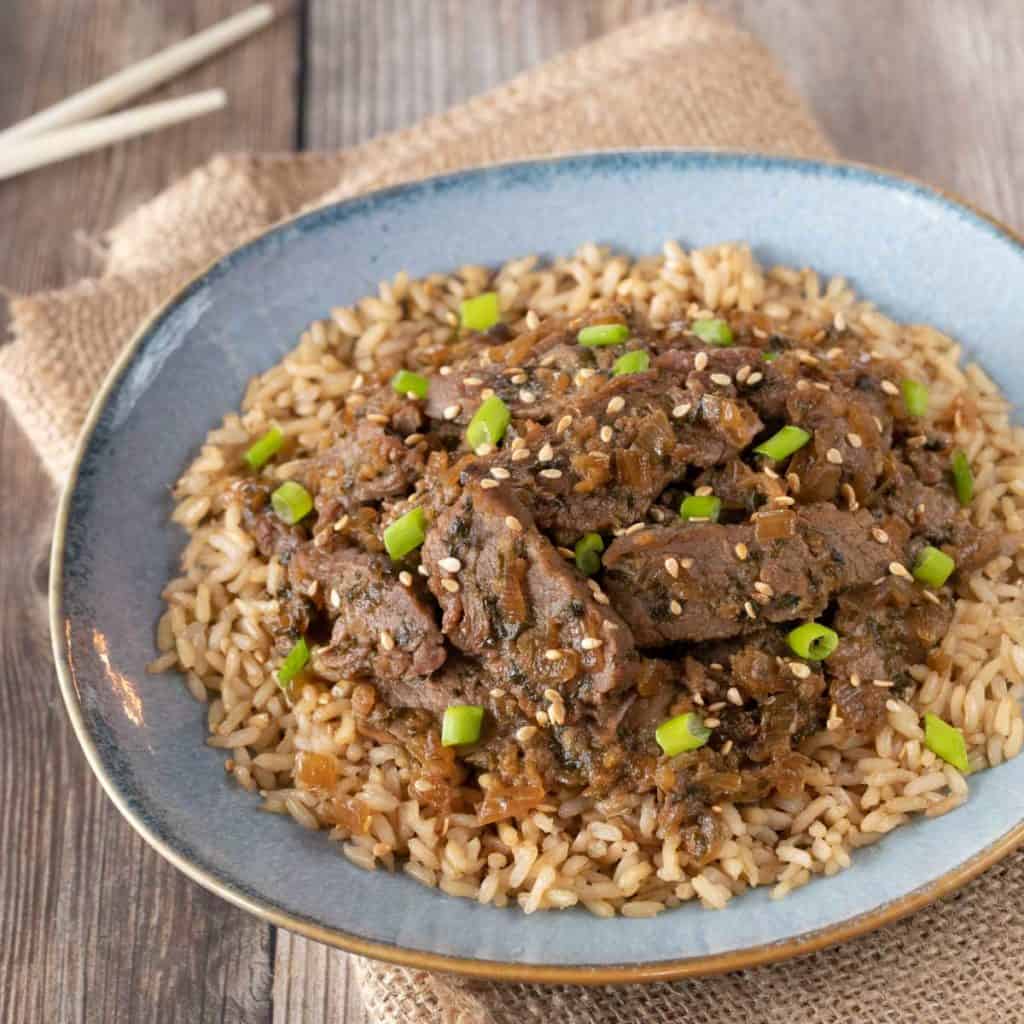 Korean BBQ Beef
Author:

Prep Time:

15 mins

Cook Time:

15 mins + 2 hours (marinade)

Total Time:

2 hours 30 minutes

Yield:

3

to

4

servings

1

x

Category:

main dish, meats, easy

Method:

stir fry

Cuisine:

Asian

Diet:

Gluten Free
---
Description
Quick and easy to prepare, Korean BBQ Beef is perfect for busy day dinner. And, no grill, wok or other special equipment needed!
---
1 1/2

to

2

tablespoons grated or finely chopped fresh ginger

1 cup

chopped yellow onion

1/3 cup

chopped fresh cilantro

1 teaspoon

chopped garlic

2 tablespoons

brown sugar

1/2 cup

sherry

1/4 cup

soy sauce

3 tablespoons

sesame oil
Dash oyster sauce (optional)
Dash Tabasco sauce

1

pound flank steak, sliced thinly across the grain (

1/8

to 1/4-inch thick) and cut in half crosswise

1

to

1

tablespoons vegetable oil

3

to

4

teaspoons chopped green onion, for garnish

3

to

4

teaspoons toasted sesame seeds, for garnish
Cooked brown rice, for serving
---
Instructions
In a 7-by-11 inch glass baking dish, stir together ginger, onion, cilantro, garlic, sugar, sherry, soy sauce, sesame oil, oyster sauce (if using) and tabasco.
Add the steak slices and stir to coat the meat. Cover and marinate in the refrigerator for 2 up to 24 hours, stirring occasionally.
Remove the steak slices from the marinade and place on a plate, letting the excess drip back into the dish, reserving the marinade. (See Note below.)
Heat the vegetable oil in a large skillet (preferably cast iron) over medium-high to high heat. Add a handful of the sliced steak and cook to sear the outside. Remove and repeat until all the steak has been seared, adding additional oil as needed.
Put all the steak back into the skillet, stir in the reserved marinade, and simmer over medium to medium-low heat for 10 to 15 minutes, or until the sauce reduces a bit.
To serve, spoon meat and sauce over brown rice. Garnish with chopped green onion and toasted sesame seeds.
---
Notes
Gluten free: Use gluten free soy sauce.
Note on reusing marinade: It's okay to reuse marinade as long as you boil it before serving. That will kill any bacteria.