Discover a collection of more exclusive recipes in both of Lee's books,
A Well-Seasoned Kitchen and Fresh Tastes. Order Now
I love these poached eggs in Italian sauce because they are full of flavor and take just minutes to put together in the morning. First, you prepare a quick sauce of diced tomatoes, garlic and herbs in a skillet. The you poach some eggs in the sauce, add some tangy grated Parmesan cheese at the end and, presto!, you have a scrumptious breakfast ready to serve.
You can change up the sauce ingredients to your liking. Sometimes I add in sun-dried tomatoes. Another idea came from a fellow in one of my cooking classes, who suggested making the tomato sauce with Mexican seasonings – using green chiles, cumin and cilantro. I thought that was a great idea!

Prep time:
Cook time:
Total time: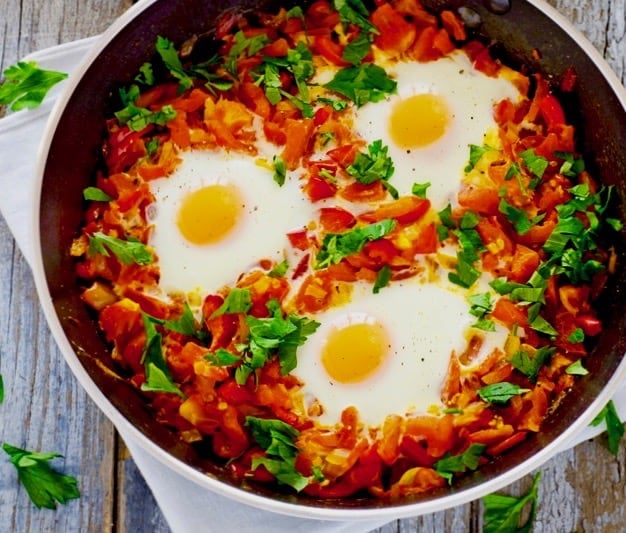 (From "A Well-Seasoned Kitchen®" by Sally Clayton and Lee Clayton Roper)
Ingredients
2 tablespoons extra virgin olive oil
1 can (14 ounce) diced tomatoes with Italian herbs, undrained
¼ teaspoon chopped garlic
1 tablespoon chopped fresh parsley, plus more for garnish
1 teaspoon chopped fresh rosemary
4 large or extra large eggs
1 to 2 tablespoons grated Parmesan cheese
Instructions
Heat the olive oil in a large nonstick skillet over medium heat. Add the tomatoes with their juice, garlic, parsley and rosemary. Bring to a boil, reduce heat to medium and boil for 3 to 4 minutes, softening the tomatoes and reducing the sauce a bit.
Make four hollowed-out spaces and put one egg in each space. Cover and cook until eggs are done they way you like them.
Place eggs and sauce on plates, sprinkle with Parmesan cheese, salt, fresh ground pepper, and chopped parsley and serve.