Boned pork loin chops are dusted with a spicy rub of paprika, brown sugar, garlic powder, onion powder and three different ground peppers in these Spicy Pork Chops! They are served with a tangy, colorful, garlic-y Chimichurri Sauce alongside.
Chimichurri, a sauce from Argentina usually served with meat, is typically made with parsley, garlic, olive oil, oregano and wine vinegar. For my Chimichurri, I add in red pepper flakes for a bit of spice. For a bit of brightness, I use a mixture of lemon juice and white balsamic vinegar in place of the wine vinegar – and add in lime-infused olive oil, too (you can use regular olive with some lime zest, too).
This Chimichurri Sauce pairs perfectly with the spicy flavors in the rub on the pork chops. The sauce is fresh and tangy, while the pork is earthy and a bit fiery. Feel free to vary the amount of ground pepper used in the rub, especially the cayenne, depending on how hot you want the seasoning to be. I've tried to balance it in these proportions, so it's fiesty without being too strong!
As with several of my recipes, I provide you with a few different methods of preparation for the pork. You can either grill or pan fry it (see Variation below).
Spicy Pork Chops with Argentine Chimichurri Sauce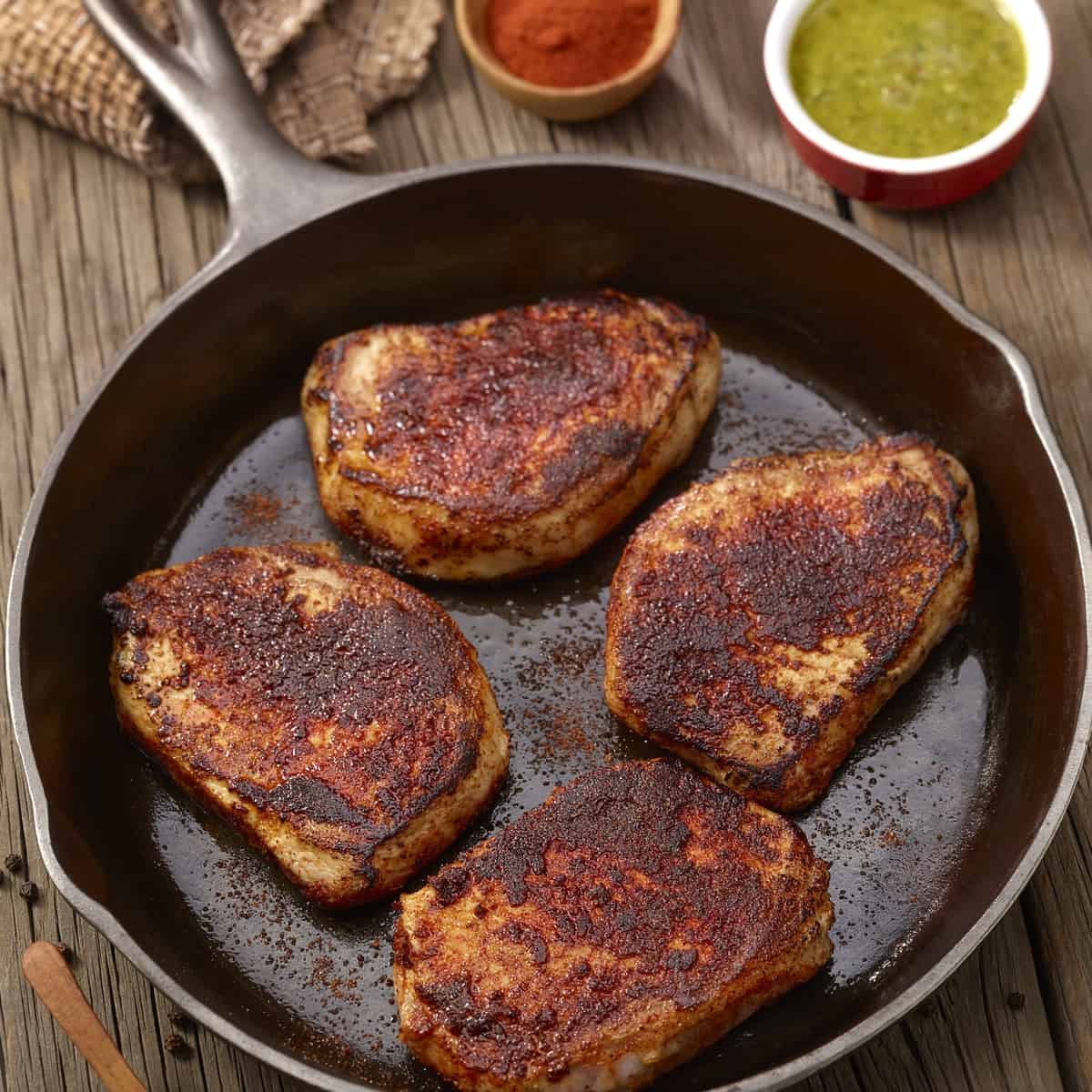 Pork loin chops are dusted with a spicy rub (including three ground peppers!), grilled or pan fried, and served with a tangy and bright Chimichurri Sauce.
Author:
Yield:

4

servings

1

x
Category:

main dish, pork recipes, gluten free
Ingredients
Chimichurri Sauce
1 cup

packed flat leaf (Italian) parsley

4

large garlic cloves, coarsely chopped

1 1/2 teaspoons

dried oregano

1/2 teaspoon

kosher salt

1/4 teaspoon

red pepper flakes (or more to taste)

1 tablespoon

fresh lemon juice

3 tablespoons

lemon-flavored balsamic vinegar (can use white balsamic vinegar)

1/2 cup

lime-infused olive oil – see Note
Pork Chops
2 tablespoons

salt

2 tablespoons

paprika

1 1/2 tablespoons

light brown sugar

1 tablespoon

garlic powder

1 tablespoon

onion powder

1 1/2 teaspoons

cayenne pepper

1 1/2 teaspoons

ground black pepper

3/4 teaspoon

freshly ground white pepper

4

boneless pork loin chops, around 3/4-inch thick

2 tablespoons

extra virgin olive oil
Instructions
Chimichurri Sauce
In a food processor, combine parsley, garlic, oregano, salt, red pepper flakes, lemon juice and balsamic vinegar; process until the parsley is evenly chopped.
With the machine running, slowly add the olive oil and process just until blended. Taste and add more salt if needed.
Let sit at room temperature for at least 30 minutes before serving.
Pork Chops
In a small bowl, stir together the salt, paprika, brown sugar, garlic powder, onion powder and peppers.
Coat both sides of the chops with olive oil, then rub both sides of each chop with spice mixture (around 1/2 to 1 teaspoon per side; save extra for the next time you prepare this recipe or to use on pork tenderloin). Set aside.
Prepare a medium-hot fire in a charcoal grill or preheat a gas grill on high.
Once the grill is heated, bank the coals to one side of the grill, or turn off one burner on a gas grill. Place chops on the hot part of the grill and cook, covered, 3 minutes or until seared.
Turn over and grill 2 to 3 minutes or until seared.
Move chops to the cooler part of the grill, cover and cook 3 to 4 minutes or until an instant-read thermometer inserted in thickest portion registers 145 degrees.
Remove chops from grill and let rest for around 10 minutes.
Serve with some of the Chimichurri Sauce spooned over the top, passing the rest on the side.
Notes
Note on lime olive oil: If you can't find lime-infused olive oil, use extra virgin olive oil and add some lime zest to the sauce.
Make ahead: Chimichurri sauce can be made up to 2 days ahead, covered and refrigerated. Bring to room temperature before serving.
Variation: Chops can be pan-fried in a large skillet in 1 to 2 tablespoons olive oil.