Grilled Potato Packets (with Optional Truffle Zest) are the perfect side dish for you next barbecue. And, they're super easy to prepare, too – no pre-boiling needed!
Table of Contents
Truffle Seasoned Potatoes on the Grill
I started cooking Grilled Potato Packets around 10 years ago, when Robert and I started traveling around the country in our Airstream trailer. When camping, I like to do most of the cooking on our grill. So, one evening when I was craving potatoes, I created these Grilled Potato Packets.
Ingredients and Supplies for Potato Packets on the Grill
Here's all you need to make these potatoes:
Small (1 inch) new potatoes – red, yellow, and/or purple
Kosher salt
Fresh ground pepper
Extra virgin olive oil
Mixing bowl
Aluminum foil
And, for the garnishes:
Chopped fresh flat leaf (Italian) parsley
Grated Parmesan cheese
Truffle Zest Seasoning
When I first created these potatoes, I didn't know about truffle zest. I love the oaky, nutty almost musky flavor of truffles, and have ever since I first was introduced to them on a trip to Italy. A month or so ago, I was in the Denver-based store Homefest, and discovered all these wonderful truffle products – truffle oil (check out my recipe for Cannellini Bean Dip using their Truffle Oil), truffle spread (that'll be my next recipe!), and truffle zest.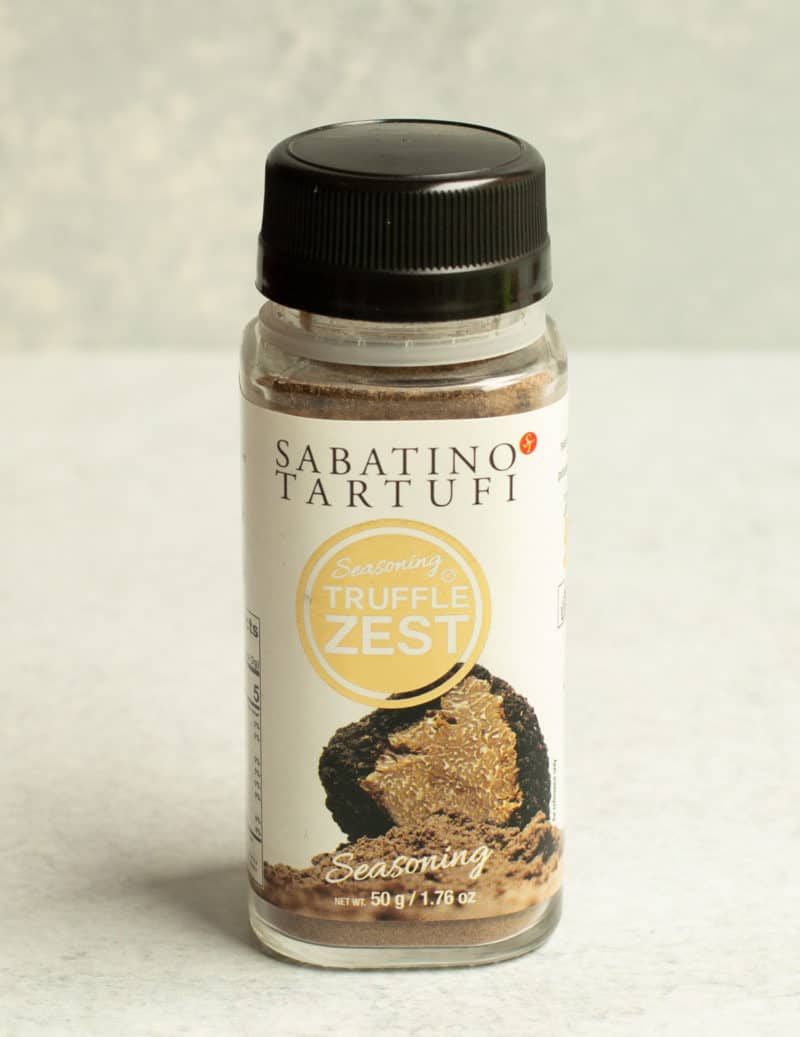 Since I think truffle and potatoes are a perfect pairing, I decided to try Homefest's truffle zest on my Grilled Potato Packets. And, I have to say, it's fabulous!! That earthy, mushroom-y flavor definitely comes through, but more subtly than with truffle oil. You have to try it!
How do you use truffle zest seasoning?
There are many, many uses for truffle zest. In addition to grilled potatoes, sprinkle it on French fries, eggs, pasta, pizza – even popcorn. You can also stir it into sauces and soups. I recommend adding it shortly before serving, to maximize the truffle flavor.
How to Season Truffle Potatoes
To maximize their flavor, I add salt and pepper to the potatoes before grilling, then add the truffle seasoning, parsley and Parmesan cheese just before serving.
How to Assemble Grilled Potato Packets
These potato packets are super easy to prepare – just toss halved new potatoes with olive oil, salt and pepper, wrap up in double-layered foil packets and put on the grill. After around 30 minutes, take them off the heat, season with Parmesan cheese, parsley and truffle zest, and serve. That's it!
Do You Need to Boil Potatoes Before Grilling?
Because this recipes calls for small new potatoes, and because we're cooking them inside a foil packet, it's not necessary to boil them first.
What Temperature do I Grill Potatoes?
I find these potatoes cook perfectly over medium heat, or around 350 degrees.
How to Serve a Truffle Potato
These potatoes can be served by taking them out of their packets, garnishing then placing in a serving bowl. Alternatively, leave them in their packets, sprinkle garnishes on top and serve.
Storing and Reheating Truffle Potatoes
If you have grilled potatoes leftover, place them in a sealed container and refrigerate. They will last for 3 to 4 days. To reheat, bring to room temperature, place in a baking dish in a 325 degree preheated oven for around 10 to 15 minutes.
Print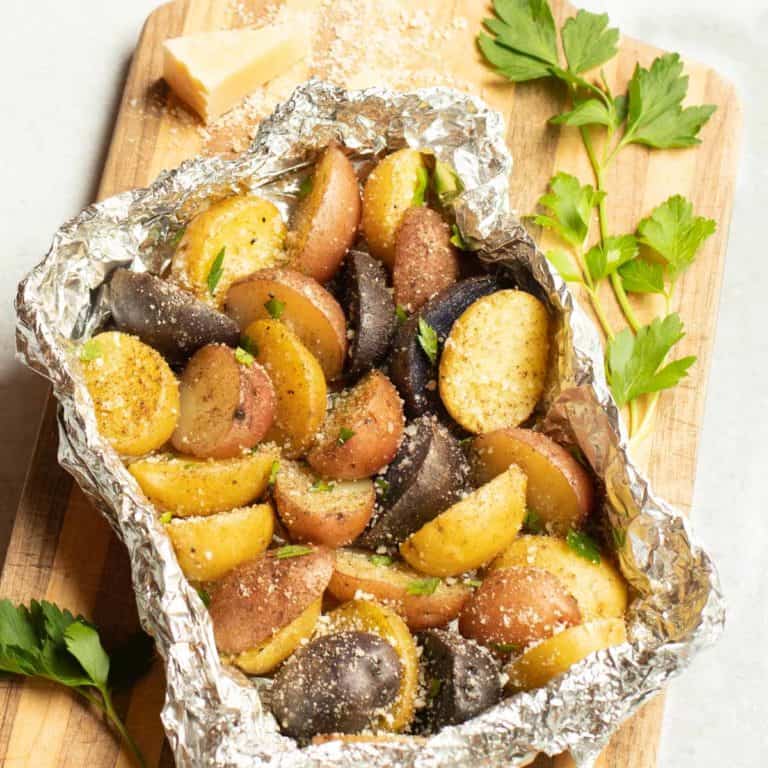 Truffle Potato Packets on the Grill
Grilled Potato Packets with Truffle Zest are the perfect side dish for you next barbecue. They're easy to prepare, too – no pre-boiling needed!
2

pounds small (

1

inch) new potatoes – red, yellow, and/or purple
Kosher salt, to taste
Fresh ground pepper, to taste

2

to

3

tablespoons extra virgin olive oil

2 tablespoons

chopped fresh flat leaf (Italian) parsley

1/4 cup

grated Parmesan cheese
Truffle zest, to taste
Instructions
Preheat grill to medium (around 350 degrees).
Cut potatoes in half lengthwise. Place in a large mixing bowl. Season with salt and pepper; drizzle with olive oil and toss to coat.
Tear off 8 12-by-12-inch sheets of foil. Make 4 stacks of foil with 2 sheets each, to form a double layer. Spray top sheets with nonstick cooking spray.
Divide potatoes evenly between the stacks, placing in the middle of the foil. Fold up opposite sides and fold over to seal.
Place packets on grill rack and grill, cover closed, for 25 to 30 minutes or until potatoes are fork tender.
Carefully open packets and transfer potatoes to a large serving bowl. Sprinkle with parsley, Parmesan cheese and truffle zest.
Alternatively, you can season potatoes in the foil packets and serve. (If you plan to serve the potatoes this way, I would make 6 packets instead of 4 – one per person.)
Author:

Category:

side dishes, grilling, gluten free