So, is this Roasted Pumpkin with Apple-Cashew Stuffing not absolutely beautiful? And, it's delicious and healthy, too!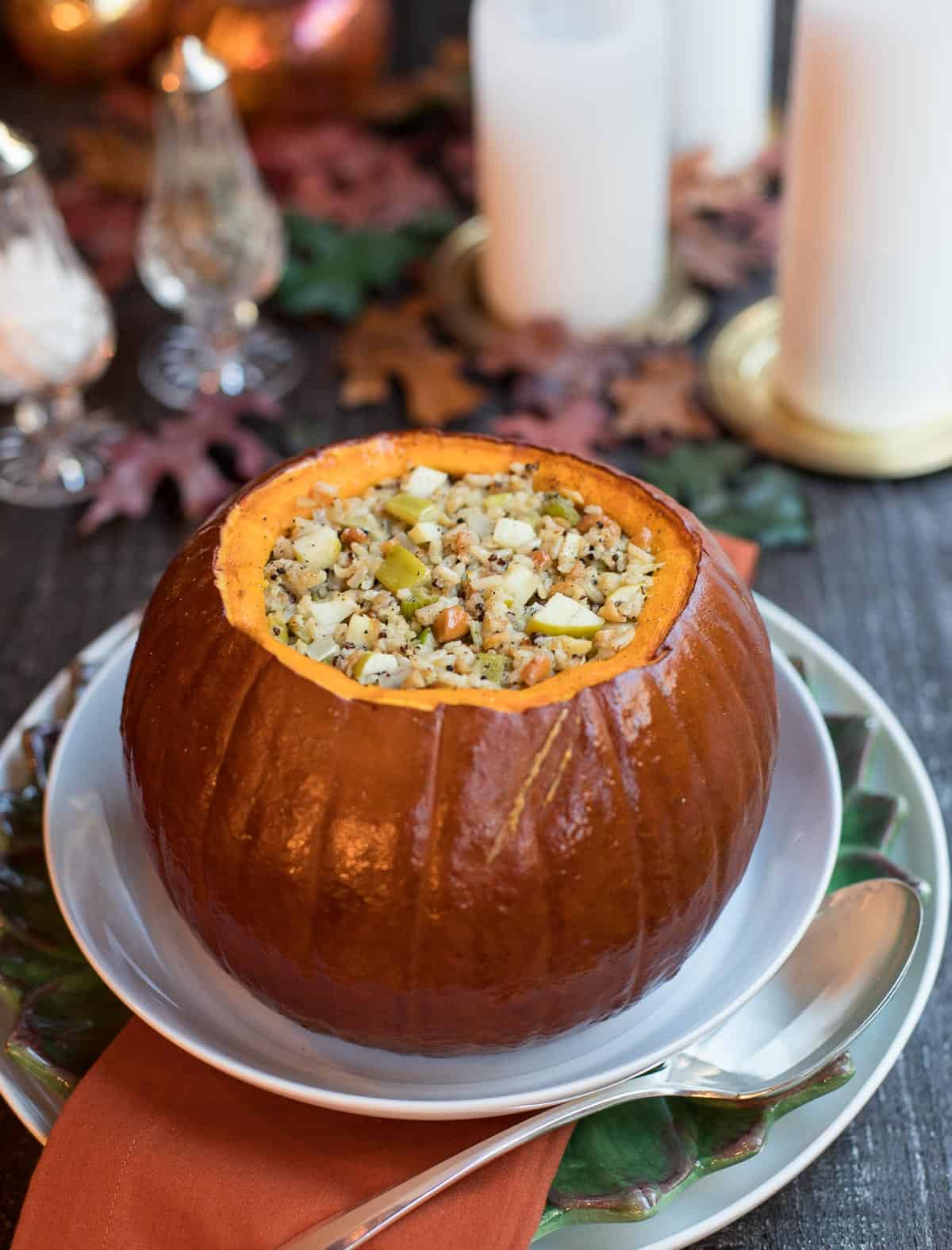 I love pumpkin anything – pie (recipe in my cookbook A Well-Seasoned Kitchen®), muffins (also in A Well-Seasoned Kitchen®), Tart, etc. My new favorite pumpkin dish is the recipe I'm sharing with you today, Roasted Pumpkin with Apple-Cashew Stuffing. In this delicious, easy and impressive side dish, a hollowed out pumpkin is stuffed with a mixture of cooked rice, quinoa, herbed stuffing, apples, cashews, onions, celery and spices.
What type of pumpkin to use?
The star ingredient is a sweet "pie" (also called "sugar") pumpkin. I thought it might be helpful to share a photo of what a one looks like, so when you go shopping, you know what to look for. The good news is that it looks just like those pumpkins you buy and carve at Halloween!
I also thought it would be good to show you how large a 4 to 5-pound pie pumpkin is (called for in this recipe), just in case there isn't a scale nearby in the store (or if you are in a pumpkin patch!). The apple in the above photo should give you a good idea of it's comparative size.
If you can't find a pie or sugar pumpkin, any 4- to 5-pound one will work (yes, the flesh and seeds of all pumpkins are edible) – it's just that the pie and sugar varieties are the sweetest, and have the nicest flavor when cooked.
How to make my stuffed pumpkin recipe:
First, you have to get the pumpkin ready to stuff. To clean out the seeds and stringy pulp, after cutting off the top I like to use a pizza cutter (the one with a wheel) to scrape out most of the seeds and pulp. Then I switch to a grapefruit spoon to get the rest. Here is what the pumpkin looks like when it's cleaned out:
Next, you prepare the stuffing, which is a sweet-savory mixture of cooked rice, quinoa, herbed stuffing mix, apples, cashews, onions, celery and spices. There's just the right mix of sweet and savory in this mixture, and the apples and cashews provide a bit of crunch. The stuffing is spooned into the pumpkin cavity, then you put the top back on the pumpkin and roast it. Your family and friends will love this dish, as mine do!
Note that this stuffing recipe is for a 5-pound pumpkin; may have some leftover if yours is smaller.
Pin it now to save for later!
Roasted Pumpkin with Apple-Cashew Stuffing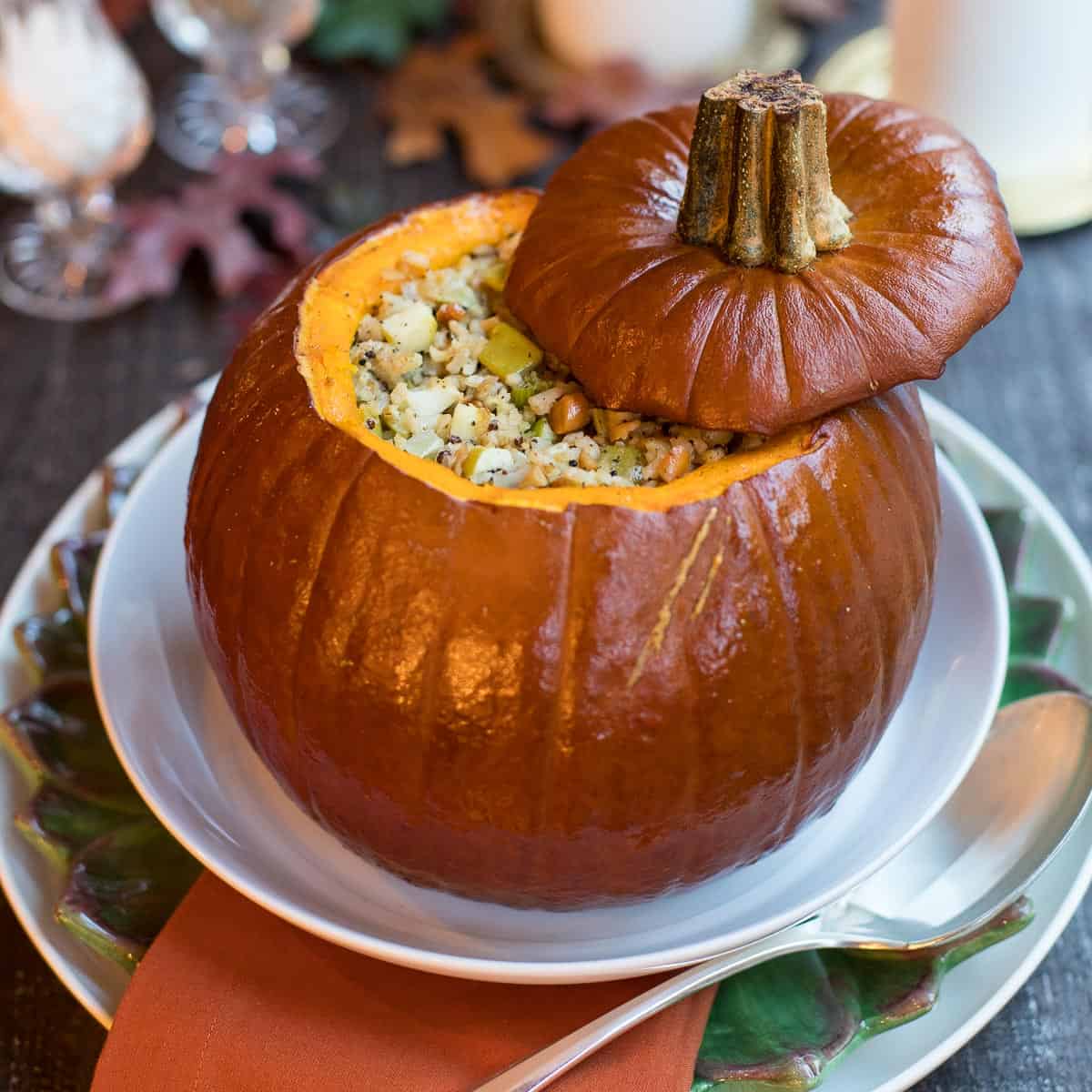 Roasted Pumpkin with Apple-Cashew Stuffing is beautiful, elegant, delicious, healthy – and perfect for Thanksgiving, too! A hollowed out pumpkin is stuffed with a mixture of cooked rice, quinoa, herbed stuffing, apples, cashews, onions, celery and spices. Easy to prepare and impressive to serve.
Author:
Yield:

6

to

8

servings

1

x
Category:

Side dishes, make ahead, vegetarian
Scale
Ingredients
1

small (4- to 5-pound) pie pumpkin (a.k.a. sugar pumpkin or sugar pie pumpkin)
olive oil

2 tablespoon

s butter

1 cup

chopped yellow onion

1/2 cup

chopped celery

2 cup

s herbed stuffing mix

2 cup

s mixed cooked white rice, brown rice and/or quinoa

2

granny smith apples, cored and chopped

1 cup

chopped roasted cashews

1

to

2

cups vegetable or chicken stock

3/4 teaspoon

poultry seasoning
kosher salt, to taste
fresh ground pepper, to taste
Instructions
Preheat oven to 325 degrees. Line a large rimmed cookie sheet with parchment paper.
Cut the top off the pumpkin by cutting out a 5 to 6-inch circle – at an angle – around the stem. Clean stringy pieces off inside of top and set aside.
Remove seeds and stringy pulp from inside of pumpkin; I start using a wheel pizza cutter to scrape out the big hunks, then use a grapefruit spoon for the smaller stringy pieces. Oil inside and outside of pumpkin. Set aside.
In a large skillet or sauté pan, melt butter over medium-low heat. Add onions and celery and cook until soft, stirring occasionally. Remove from heat and stir in breadcrumbs, cooked rice, apples and nuts. Stir in 1 cup stock; add more as needed to moisten mixture (I usually only need 1 cup, unless preparing ahead – see note below). Season with poultry seasoning, salt and pepper.
Spoon stuffing mixture into pumpkin and place on prepared cookie sheet. Put on pumpkin top and bake for 1 1/2 hours, or until inside pumpkin flesh is tender and outside skin is nicely browned.
When serving, scoop out some of the pumpkin with the dressing.
Notes
Make ahead: Pumpkin can be stuffed and cooked up to 24 hours in advance, covered and refrigerated. Bring to room temperature and reheat in a 325-degree oven. Put in more broth (1 1/2 to 2 cups).