Print
Zucchini Noodles with Ground Pork Sauce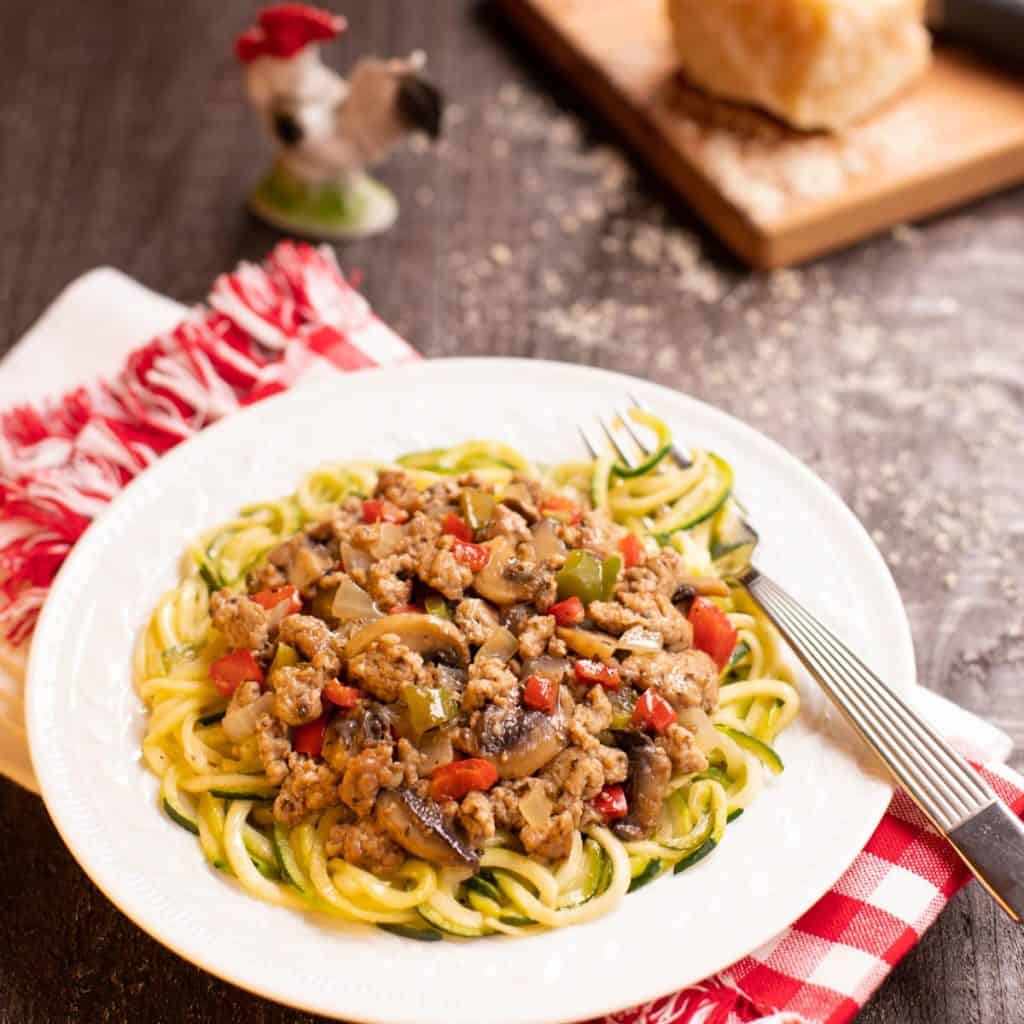 Seasoned ground pork is sautéed with fresh mushrooms, peppers, onions and garlic, then served atop zucchini noodles.
Ingredients
1 pound ground pork
8 ounces fresh mushrooms, stemmed and sliced
2 medium red peppers, cored and chopped
2 medium green peppers, cored and chopped
1 onion, chopped
2 teaspoons chopped fresh garlic
2 teaspoons dried basil
1 teaspoon fennel seed
1/2 teaspoon dried oregano
1/2 teaspoon dried marjoram
2 tablespoons olive oil, divided
Kosher salt, to taste
Fresh ground pepper, to taste
16 to 18 ounces zucchini noodles
Nature's Seasons, to taste
Grated Parmesan cheese, for garnish
Instructions
In a large skillet or sauté pan, cook pork over medium heat until no longer pink, stirring and breaking up meat into small pieces.
Stir in mushrooms, peppers, onion and garlic. Sprinkle basil, fennel, oregano and marjoram over the top and stir. Add 4 teaspoons olive oil if needed (see Note). Cook until the vegetables are soft, stirring occasionally. Season to taste with salt and pepper. Reduce heat to low to keep sauce warm while you cook the zucchini.
Place remaining 2 teaspoons olive oil in large skillet or sauté pan over medium-high heat. When hot, add the zucchini noodles and cook, stirring with tongs, just until heated through and just starting to soften (al dente) – around 1 minute. Season noodles with a sprinkle or two of Nature's Seasons.
Using tongs, divide noodles among 4 serving plates (or place on one serving platter). Mound sauce on top of noodles. Serve grated Parmesan cheese on the side.
Notes
Note on olive oil: You may not need to add all 4 teaspoons of the olive oil to the pork-vegetable mixture, depending on the leanness of your pork. You want the mixture to be moist but not too oily.
Note on zucchini noodles: You can purchase prepared noodles in the produce department at many grocery stores, or you can make your own with a spiralizer.
© A Well-Seasoned Kitchen ®