This Creamy Arugula Salad Dressing is a variation of a traditional green goddess dressing, adding baby arugula to the original recipe.
Arugula Dressing Recipe
I have always loved green goddess salad dressing – a delectable mixture of mayonnaise, sour cream, green onion, garlic, lemon juice, vinegar, anchovy, tarragon and sometimes chives. In my Arugula Salad Dressing, I amp up the flavor even more by adding baby arugula. I didn't see the need for the vinegar, so I leave it out. The result is a creamy, pepper-y, super flavorful salad dressing!
The Key to Arugula Dressing – Make It Ahead!
Note you have to make this dressing at least one day ahead, to allow the flavors to blend. I find if I serve it the day I make it, the arugula flavor overpowers the rest of the ingredients, and it just isn't as tasty.
How to Make the Best Arugula Salad Dressing
You will be amazed at how easy it is prepare this wonderful dressing, just 3 steps!
Blend ingredients.
In a food processor, combine the arugula, green onion, garlic, mayonnaise, sour cream, lemon juice, anchovy paste and tarragon; process until well blended.
Season.
Season to taste with salt and pepper.
Refrigerate.
Cover and refrigerate for at least 2 hours to allow flavors to blend.
How to Store Creamy Arugula Salad Dressing
Store the dressing in an airtight container in the refrigerator (I like to use a glass jar).
How long does arugula dressing last?
Stored in an airtight container in the refrigerator, it will last for up to 3 days without losing flavor.
Best Ways to Use Arugula Sauce
Arugula Dressing is delicious on dozens of different salads (see list below). Plus, it's also delicious as a dip or sauce:
As a dip with fresh vegetables of any kind
As a sauce with grilled shellfish – especially grilled shrimp
As a sauce for Oven Roasted Carrots and/or Roasted Root Vegetables
Salad Variations for Arugula Salad Dressing
This fabulous dressing pairs really well with many, many salads; here are a few of my favorites:
Or, you can simply serve it with torn romaine lettuce – as was done with the original Green Goddess Dressing at San Francisco's Palace Hotel in the 1920s. In fact, it was at the Palace that Chef Philip Roemer created the original version, evidently to honor actor George Arliss, who stayed at the hotel while performing in William Archer's hit play, "The Green Goddess."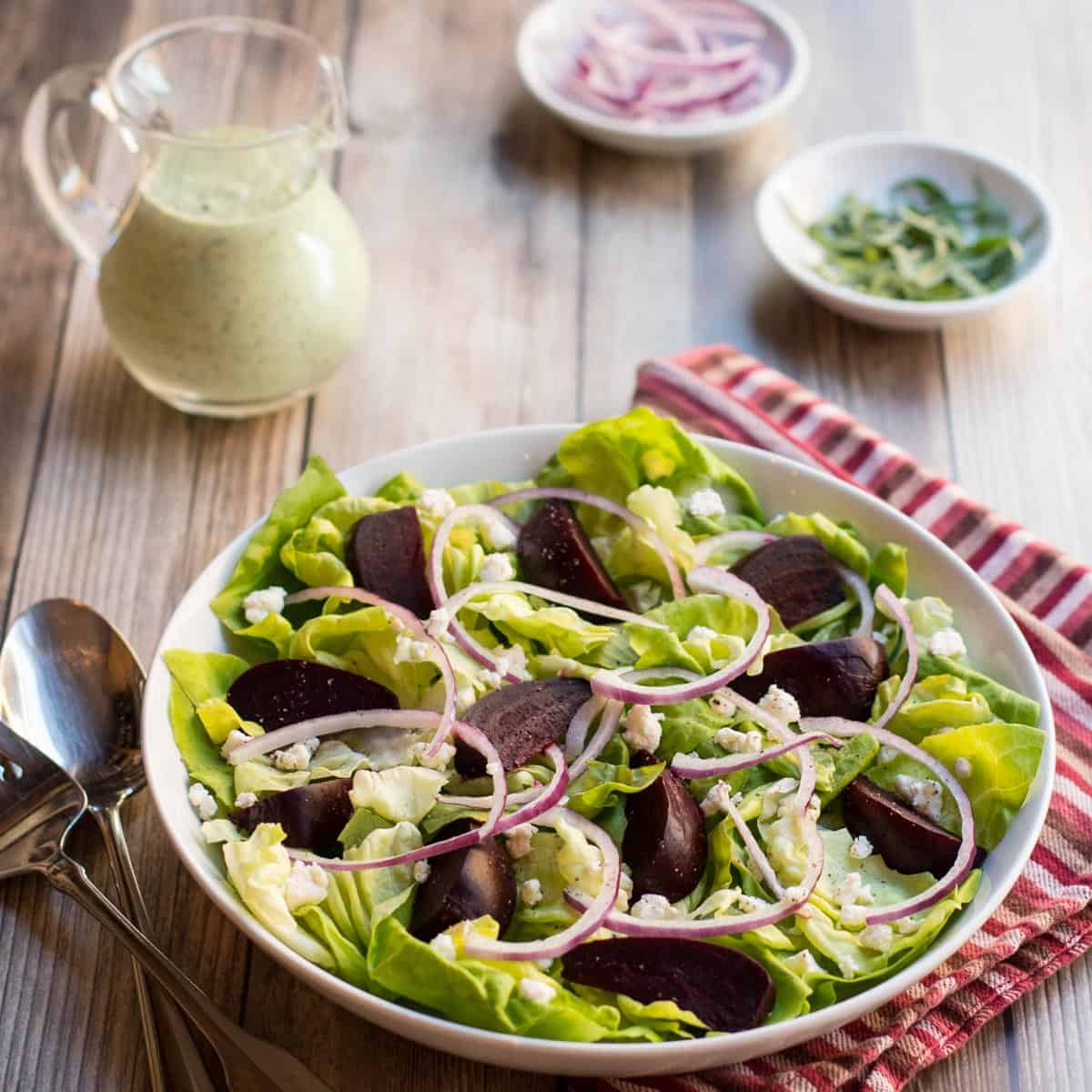 Arugula FAQ
What is arugula? Is arugula a lettuce?
Arugula is actually part of the Brassica, or Cruciferous, family, which means technically it's a vegetable and not a lettuce. Other foods in this family include broccoli, cauliflower, Brussels sprouts, kale, mustard greens, cabbage and watercress. Arugula is known as rocket in England, Australia and New Zealand, and as rucola in Italy.

There is a difference between wild arugula and baby (or regular) arugula. Leaves on the former are pointy vs the latter, whose leave edges are more smooth. Wild arugula has a sharper, more peppery flavor. Baby arugula is found in grocery stores much more often than wild.
Can you eat arugula stems?
Yes, you can eat the stems.
Is arugula similar to basil?
Arugula is similar to basil only in texture and color. The flavors are very different.
Does arugula taste like spinach?
Spinach has a much milder taste than arugula and is slightly sweet. Arugula, on the other hand, has a more distinct flavor, with a tart pepperiness.
How do you preserve arugula?
I store arugula like I do all fresh greens. After washing, I shake off any excess water gently wrap the wet greens in paper towel, and press down so the paper towel absorbs most of the water. I then take the wrapped leaves (with the damp paper towel) and place it in a plastic baggie, unsealed, in the refrigerator.
What tastes good with arugula?
Arugula pairs well with many, many foods. Its peppery flavor add are a nice addition to most any salad calling for mixed greens. Alternatively, it's also good simply tossed with olive oil, salt and pepper and then served alongside grilled steak, pork or chicken (check out my recipe for Dijon Pork Chops with Arugula in my cookbook "A Well-Seasoned Kitchen®"). Add it to a sandwich, or to your homemade pesto sauce!
Pin this recipe now to save for later!
Print
Arugula Salad Dressing
Prep Time:

5 mins

Chilling time:

120 mins

Cook Time:

0 mins

Total Time:

2 hours 5 minutes

Yield:

Makes around

1 1/2 cups

1

x
1 1/2 cups

(about

1 1/2

to

2

ounces) packed baby arugula

1/3

to

1/2

cup (about 4) sliced green onion (white, light green and some dark green part)

1 teaspoon

chopped garlic

1/2 cup

mayonnaise

1/2 cup

sour cream

1 tablespoon

fresh lemon juice

1 1/2 teaspoons

anchovy paste (in a tube) – see Note below

2 tablespoons

chopped fresh tarragon
Salt, to taste
Freshly ground black pepper, to taste
Instructions
In a food processor, combine the arugula, green onion, garlic, mayonnaise, sour cream, lemon juice, anchovy paste and tarragon; process until well blended.
Season to taste with salt and pepper.
Cover and refrigerate for at least 2 hours.
Notes
Note on anchovy paste: If you mash anchovy fillets, the flavor will be stronger than mashed anchovy from a tube, as the latter has vinegar and spices added, which make the fish flavor milder. So, I would reduce the amount to 1 teaspoon if you substitute freshly mashed
Make ahead: Dressing can be prepared, covered and refrigerated up to 3 days ahead.
Author:

Category:

salads, dressing, gluten free