Tasty and colorful Toasted Bagels with Egg Salad and Smoked Salmon are my husband Robert's favorite breakfast!
Robert loves egg salad and smoked salmon, so combining the two in an open-faced sandwich for his breakfast one morning was a no-brainer.
For the egg salad, I start with hard boiling eggs in my Instant Pot – now my preferred method, because they come out perfect, every time. No gray shadow, no over-done (or under-done) yolks, and super easy to peel with no damage. What more could you ask for from a hard-boiled egg? (I've also included below directions following a more traditional cooking method, for those of you without an Instant Pot.)
Making egg salad is not an exact science; it depends largely on the size and freshness of your ingredients. My proportions are a good place to start; add more mustard for more zing and/or more mayonnaise for more moisture. Be careful with the onions – if you're using large green onions and they're very fresh, you may need only one.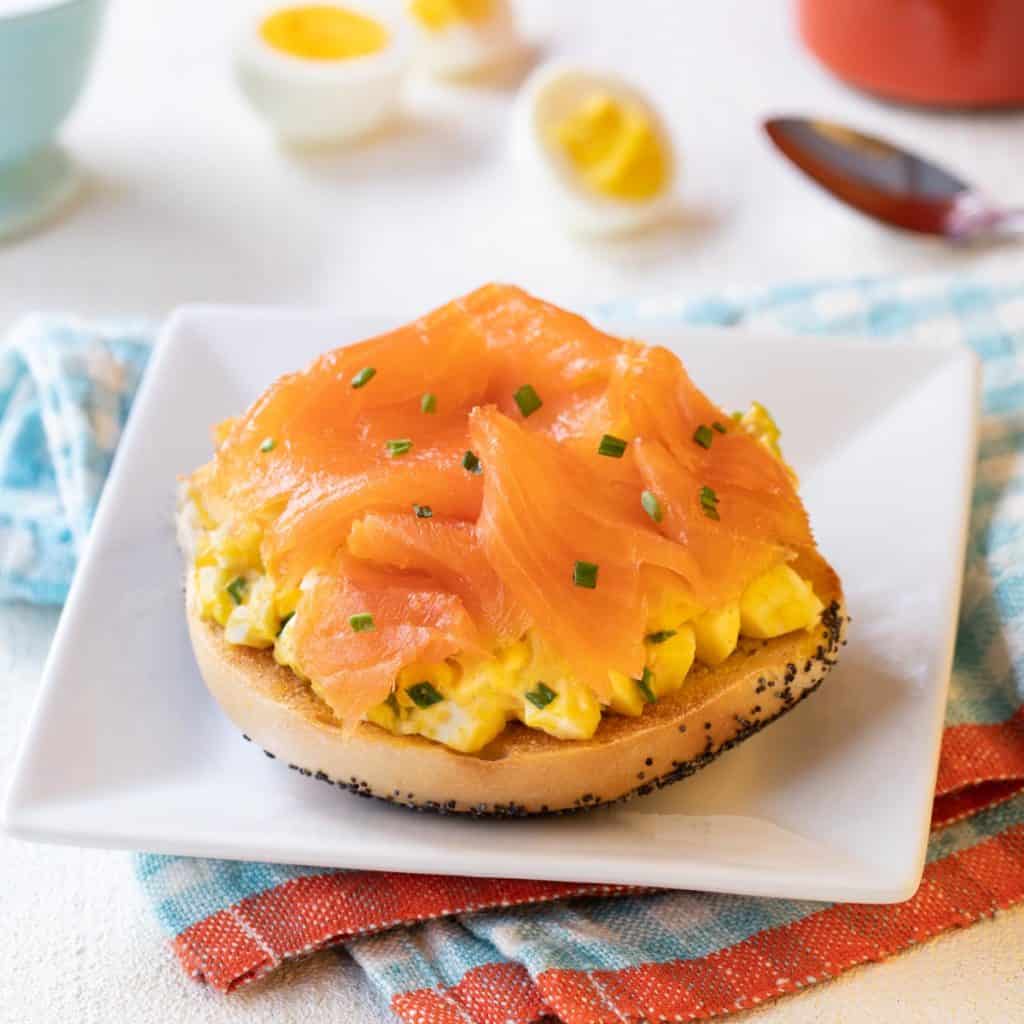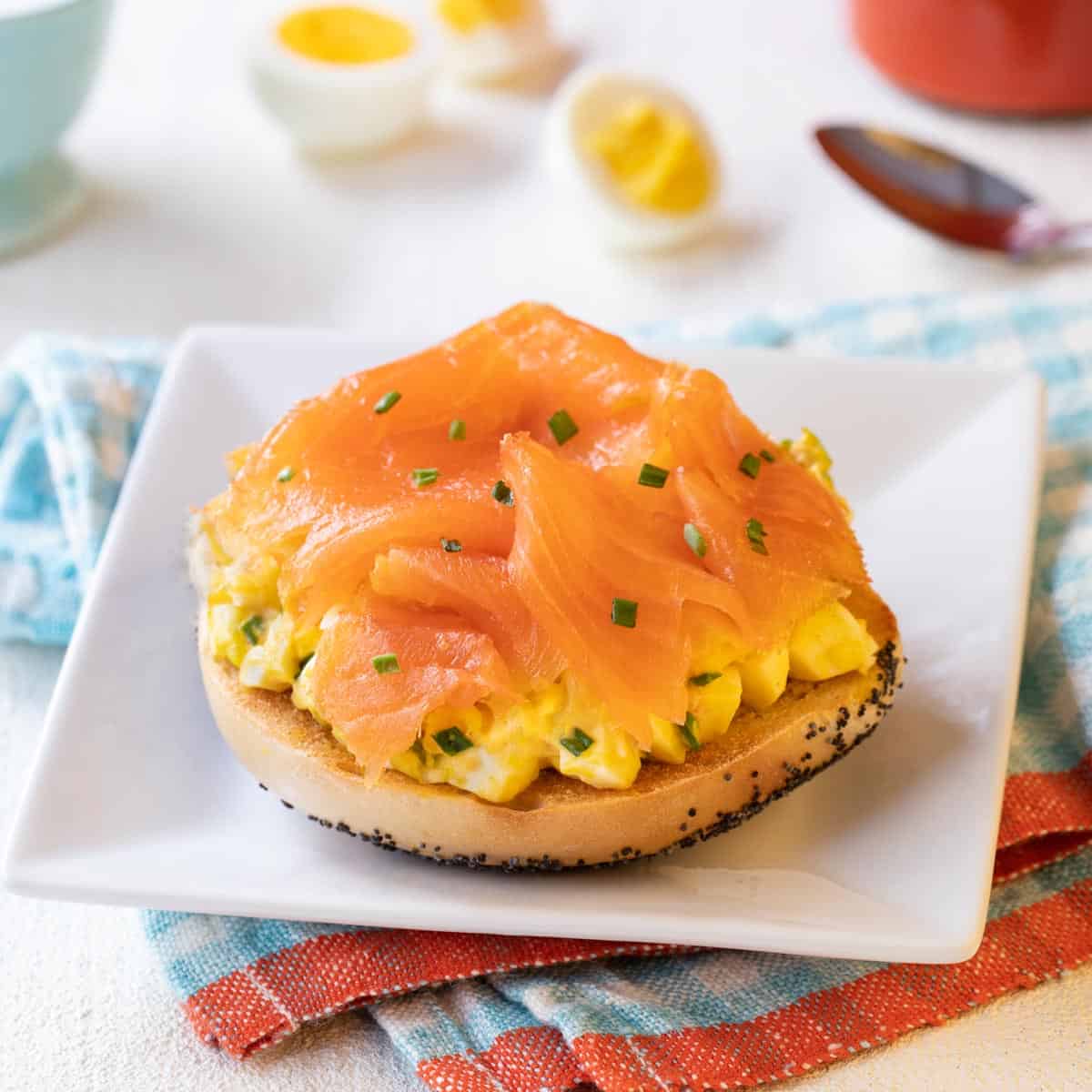 Note that these sandwiches are on the rich side; Robert and I find one half, combined with a serving of fresh fruit, is plenty for each of us.
Pin it now to save for later!
Print
Toasted Bagels with Egg Salad and Smoked Salmon
Tasty and colorful, Toasted Bagels with Egg Salad and Smoked Salmon are my husband Robert's favorite breakfast. A bit tangy, a bit smoky and full of flavor, they are quick and easy to prepare. And, the egg salad can be made 24 hours ahead, too!
Yield:

2

to

4

servings

1

x
4

large eggs

2

heaping tablespoons mayonnaise

2 teaspoons

Dijon mustard

2

green onions, chopped (white part and some of the green)

1 tablespoon

chopped fresh chives
Paprika, to taste
Kosher salt, to taste
Freshly ground black pepper, to taste

2

bagels, sliced in half (I like to use whole wheat or poppy seed)

3

to

4

ounces smoked salmon
Instructions
Hard-boiled eggs – Instant Pot method
Let eggs sit at room temperature for 20 to 30 minutes. (See Note below.)
Place wire rack (or steamer basket) in Instant Pot along with 1 to 1 1/2 cups water.
Place eggs on rack, spacing out as evenly as possible (I cook 6 at a time and use the other 2 in another recipe). Seal and cook on high for 7 minutes.?When timer goes off, release pressure, following the "quick release" method.
Carefully remove eggs (they will be hot!) and immediately place in a bowl of ice water. Let rest in water until eggs are cold to the touch.
Hard-boiled eggs – traditional method
In a large saucepan, place eggs in one layer and cover with water. Bring to a boil over high heat. Reduce heat to simmer and cook for 6 to 8 minutes (cook for longer time if at higher altitude).
Remove pan from heat and leave eggs in hot water for another 3 to 5 minutes.
Drain and run eggs under cold water (or place in a bowl of ice water) until cooled.
Egg Salad
Remove shells from hard-boiled eggs.
Chop eggs and place in a medium mixing bowl.
Stir in mayonnaise, mustard, onion and chives. Season to taste with paprika, salt and pepper. Adjust the mayonnaise and mustard, if necessary
Assembly
Lightly toast the bagel halves, then spread egg salad mixture on each half.
Top with slices of salmon and serve. Garnish with additional chopped chives, if desired.
Notes
Make ahead: Egg Salad can be made up to 24 hours in advance, covered and refrigerated.
Note on eggs: If you don't have time to let your eggs sit at room temperature, it's okay. Just increase the Instant Pot cook time to 9 minutes.
Smaller variation: Use toasted mini bagels or pumpernickel cocktail bread instead of the regular-size bagels and serve as hors d'oeuvres or a side dish for a brunch.
Author:

Category:

breakfast and brunch