Indulge in the fresh flavors of the sea with Lemon-Rosemary Baked Swordfish en Papillote recipe. This dish begins by marinating swordfish fillets in a citrusy, herby oil and balsamic vinegar mixture. The fillets are then topped with lemon slices and rosemary, before being wrapped in parchment paper (or foil) and baked to perfection. The result is a dish that is both flavorful and healthy, with a tender and juicy texture. It's easy to make and perfect for any occasion, whether it's a special dinner or a weeknight meal.
Baked Swordfish Recipe
I recently returned from a fabulous trip to Hawaii with my husband Robert. We were originally supposed to go last January, to celebrate my BIG birthday (those ones that end in 0), but Robert ended up having shoulder surgery, so we postponed to this year. We spent a wonderful week on Maui, enjoying the beach, whale watching, exploring the island and partaking of all the fabulous food!
One aspect of our trip I loved was all the fabulous super-fresh fish, which inspired me to post one of my favorite fish recipes this week – Lemon-Rosemary Swordfish en Papillote.
What does swordfish taste like?
Swordfish is a mild, slightly sweet tasting fish with a more meaty texture.
What does Fish en Papillotte mean?
En papillote simply means wrapped in parchment or foil. It's a great way to cook fish, as it keeps it very moist.
Ingredients and Seasoning for Swordfish
In this dish, fresh swordfish is marinated and then baked in parchment together with a drizzle of the marinade, fresh lemon slices and rosemary. Here are the ingredients you'll need (details including quantities are provided in the recipe card below):
For the swordfish marinade:
Lemon zest
Rosemary olive oil – can substitute extra virgin olive oil and chopped rosemary
Lemon balsamic vinegar – can substitute white balsamic vinegar and lemon juice
Fresh rosemary
Garlic, or garlic powder or shallot
And, for cooking the swordfish:
swordfish fillets
lemon slices
rosemary sprigs
salt and pepper
Note: you can substitute halibut for the swordfish.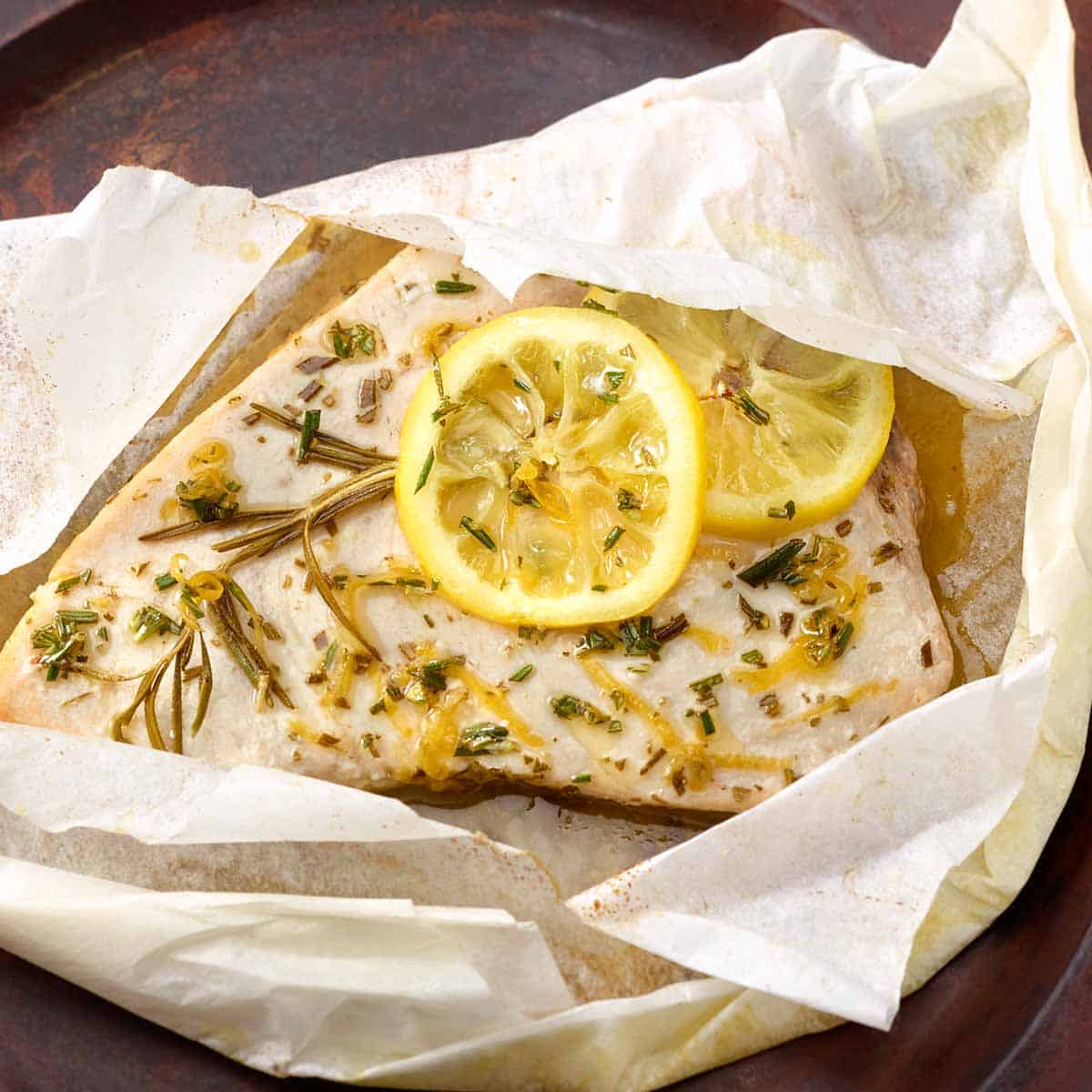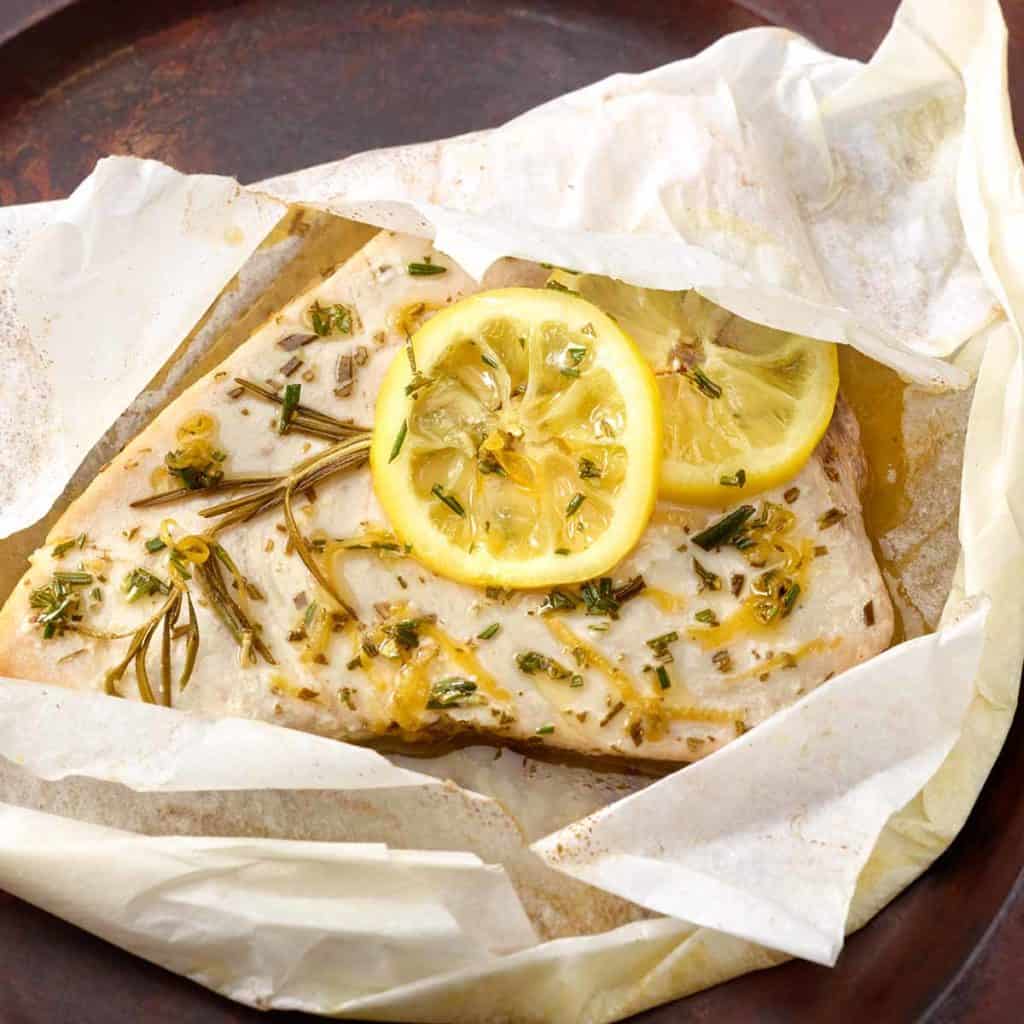 How to bake Swordfish in Oven
How do you make a papillote?
Wrapping a fish fillet "en papillote" is actually quite easy. Here's how:
Prep paper/foil.
Tear off a piece of foil or parchment paper, about 16 to 18 inches or long – enough to wrap around the fish fillet. Brush foil (if using) with olive oil.
Place fish.
Place fish fillet in center of one half of foil/paper.
Season.
Add seasonings, herbs, vegetables, or whatever you're cooking with the fish.

Wrap.
Fold paper/foil over top of fish. To seal: start at one end and roll up paper/foil, folding it on top of itself as you go around the edge.

Cooking Swordfish in Oven Tips
Is it better to cook fish in parchment paper or foil?
Either works well. If cooking on the grill, use foil – parchment paper will burn. Some people find foil is easier to work with than paper.
What temperature do you cook swordfish at?
Cook this swordfish at 425 degrees. Swordfish is a meaty fish that can handle high temperatures without drying out, and a high-temperature bake can help to retain its moistness and tenderness. In addition, swordfish can become mushy if cooked at a low temperature which would require a longer cook time.
How long to cook Swordfish
The general rule of thumb for fish is to cook it 10 minutes per inch of thickness (at the thickest part of the fillet). Add 5 minutes when cooking en papillote. Check to see if it's done with an instant read thermometer inserted in the thickest portion.
Baked Swordfish in Oven FAQs
What temp should swordfish be cooked to?
The FDA recommends cooking all fish to 145 degrees. Swordfish is best cooked medium – not to rare, not to well done. I aim for around 130 to 135 on an instant read thermometer.
Is swordfish safe medium rare?
The FDA recommends cooking all fish to 145 degrees. In addition, if swordfish is undercooked it can be rubbery in texture.
How do you know when swordfish is done baking?
Following the "10 minutes per inch" rule noted above is a good method. Then, confirm it's done with an instant read thermometer inserted in the thickest portion. It should reach 130 to 135 degrees.
How do you keep swordfish from overcooking?
Here are a few tips to follow to ensure you don't overcook your fish:

1. Check for doneness early. If your recipe says to cook the fish for 15 minutes, at around 12 minutes check the fish to see if it's done (see next step).

2. Use an instant-read thermometer. At around 12 minutes, remove one fish packet from oven, carefully open and insert thermometer in the center of the thickest portion of the fillet. If it's at around 30 to 135 degrees, it's done. Note that the fish will continue cooking after you remove it from the oven.
Which cooking method is actually used when fish is cooked en papillote?
Traditionally, the cooking method for "en papillote" is baking in the oven. Today if the fish is wrapped in foil instead of parchment paper, it can also be cooked on the grill.
Should you wash swordfish before cooking?
Yes, you should wash and pat dry any fish before cooking.
Why is my cooked swordfish mushy?
Your swordfish may become mushy because you cooked it at too low of a temperature, marinated it too long, or didn't thaw it properly (if frozen) before cooking. Properly thaw frozen swordfish by placing it in the refrigerator overnight. For faster thawing, place the frozen fish in a sealed plastic bag and submerge it in cold water.
Are you supposed to eat swordfish skin?
Technically you can eat it, but I don't find the taste or texture very appealing.
Storing and Reheating Baked Swordfish
Store any leftover fish in an airtight container in the refrigerator. It will last up to 3 days. Reheat in a preheated 325 degree oven for around 10 minutes.
Side Dishes for Swordfish
Here are a few side dishes that pair well with this swordfish:
Print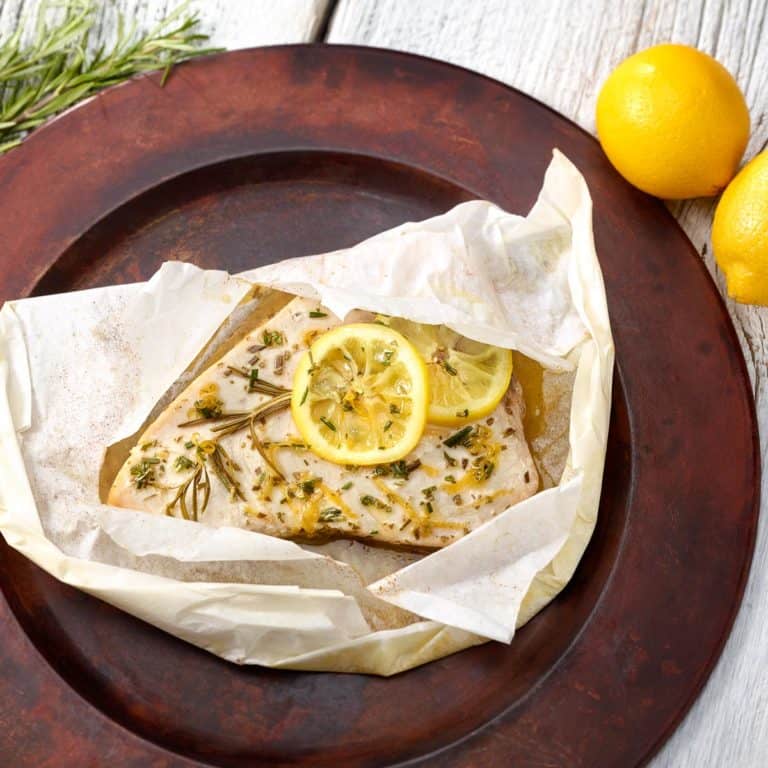 Lemon Rosemary Baked Swordfish
Lemon-Rosemary Swordfish en Papillote is a scrumptious, fresh and impressive entrée that's also good for you. Fresh swordfish fillets are marinated and baked in parchment paper paper together with fresh lemon, rosemary, garlic, olive oil and vinegar. So easy, so impressive!
Prep Time:

10 mins

Marinade Time:

60 mins

Cook Time:

15 mins

Total Time:

1 hour 25 minutes

Yield:

4

servings

1

x

Diet:

Gluten Free
Marinade with flavored olive oil and vinegar
Zest from

one

lemon

1/2 cup

rosemary olive oil

1/4 cup

lemon balsamic vinegar

1 tablespoon

chopped fresh rosemary

1 teaspoon

chopped garlic or

1/2 teaspoon

garlic powder or

1 teaspoon

chopped shallot
Marinade with non-flavored olive oil and vinegar
Zest and juice from 1 lemon

1/2 cup

extra virgin olive oil

1/4 cup

white balsamic vinegar

2 tablespoons

chopped fresh rosemary

1 teaspoon

chopped garlic or

1/2 teaspoon

garlic powder or

1 teaspoon

chopped shallot
Dash sugar (optional)
Swordfish
4

(6- to 8-ounce) swordfish fillets
Kosher salt, to taste
Freshly ground black pepper, to taste

8

thin lemon slices

4

(4-inch) rosemary sprigs
Instructions
In a shallow glass dish large enough to hold the fish in one layer, whisk together marinade ingredients. Add fish, cover and place in refrigerator for 1 up to 2 hours, turning occasionally. (Note: if using the Non-flavored Olive Oil an Vinegar Marinade, reduce marinating time to 30 minutes.)
Preheat oven to 425 degrees.
Tear off 4 pieces of foil or parchment paper, each about 16 to 18 inches or long enough to wrap around fish fillets. Brush foil (if using) with olive oil.
Place 1 fish fillet in the center of each piece of foil/paper, drizzling with some of the marinade. Season with kosher salt and fresh ground pepper.
Place 2 lemon slices on top of each fillet; top with 1 rosemary sprig. Fold up two opposite edges of the foil/paper and fold over to seal.
Place packets in one layer on a large baking sheet. Bake about 15 minutes (10 minutes per 1-inch of thickness, plus an additional 5 minutes). Remove from oven and open carefully as the steam will be hot. If you leave them in the packet they will continue cooking.
Move fish to a serving platter or individual plates, drizzling some of the cooking liquid from inside the packets over the top.
Notes
You can put two fillets in one packet if desired.
Variation: Place prepared packets in foil on a preheated grill over medium heat and cook for around 10 to 15 minutes.
Author:

Category:

Fish, easy entertaining, healthy

Method:

Baking

Cuisine:

Mediterranean